Top-notch airlines are known to go the extra mile to anticipate the needs of its passengers – and the proof is in the pudding. The AirHelp Score reveals the top airlines worldwide, but we've broken down the top airlines by region, which is just as important depending on where you'll be traveling.
Airlines across the world are rated in the AirHelp Score on their quality and service standards; on-time departure statistics (punctuality); and their claim responsiveness, which is the rate of turnaround times for processing and payouts. While creature comforts, ample legroom and luxury amenities are integral to a superior customer experience, airlines should also be held accountable for punctuality (landing within 15 minutes of the scheduled arrival time) and its ability to respond to claims in a timely manner. The AirHelp Score page allows you to sort the airlines using different categories that are most important to you.
If a flight is delayed, canceled or overbooked, passengers could be eligible for cash compensation from the airlines in certain cases. AirHelp has helped more than 1.2 million customers throughout the claims process – from filing to payout – therefore, those airlines that are able to quickly send passengers the cash they're owed are rated highest. Without further ado, here's an overview of their services.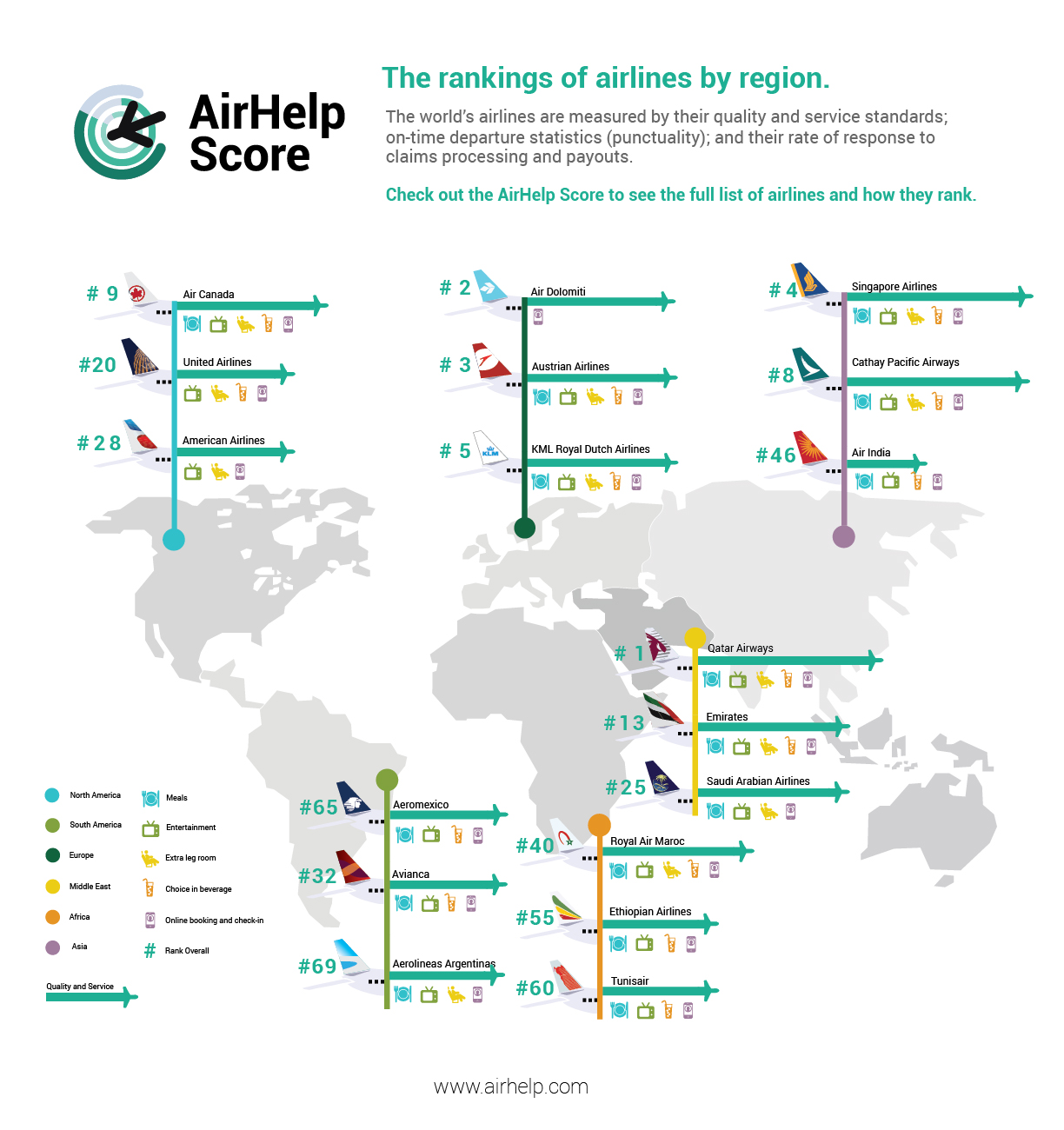 Europe
Air Dolomiti (Rank overall: 2)
Air Dolomiti ranks second in the AirHelp Score because it boasts a 9.4 in on-time performance, which proves it prioritizes the schedules of its passengers. Despite its reputation as a low-cost carrier with various restrictions on luggage, the airlines does have numerous customer service options and is pretty accessible in an effort to make the entire flying process easier for you, the passenger. One such passenger flying to Geneva commented on the how the service was "friendly" and offered a "nice snack box with and good alcoholic and soft drinks" on a delayed flight.
Austrian Airlines (Rank overall: 3)
Austrian Airlines rounds out the AirHelp Score's top three airlines mainly because of its high claim responsiveness rate of 9.1. If a passenger files a claim for cash compensation with Austrian, it's likely to be a pleasant experience. Overall, the staff was the main thing that was celebrated by passengers. One stated that they were "exceptionally friendly and attentive" on a flight to Vienna. The airline has also recently redesigned its economy class to allow passengers of all pocketbook sizes a way to fully relax on long-haul flights.
KLM-Royal Dutch Airlines (Rank overall: 5)
KLM-Royal Dutch Airlines is among the best airlines in Europe because of its consistency across the board. It's rated 8 in quality and services, 8.8 in on-time performance and 8.2 in claim processing. KLM is also known for its breadth of offerings, from meals offered to entertainment options. Comfort is key to one customer who mentioned, "It was the best economy flight I have had and the seat was very comfortable."
North America
Air Canada (Rank overall: 9)
Air Canada is the only North American airline to make the top 10 in the AirHelp Score. The airline deserves recognition for its claim processing rate (9), which makes it extremely responsive to customer's claims requests. One passenger flying from Vancouver to London reviewed Air Canada as one of their favorite airlines, "Everything worked well with no complaints whatsoever. Checking in was so easy and the staff was very helpful."
United Airlines (Rank overall: 20)
U.S.-based airlines aren't exactly known for their customer service, but United has tried to step up to the plate in recent years. The airline has pretty quick turnaround times for cash compensation with an 8.9 rate in claim processing, but its 6-rating in quality and service is not all that surprising considering it doesn't provide passengers free meals on international flights.
American Airlines (Rank overall: 28)
American Airlines ranks the same as United in quality and services and claims processing, but it slips behind in punctuality with a rating of 7.5 in on-time performance. Nevertheless, the airline is taking negative feedback to heart by unveiling new planes, providing free Wi-Fi, and giving extras perks to those enrolled in their AAdvantage program.
South America
Air Caraibes (Rank overall: 18)
Air Caraibes deserves applause for its adherence to schedule with a 9.1 rate in on-time performance. However, when a flight doesn't go as planned and is either delayed or canceled, there is room for Air Caraibes to improve its claim processing rate that rounds out at 7.7. Things are looking up, however, as its overall ranking increased 0.6 points this season.
Avianca (Rank overall: 32)
Considering Colombia's Avianca boasts LCD screens and USB ports as top amenities, it's safe to say the airline could show a little more love to its passengers with upgrades in its quality and services, which currently come in with a 6-point rating that significantly weighs down its overall score.
Aeromexico (Rank overall: 65)
Aeromexico is inching its way up the list by offering easy access to a wide variety of locations, but its responsiveness to passenger's claims requests is nothing to be proud of at 4.5. Nevertheless, Aeromexico's service was celebrated by a passenger spending the day in Mexico City, "The cabin crew was extremely professional and pleasant."
Middle East
Qatar Airways (Rank overall: 1)
Qatar Airways is the highest-ranked airline overall in the AirHelp Score for many reasons. Its cabin crew have been voted "Best in the Middle East" for seven consecutive years, which attributed to its 10/10 score in quality and services onboard. Its on-time rating of 8.2 for on-time performance proves it values its passenger's personal schedules. Lastly, when things don't go according to plan, it works with passengers to resolve claims requests, although it could work harder to address them in a more timely manner, as Qatar ranks 29th overall in claim responsiveness.
Emirates (Rank overall: 13)
Emirates deserves kudos for listening to its passengers to find out exactly what it is their customers want on long, international flights, which attributes to its 8-rating in quality and services. Emirates beat out other Middle Eastern airlines to make a name for itself as the new name of luxury in the airline industry thanks to extra comfortable seats and other cozy onboard amenities.
Saudi Arabian Airlines (Rank overall: 25)
Saudi Arabian Airlines made an impressive 1.3-point jump in the overall AirHelp Score ranking this season. The airline stands out for a number of reasons, but mainly in the quality and services category (8), due to the superior food service and staff, but its responsiveness to claims payout requests (6.4) could use some improvement.
Asia
Singapore Airlines (Rank overall: 4)
Singapore Airlines has been considered one of the best airlines in the world and there's good reason why – its quality and service ranks 10/10 in the AirHelp Score. If you're wondering why the airline is holding steady in fourth place, however, it's because of its 6.9 rating in claim processing. So, while the airline is famous for its luxury cabins, there's still room for improvement when it comes to customer service post-flight. Nevertheless, one passenger mentioned that if it's Singapore Airlines, then it's "perfect."
Cathay Pacific Airways (Rank overall: 8)
Passengers flying with Cathay Pacific will enjoy luxurious touches throughout their entire experience with the airline that rates 10/10 in quality and services. Hints of their attention to detail including remembering your name and providing in-seat massages. While easily cracking the top 10 in the AirHelp Score overall, Cathay could stand to improve its claims processing overall since it currently ranks 6.8 points.
Air India (Rank overall: 46)
While Air India jumped 1.1 points this seasons in the rankings with an overall score of 6.8, it still has a ways to go in providing the level of quality and services (6) most passengers have come to expect nowadays. It's making strides to increase comfort on long-haul flights by providing three meals to passengers who also have the choice between continental-style food or typical Indian dishes and complimentary alcoholic beverages. Its punctuality rating of 6.8 could also use some improvement.
Africa
Royal Air Maroc (Rank overall: 40)
Royal Air Maroc deserves credit for keeping to its planned schedule with a 9.1 rating in on-time performance. Its quality and services rating (8) isn't too shabby either thanks to a recently expanded cabin room in order to provide comfort to those on long-haul flights. One flier on a trip from London to New York, with a stopover in Casablanca, said Royal Air Maroc had "greatly improved" over the past few years and that the "entertainment is great with loads of movies, TV shows, music and games."
Ethiopian Airlines (Rank overall: 55)
Averaging 6-point ratings across the board, it's no secret Ethiopian Airlines could benefit from improvements across all factors measured within the AirHelp Score. Nevertheless, the airline is making do with what it has by offering great inflight entertainment options and meals made of local fruits and vegetables along with complimentary beverages (beer and wine included).
Tunisair (Rank overall: 60)
Its responsiveness to claims processing (6.7) is the strongest asset in Tunisair's repertoire, and the airline has bumped up to 1.2 in its overall rating because of it. While luxurious amenities aren't its strong suit, business class travelers can enjoy meals reflecting their preferences, access to lounges, and extra-large seats.