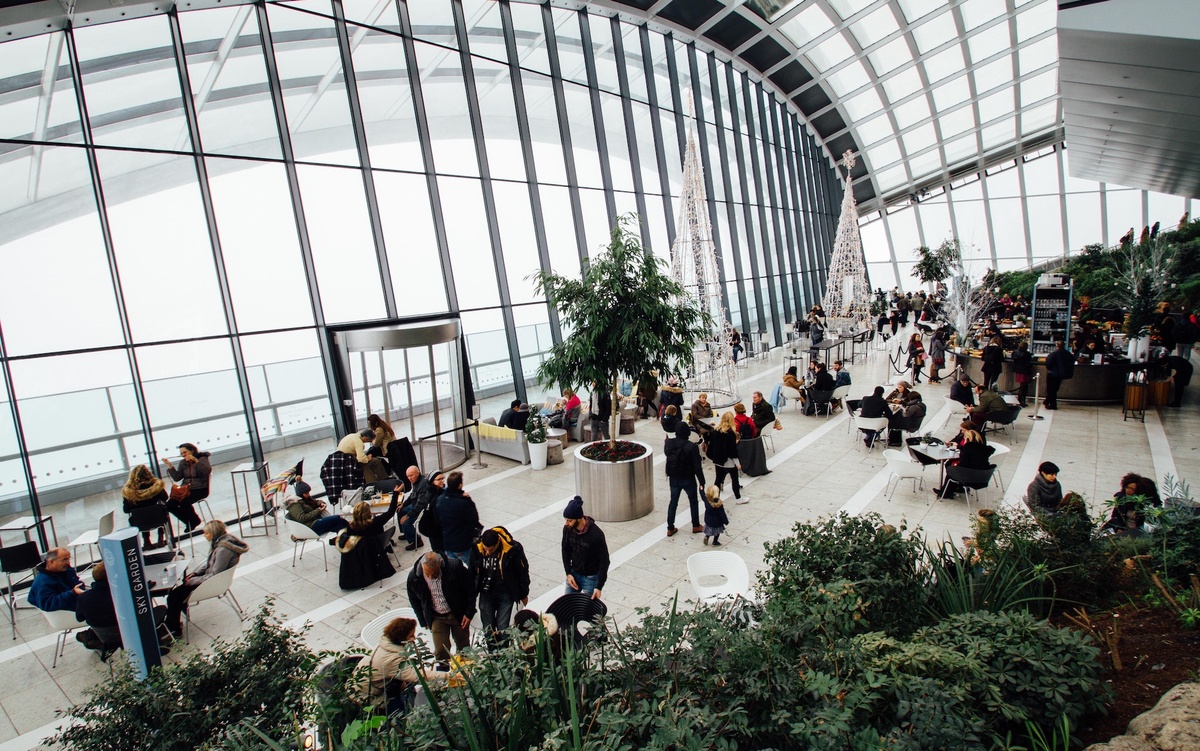 Best airport lounges for flight delays in the EU
By Jaqueline Junginger・Last updated on October 6, 2022
Anyone who has had a lengthy flight delay knows exactly how uncomfortable it is to try and squash yourself into a cold airport bench, waiting for hours until it's finally time for take off. Fortunately, there's a comfier option: get yourself airport lounge access.
And while the most luxurious first class lounges require that you purchase first class tickets or be part of a pricey lounge membership program, there are plenty of more affordable options for the regular traveler who just needs a place to unwind and relax while waiting for a delayed flight.
We've put together a list of the best airport lounges in the EU that make waiting for your delayed flights a breeze.
So how do you get access to a lounge? Well, you could pay for a day pass or join AirHelp Plus! With our Complete Plan you get automatic access to over 1,200 lounges worldwide any time you're delayed by just 1 hour or if your flight gets canceled at the last minute.
Here are some of our top picks for the best airport lounges in Europe:
For those who want hearty meals
La Valette Club
Malta International Airport, Malta
The La Valette Club lounge in Malta offers a wide range of excellent food choices, both hot and cold. The food is always fresh and constantly replenished — for breakfast, you can pick up a selection of sandwiches, croissants, yogurt, and tea, as well as warm foods like sausages, bacon, and eggs.
For lunch and dinner, the typical fare includes both local and international dishes, such as assorted cheese boards, bread, cold meats, beef skewers, quiches, couscous, salads, and baked rice. For a sweet treat, you can end your meal with chocolate mousse or a traditional Maltese trifle.
And if you're asking yourself if airport lounge food is free, yes, it is. Most airport lounges will offer complimentary food, snacks, and drinks, though you'll typically have to pay extra for alcoholic beverages such wine or liquor.
The La Valette lounge is located on the third level of the terminal and has a large glass wall with uninterrupted views of the runway, as well as a spacious terrace where you can sit, relax, or smoke in the dedicated smoking area.
Other features include numerous wall outlets to keep your devices charged, a computer terminal with printing facilities, and a large TV. Just what you need to relax and recuperate before your flight.
Aalborg Airport Lounge
Aalborg Airport, Denmark
The Aalborg Airport Lounge often comes as a pleasant surprise to flyers who often don't expect an unassuming airport such as Aalborg to have such an excellent lounge. Located in Terminal 1, past security, this lounge has a sleek, modern, minimalistic interior with comfy chairs. There is a large space for eating and relaxing, as well as a closed off business space for focusing on work.
The food options are simple, but delectable: for breakfast, expect items such as Skyr with raspberry coulis, assorted cheese, quality ham, bagels, fruit, and freshly baked bread. For a vitamin-packed wake up call, they even offer (alcohol free) ginger shots.
Their drink station consists of a modern touch screen dispenser where you can get coffee, tea, orange juice, water, and even lingonberry juice or lingondricka. There is also a fridge where you can choose from an assortment of bottled beverages. But, if you're looking for something a bit stronger, you can also sample local liquors from Brænderiet and Aalborg Spritfabrik.
Here's Henrik Jeppesen of EveryCountryInTheWorld.com's review:
My favorite airport lounge in Europe is in Aalborg. Voted the best airport lounge in the world by the passengers of KLM/Air France in 2021, this lounge is cozy, well-designed, has a good selection of high quality food (which many lounges lack), and is a lovely place to relax before leaving Northern Jutland.
Marco Polo Club Lounge
Marco Polo Airport, Venice, Italy
Marco Polo Club Lounge is a comfortable place to get yourself some peace and quiet in an ultra busy, crowded airport. Even as one of the smaller lounges on this list, it can still accommodate about 200 guests, with comfy high-top chairs facing the windows, a TV area with multiple screens, and quiet spaces for those who need to get some work done.
The lounge is richly decorated with a variety of plants, so you can enjoy a bit of greenery before you pack into your plane. There's also a small terrace if you need some fresh air.
Food at the Marco Polo Club is especially good, and true to form, features a range of scrumptious Italian dishes, including pasta, meats, fresh bread, soups, salads, and of course, desserts such as tiramisu and panna cotta.
The coffee is also good — they have an in-house Barista! And if you need something stronger, you also have the option to order wine and other spirits.
Aspire Executive Lounge
London Luton Airport, the United Kingdom
The Aspire Executive Lounge at the London Luton Airport is just one of many Aspire lounges around the world. While London Luton Airport itself has a bit of a reputation for being crowded and hectic, the Aspire lounge is a breath of fresh air for anyone who wants a bit of peace and quiet in an otherwise bustling airport.
Recently refurbished in 2020, there have been many improvements to this lounge: it has brand new furniture, lighting, and a bar that offers complimentary beer, soft drinks, and other beverages. Foodwise, you'll be treated to standard English fare: think full cooked breakfasts, pastries, cereal, and cold cuts, with both meat and vegetarian menu options available — definitely a plus.
Due to the pandemic, the lounge has switched to table service instead of a buffet, though this might change in the future depending on the latest developments.
For those who want to enjoy great drinks
Northern Lights Executive Lounge
Aberdeen International Airport, Scotland
The Northern Lights Executive Lounge is one of 2 lounges at Aberdeen Airport, the other one being the British Airways lounge. It's large and spacious, with cozy interiors mostly featuring coffee tables and squashy armchairs.
Although actual northern lights sightings from Aberdeen are rare, the Northern Lights lounge does boast large windows with a great view of the runway, where you can watch planes, as well as various helicopters departing for the North Sea oil rigs.
The biggest draw of the lounge, however, is its sizable Whisky Wall, where you can sample a wide array of the best Scottish whisky! Have a taste of local favorites such as Whyte & Mackay, Dalmore, Ardbeg, and Talisker. They also have a sizable selection of local beers such as Brewdog — truly a lounge made for a drinks connoisseur.
Credit card expert Ben Walker, shares his personal experience with the lounge:
I recently visited the Northern Lights Executive Lounge in Aberdeen, Scotland with my family and it was a great experience.

The lounge is separated into a front room where you'll find the check-in desk and two small seating areas. Continuing into the lounge is the main seating area with panoramic views of the runway. Here, you can find plenty of seats, tables and bright light pouring through the windows.

Scottish elements are present and celebrated throughout the lounge. This includes a huge "Whisky Wall," food from local suppliers, and framed photos of scenes from around Scotland.

We enjoyed the quiet atmosphere, welcoming sunlight, and attentive staff. The food was also delicious and available to order from the menu. Some of the highlights from the breakfast menu included shakshuka topped with tofu scramble, eggs florentine with hollandaise sauce, and a wheatgrass, blueberry, and spinach smoothie.
Club Aspire Lounge Terminal 3
London Heathrow Airport, the United Kingdom
Club Aspire Lounge in Terminal 3 at London Heathrow Airport was voted as Europe's Leading Airport Lounge of 2021. What sets it apart from other lounges is that it takes great care to make sure that it caters to the needs of different customers: there is a dedicated rest area, business area, and family friendly areas. Plus, almost all seats have table-side chargers available, so you can have your laptops and phones charged and ready to go.
Their buffet features hot, hearty meals made with seasonal ingredients, but where they really shine is in the beverage department: along with a wide variety of tea, juice, and soft drinks, they also boast a well stocked bar where you can order anything from cider, champagne, or prosecco, and their signature drink: Spey Tenné single malt whisky. This whisky is known for its sweet, warm honey taste, with notes of chocolate and vanilla.
For those who love beautiful interiors
Eventyr Lounge
Copenhagen Kastrup Airport, Denmark
There's one word that seems to come up often when describing Eventyr: Trendy.
A beautiful lounge that first opened in 2017, the Eventyr Lounge is praised for its absolutely gorgeous, modern interiors. Long wooden beams line the ceiling while raised platforms dot the area, separated by wooden dividers to provide semi-private seating while you dine, work, or simply relax.
Geometric chandeliers and blue LED lights add to the ambience of the room, while ferns and vines that make up their living wall and numerous planters add a touch of green. Best of all, the lounge has sweeping views of the runway and the airport's surroundings as it's within a circular building.
British Airways Lounge
Leonardo Da Vinci International Airport, Rome, Italy
With this relatively new lounge that opened in the Leonardo Da Vinci Airport in Rome back in 2018, British Airways have gone for a clean, modern look, decked out in shades of black, cream, and slate.
This lounge has a large, well-executed floor plan that spreads out across 460 sq. meters, with clearly divided zones — there is a large area for socializing, a quiet area for resting, and a business area for those who simply want to focus on work.
In fact, out of all of the lounges on this list, this lounge has the widest range of seating available, featuring a variety of arm chairs, couches, and work chairs. Plus, nearly every chair and table has its own charging port, so there is no need to compete with other guests wanting to charge their devices.
The highlight of the lounge is its gorgeous black marble-top bar where you can order any drink your heart desires. During peak hours, the bar has an onsite mixologist who can whip you up an Aperol Spritz, Negroni, or a refreshing Mimosa to go with your hot brekkie. If you want a beer, Peroni and Nastro Azzutrro are the house recommended brews.
For those who want to enjoy stunning views
Tyrol Lounge
Innsbruck Airport, Austria
The Tyrol Lounge has an absolute stunning view of the snow capped mountains. With floor to ceiling windows and comfy lounge chairs, you can relax and put your feet up and watch the planes take off while enjoying the view of the Alps.
The lounge is full of modern Austrian flare, with hardwood furniture and warm, cozy colors that make you feel like you're in a ski chalet instead of a lounge inside a busy airport.
You can also enjoy a wide range of snacks, as well as fine wine and local Austrian beer. Truly a delight.
Primeclass Lounge
Zurich Airport, Switzerland
Definitely one of the lounges with the best views, the Primeclass Lounge in Zurich has a large outdoor terrace where you can breathe in the fresh air, watch the planes take off, and marvel at the Alps in the distance.
Opened in 2018, it's a relatively new lounge with comfortable, modern interiors, fresh, delicious food, a wide selection of drinks, and fast WI-Fi. You also have access to modern shower facilities so you can freshen up before you take off.
For those that want to get work done
King Amlet Lounge
Billund Airport, Denmark
Brightly lit and spacious, the King Amlet Lounge is what some may call a "typical Scandinavian" lounge. It features sleek, minimalistic interiors, a selection of soups as well as cold food such as salads, sandwiches, and pastries, and of course, a great Wi-Fi connection — perfect for those who need a reliable internet connection to get work done while they travel.
This lounge offers plenty of desks, conference tables, and quiet spaces where you can focus, as well as a printer and copier in case you need something on paper. If you prefer traditional reading materials, they also have a sizable selection of local and international newspapers and magazines.
And if you need to freshen up — before meeting with a client perhaps — they also have showers available.
Tallinn Airport Business Lounge
Tallinn Airport, Estonia
A wide, spacious lounge, the Tallinn Airport Business Lounge has warm, inviting interiors that remind you of home — it even has a fireplace! In fact, their interiors look more like a very large living room instead of a business lounge, which have a tendency to have colder, and well, more business-like interiors.
Like any business lounge, it has comfortable seating, plenty of desks, and even has two soundproof phone booths where you can take your calls to avoid disturbing the other guests. There is also a rooftop terrace where you can enjoy views of the skyline.
If you need more rest, you can snap up one of the sleeping pods or sit in one of their massage chairs.
For those traveling with their families
Primeclass Riga Business Lounge
Riga International Airport, Latvia
The Primeclass Riga Business Lounge in Latvia is a much-loved lounge that has been at the top of the lists for best European airport lounges for 2 years straight. It has clean, modern interiors and a premium buffet with a large selection of both hot and cold dishes to tide you over until you board your flight.
This lounge spreads out over 2 levels, and has plenty on offer to help you relax. There are work tables, lounge chairs, conference rooms, and a dedicated children's area for those with families. You also have access to shower facilities, and, for an extra fee, you can even rent a private suite to catch some sleep — perfect for those longer waits when your flight is delayed, especially if you have children in tow.
MasterCard Lounge
Václav Havel Airport Prague, Czech Republic
A family friendly lounge with colorful, modern interiors, the MasterCard Lounge is perfect for resting with your family while you wait for your flight. It features a complimentary buffet with a variety of quality foods, including soups, pastries, and cereals.
There is a dedicated play area for children where they can keep busy before the flight, as well as access to showers and wash areas to freshen up.
Currently, the MasterCard Lounge is open only to travelers who are leaving for a destination outside of the Schengen area.
For those who want ALL the amenities
iGA Lounge
Istanbul Airport, Turkey
The iGA Lounge in Turkey is by far one of the largest lounges on this list and is so big it has its own cinema and private duty-free store right inside the lounge. With soaring ceilings and brightly lit spaces, it has a seating capacity of almost 600 people, with separate areas for relaxing, eating, work, and entertainment. Various lounge chairs, couches, desks and coffee tables dot the area.
Along with the cinema and on-site duty-free store, there's also a bar, a pool table, and a large buffet with hot and cold food, featuring sandwiches, salads, cereals, and fruit, as well as Turkish dishes like borek, lentil soup, bulgur, and grilled chicken.
In the business area, you can find plenty of work desks, as well as private conference rooms with TV screens. There are also smaller conference rooms available that do not have screens, as well as private phone booths.
During the day, starting at 9 am, the lounge offers free neck and shoulder massages. And if you need a nap, there are six semi-private sleeping pods, each with its own single-person daybed and a small coffee table, tucked away behind a partition to separate them from the rest of the lounge.
There are also showers and washing areas on site with complimentary toiletries and disposable towels. Other notable features include a colorful children's area, as well as prayer rooms separated by gender.
The iGA Lounge truly has everything you could hope for for a comfortable, eventful stay.
Are airport lounges worth it?
If you're already stressed out from traveling and find that your plane is delayed, leading to even longer time in the airport, then yes, airport lounges are worth it. Airports are already notorious for being busy and uncomfortable, so having a dedicated space where you can relax truly makes a difference — you can have food, refreshments, and if nothing else, at least a comfy place to sit without giving yourself a back ache.
And for those who think lounges are too expensive or limited to first class passengers, lounges are more accessible than ever. For example with an AirHelp Plus subscription, you pay just €49.99 per year to gain access to over 1,200 lounges globally whenever you have a delay of 1 hour or more, alongside other perks, including assistance with flight delay and cancellation compensation, lost luggage claims, and live chat support.
Since you already have to spend more time at the airport because of a flight delay, you might as well make your stay a comfortable one.
Get access to over 1,200 lounges globally and receive expert advice when you face flight delays or cancellations with AirHelp Plus. Want to know if your lounge is included? Check using the AirHelp Plus Lounge Finder.
Header image by Riccardo on Pexels.
Join the AirHelp Community
Pick up tips, tricks and good vibes from fellow travelers.
---