AirHelp: the Antidote to Airline Claim Processing Headaches
By The AirHelper | Last updated on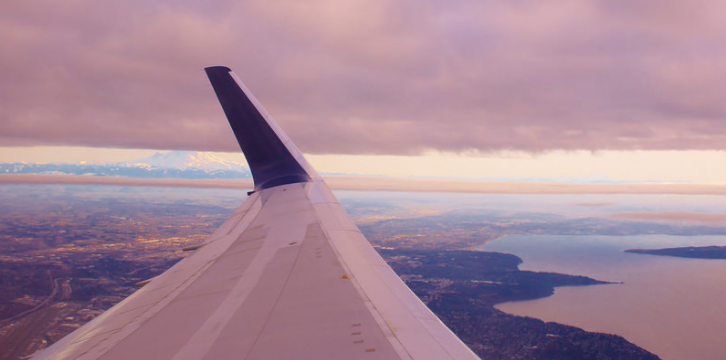 Both AirHelp and airlines want every air passenger to fly happy. But when passengers seek out the compensation for delays, cancellations, or overbooked flights, the claim process can be a headache for passengers and airlines alike. Our unique ability to efficiently manage compensation claims allows us to provide the same services to air carriers, as well. By handing us some of the work, airlines are able to reduce costs, increase efficiency, and provide their passengers with a streamlined claim service.
AirHelp provides advanced customer support to both the airlines and its passengers throughout the entire claims process with a combination of service quality and optimized digital support. Our capabilities go far beyond customer relations, however, and include robust teams in operations, product, marketing, human resources, business development and sales, finance and accounting, and legal. Here's a breakdown of the services we provide.
Assessing claims
AirHelp customers reside in 17 different countries, the majority of which are U.S.-based, followed by Denmark, the UK, Sweden and Italy.
AirHelp carefully assesses each claim filed through its services so that airlines do not receive ineligible claims. The system automatically rejects ineligible claims before they are sent to our specialized claims agents. The cases are checked across various reports on the weather, airport and strike data, and actual arrival time of affected flights to ensure the eligibility of the claim. Once it has has passed various checkpoints, it is then accepted by AirHelp.
A majority of the claims filed through AirHelp are ineligible and only a small fraction are eligible based on the law. These are accepted by AirHelp.
Simplifying airlines' claims process
The number of claims received by AirHelp is forecasted to increase exponentially during the next few months; we project we will receive nearly 140,000 claims. However, only 10% of claims received will be accepted as eligible.
AirHelp rejects more than over 89% of all claims received either through an automated process or manually by our specialized claims team. The total amount of claims rejected by AirHelp has spiked significantly during the last 12 months and, only a fraction of the total number of cases proved to be eligible and can be sent to the airline seeking compensation.
Cost savings
The average value of a single claim is €50 according to AirHelp statistics. The average compensation value per claim is €579, which is measured per passenger based off of single and group claims. The total value of an average claim is detailed by month as follows: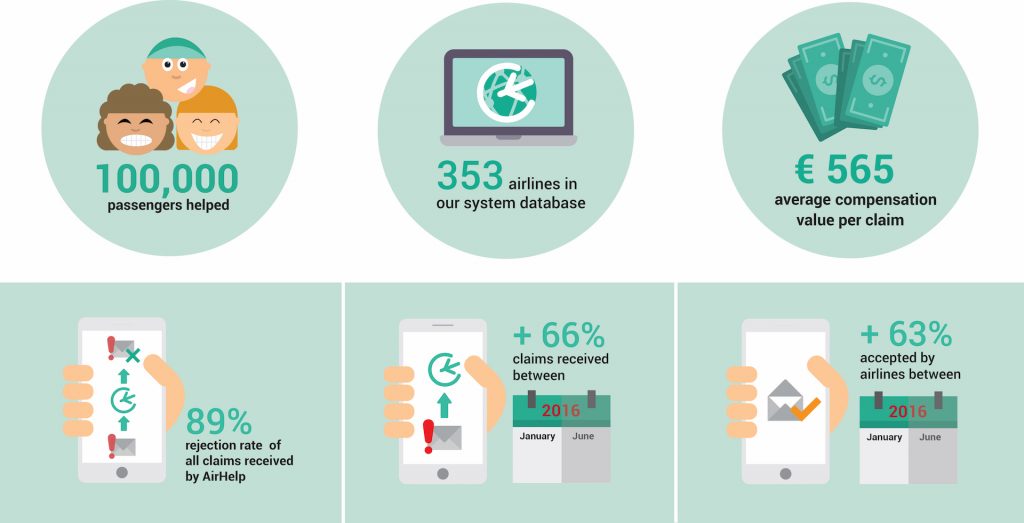 Rejecting non-eligible claims
Airlines are not responsible for cancellations, delays, and other disturbances that occur in circumstances beyond their control. This is the number one reason why a claim is rejected. AirHelp works to fairly evaluate each case so airlines know that the claims they are receiving are for legitimate causes.
The reasons for rejection are shown in the below chart and are mainly due to poor weather or airport strikes–extraordinary circumstances beyond the airline's control. They are  therefore not protected under the law.
Join the AirHelp Community
Pick up tips, tricks and good vibes from fellow travelers.