Have you missed your flight because of TSA lines? The length of TSA security lines at airports across the US has hit unprecedented levels, and travelers are fed up with waiting up to 3 hours in these crazy long lines – so much so that it has inspired a trending social media hashtag #iHateTheWait!
Recently hundreds of passengers were stranded overnight at Chicago O'Hare, and the problem has gotten so bad that some major airports are even threatening to replace the TSA with private security companies.
So what should you do if you miss your flight because of these horrifically long TSA security lines?
Unfortunately, the harsh reality is that your passenger rights are very limited in this scenario, and the airline, the airport nor the TSA have no obligations to help you. Which means you can't claim for delayed flight or any other compensation even though it is not your own fault.
Unlike in the EU where travelers have comprehensive passenger rights laws that protect them from flight delays and cancellations, US travelers are only protected if a flight is overbooked and a passenger is denied boarding by the airline.
The first thing you should do is get on the phone with your airline's call center, and while you're on the phone with customer service, you can also wait in line to speak with an agent live at the airport check-in counter.
Unless you get a really nice customer rep who takes pity on you, you will have to pay a fee to be rebooked on the next flight out that has seats available.
Another option is sign up for an AirHelp Pro subscription, which offers members free flight rebooking assistance and free lounge access in the event of missed, delayed, cancelled or overbooked flights.
How can I avoid long security lines at the airport?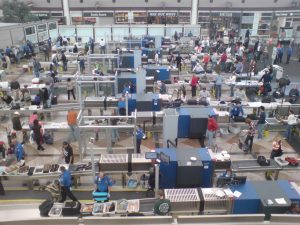 All hope is not lost my friends, and with a little preparation and patience you can conquer the crazy TSA lines at US airports:
Get to the airport as early as you possibly can

Plan to fly from less busy airports instead of major travel hubs – example: try flying out of Westchester Country airport instead of JFK or LaGuardia

Don't fly out during

peak travel times

like Friday afternoon and evening

Try to pack light and only fly with carry on luggage, so you can avoid waiting in both long security and check-in counter lines

Buy priority access TSA passes direct from your airline – JetBlue, Delta and United offer these passes for as little as $15

Follow your airport on Twitter and download the

My TSA app

or check the

TSA website

to keep up with the latest estimated wait times

GET

TSA PRECHECK

,

GLOBAL ENTRY

OR

CLEAR

!
What is the cause of this whole mess and why are the TSA lines so long?
It's not even officially summer yet, and a perfect storm of factors has caused this problem, but it really all comes down to government underfunding.
According to the LA Times, the TSA is understaffed and doesn't have enough money to hire additional screeners, and Congress won't approve the money to hire more people.
On top of that, Americans are traveling more than ever before, with a record number of US airline traffic projected this summer.
It also doesn't help that travelers can't remember to take their shoes off, get their laptops out of their bags, not bring liquids in their carry-on luggage and then forget to leave their guns at home!
The bottom line:
Sign up for TSA PreCheck, Global Entry or Clear before you fly, arrive at the airport super early and if all else fails check out CNN's top tips for controlling your air rage ;)