What started as a celebration in Christian countries to enjoy their feasts before fasting for Lent, cities all over the world now boast their own version of carnival that is open to all. Locals and tourists dance in the streets side by side, dressed in costumes or party wear, alongside energetic parades.
These lively traditions with flowing drinks and local music draw in thousands of international visitors every year. Many times, each day is jam-packed with festivities from sunup to sundown. And to ensure you don't miss a moment of the party – we've checked the airport punctuality rates too. Check out 5 of the top carnival destinations with on time flights:
1. Trinidad and Tobago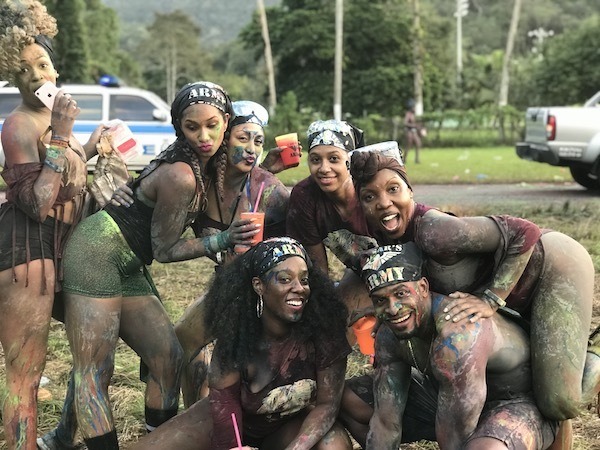 Every February on the island of Trinidad and Tobago there's a weeklong carnival celebration. Each day there are round-the-clock parties that lead up to a two-day parade called Mass on Monday and Tuesday. On the first day carnival participants parade the streets in partial costume, and on the second day they get to show off their full costumes as they march together with their 'tribe'.
Before getting dressed up in colorful and bejeweled costumes partiers get down and dirty. An avid visitor of Trinidad's carnival 8 years in a row, Janelle Hing shares:
"After all the fetes, on Sunday night at 3am revelers gather to participate in Jouvert. Paint, powder, oil, and chocolate are thrown on participants as they parade down the street dancing to the music trucks that ride beside them. Participants party until the break of dawn and make their way home to prepare for carnival Monday a few hours away."
Around 1 out of 5 flights gets delayed in Trinidad and Tobago, so chances are you'll be on time to enjoy the sunny weather, live music and unforgettable parties.
2. Mexico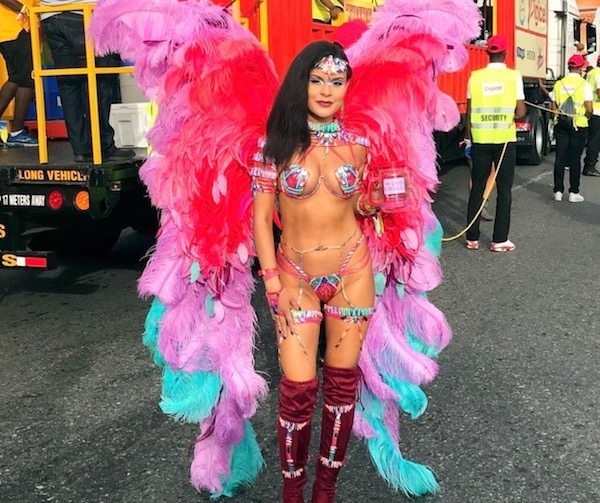 The annual carnival celebration in Mexico kicks starts with crowds setting up a large statue of their least favorite politician or celebrity then setting it on fire. The burning symbolizes moving from the past worries of the previous year and partying into a fresh start of the new year. The airport on-time performance in Mexico is also on fire, with a rate of 87.58%.
Before ordering your lifesize cutout of the public figure you despise, there's a lot of preparation that goes into securing your spot at carnival. Travel Content Creator Martinique Lewis advises:
"Start early and budget wisely! If you're planning to go to the larger carnivals plan 8 to 10 months in advance! Carnival can get expensive, start setting aside 10% of your check every paycheck so it doesn't hit you all at once."
3. New Orleans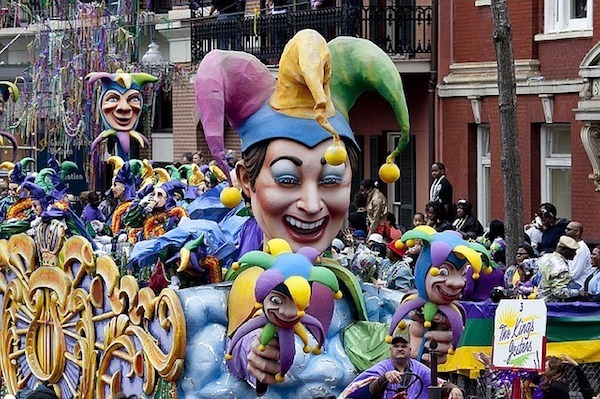 Mardi Gras is one of the most famous celebrations in the world. The streets of New Orleans are filled with grand parades featuring tons of floats and live jazz music. While Mardi Gras can begin on any Tuesday from February 3 through March 9 you can join smaller walking parades that start about 2 weeks before. Even though none of the traditional parades venture into the French quarters it's also worth it to make your way there between festivities.
The celebrations are widespread enough that those looking for wild parties or wholesome family friendly events have plenty of options. However, despite what you may think about what happens at Mardi Gras, New Orleans local Shalon Polite, who has been marching in Mardi Gras since her teenage years, warns:
"Please don't show your boobs. No one around you wants to see it. And there are a lot of kids present."

With a punctuality rate of 79% at the city's international airport you'll be pounding the pavement and modestly collecting beads in no time.
4. The Netherlands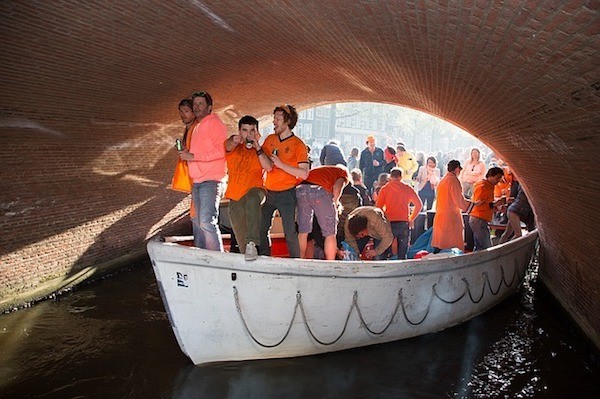 Every year on April 27th the Netherlands holds a countrywide celebration for the birthday of the Dutch King Willem-Alexander van Oranje. During this day every town is filled with festivities but most importantly – everything is orange! For younger partygoers the fun officially begins the evening before on King's Night. While the festivities begin late, The Netherlands airports will get you there on time with an average flight punctuality rate of over 77%.
The best place to enjoy King's Day is in the country's capital city. Amsterdam native Aeyessa Kuipers gives her insight on what to expect:
"Amsterdam is one of the cities that goes all out during King's Day. Everybody is wearing orange and in a party mood. Early in the day people will find the perfect spot where they will sit all day and sell their old belongings. Adults start the day at the big festivals, on boats throughout the canals or in the streets where there are bars, food stands, and DJs lining the streets."
Orange you glad your flight got you to carnival on time?
5. Rio de Janeiro
The place that usually comes to mind when talking about carnival is Rio de Janeiro. Visions of people dancing through the streets in majestic costumes has turned the city into a dream destination for those who want to share in the carnival experience. While it holds the Guinness World Record for the largest carnival in the world, that doesn't slow down the international airport in Rio; it has a punctuality rate of 76.84%.
Want to share in this world-renowned street festival with friends? Make sure you have a game plan before your flight takes off. Natelaine Fripp likes to travel with a carnival crew and has found ways to leave the drama to the carnival performances:
"Pick your travel group wisely, not all friends are meant to travel together. Carnival is a unique experience with lots of sleep deprivation. It's best to travel with like-minded people or people who balance each other out. There may be obstacles in the planning process or disaster once you touch down. Pick a crew that can shake it off and roll with it."
The best thing about being a part of these high-energy celebrations is experiencing the way other cultures celebrate carnival. But these street festivals aren't all about the glitz and glam. After traveling internationally for carnival celebrations Nateanah Albury has some advice:
"Don't complain and enjoy the culture – you're experiencing and celebrating someone else's deep-rooted culture. It's more than dancing, liquor, and loud music."
Are you attending carnival this year? Let us know your carnival tips in the comments section below!
Flight delays happen, but that doesn't mean you have to accept them. You may be entitled to a much as $700 in compensation if your flight was delayed, canceled, or overbooked within the last three years.