Long haul flights and missed connections can leave you disheveled and feeling totally unglamorous. Thankfully, many products these days come with a mini version of their regular products so that you can keep up with your beauty routine on the go – without packing the contents of your makeup vanity.
All of these travel-sized beauty products are compact, flight-ready, and easy to pack into your carry-on bag. To make sure that you don't draw the ire of airport security, all of the suggested products are compliant with the 3-1-1 rule.
This means that fluids and gels should be under 100ml (3.4 fl. oz) in volume while powders should be under 350ml (approx. 12 oz), which is about the size of a soda can. (Yes, TSA puts restrictions on all synthetic powders, including cosmetics, so you definitely can't bring your extra-large bottles of talcum powder onto the plane!)
Here are our top picks for the best travel-sized products for beautiful skin and hair:
Our Picks for Travel-sized Makeup Products
Urban Decay Ultimate Basics Palette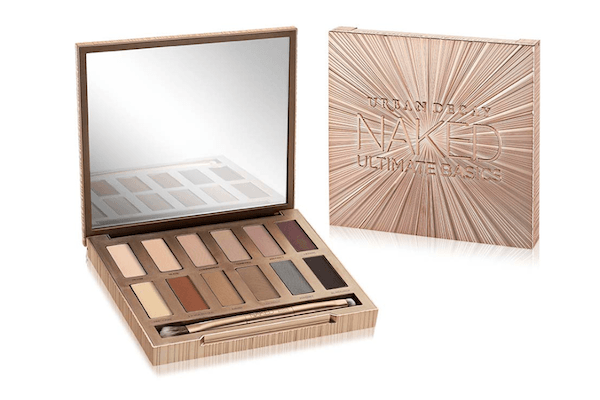 Urban Decay is a beauty blogger favorite because of its gorgeous pigmentation and long-lasting formulas. The Urban Decay Ultimate Basics Palette is no exception and packs 12 flattering shades in one sleek container.
While it isn't the smallest eyeshadow palette out there, Ultimate Basics is compact enough to fit into almost any purse. It comes with a two-sided brush and a large mirror, which is great if you prefer not to squint at those tiny compact mirrors while you apply your makeup. The shades are also extremely versatile, perfect for putting together both muted day looks and dramatic smokey eyes alike.
Price: $54
Volume: 0.48 oz total
Milk Makeup Mini Lip + Cheek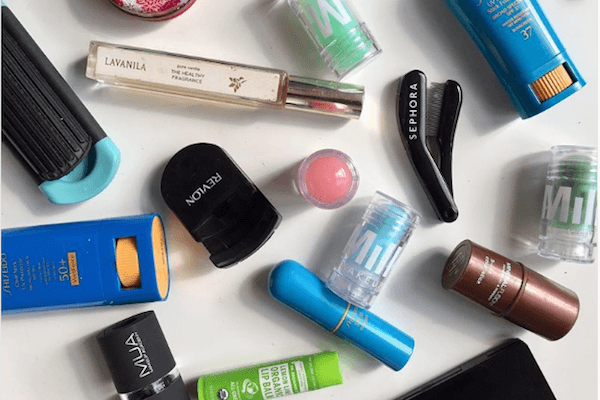 Milk Makeup is another blogger favorite and Milk Mini Lip + Cheek is perfect for those who want to pack less, but get more out of their beauty products.
Freelance writer Jeanette Zinno highly recommends it:
When I travel I always try to bring multi-use products so I can pack as little as possible. I love this color stick and use it on my cheeks, eyes, and lips.
This tiny stick of color is two products in one — a lip tint and a cheek tint. It comes in a flattering, dusty rose color and makes it oh-so-easy to make sure that your lips and cheeks are always perfectly coordinated. Definitely, one of the best travel-sized makeup products out there.
Price: $14
Volume: 0.19 oz
Tarte Colored Clay CC Undereye Corrector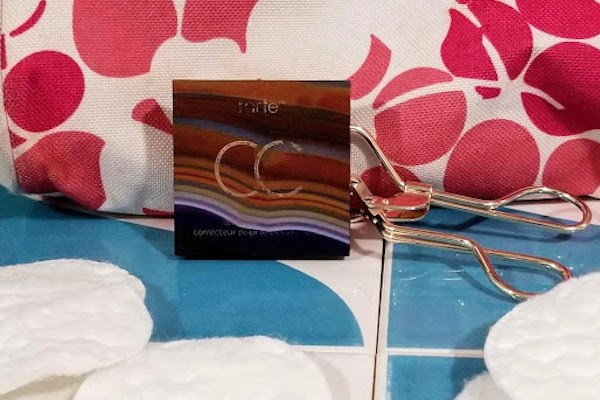 Another multi-purpose product, Tarte Colored Clay CC Undereye Corrector, is great for helping you look fresh and awake and cover up those jetlag eyebags.
Travel editor Anne-Marie Hays at BestCompany.com says:
I hate wearing foundation, especially in the unbearable summer heat. A simple, small solution is Tarte Colored Clay CC Undereye Corrector. It can easily fit in a purse, backpack, or carry-on when traveling through airport security. This product covers up my dark circles and blends in well enough that I don't feel like I need foundation that I will end up sweating off anyways.
This undereye corrector is part of Tarte's award-winning Amazonian Clay collection, which uses natural clay as a chemical-free, complexion-balancing ingredient.
Price: $25
Volume: 0.08 oz
Tevia Rose Satin Lip Conditioner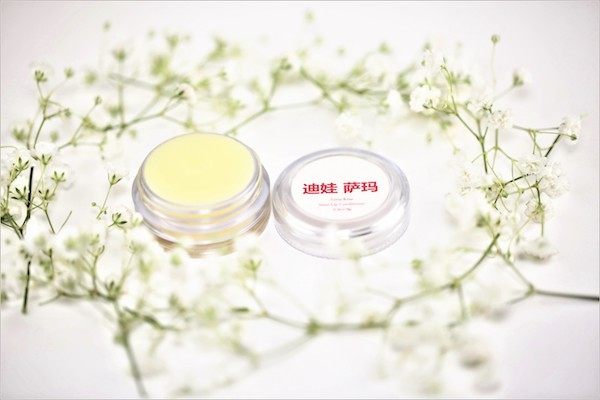 On a flight and when traveling to drier climates, the lips can easily crack, bleed, and peel. Keep your lips soft and hydrated with Tevia Rose Satin Lip Conditioner, an all-natural, jasmine and pineapple scented lip balm made from organic ingredients.
Diva Samai, the owner of Tevia Rose, says:
Our Satin Lip Conditioner is perfect for the woman who uses matte and drying lipsticks because it has moisturizing ingredients such as organic honey, jasmine extract, and kokum butter.
Price: $24
Volume: 0.3 oz
Moroccan Magic Lip Balm
For a truly luxurious lip balm infused with argan oil, coconut oil, and vitamin E, Moroccan Magic Lip Balm is just what you need. Vegan-friendly and cruelty-free, this lip balm applies like velvet and comes in four elegant scents: Rose, Coconut Almond, Peppermint Eucalyptus, and Lemon Thyme and Lavender Vanilla.
Moroccan Magic Lip Balm is wholly organic and certified by the USDA.
Price: $12 to $14 for a pack of 3, depending on the scent
Volume: 0.15 oz each
Her Royal Flyness Instant Nail Art Wraps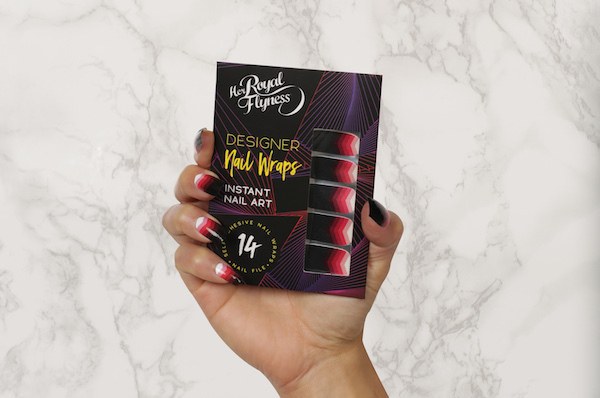 As you may know, nail polish on the plane is a big no-no, as fellow passengers will likely give you the stink eye as the noxious fumes start wafting through the cabin. But what's a romantic vacation without showstopping, perfectly manicured nails?
Her Royal Flyness Nail Art Wraps are just the thing. They are self-sticking nail art vinyls that you can press onto your nails for a quick and easy manicure — without the use of nail polish!
Founder of Her Royal Flyness Nail Art Wraps, Lani Devine says:
With our Nail Wraps, you can get instant nail art in minutes without nail polish. Meaning you could get a manicure anywhere; in a cab, in a limo, or on a private jet with Chris Hemsworth. #Goals
These nail wraps come in a wide range of colors and designs and are flexible enough to fit almost any nail shape, even if you have extremely curved nail beds. Plus, as they are stickers, they aren't subject to the restrictions that nail polish bottles would be.
Price: $11.36 for one set
Our Picks for Travel-sized Hair Products
Lush Shampoo Bars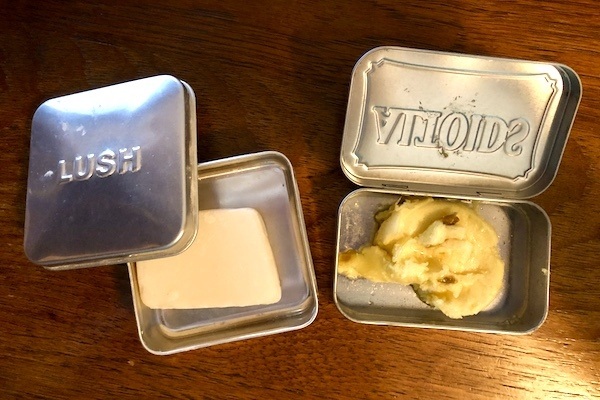 For longer trips, one tiny bottle of shampoo won't cut it — 3.4 oz runs out pretty fast, especially if you need to wash your hair every other day. This is why Lush Shampoo Bars are a godsend. They are solid, which means that they are not subject to TSA's liquid restrictions, but still compact enough to fit in your pocket.
Travel blogger Jean Warneke of JB Journeys highly recommends them:
I've gone with all solids especially from Lush. The shampoo bars are concentrated and create suds quickly and really clean. They also have conditioners and deodorant in bar form.

Not only do I no longer have to worry about liquids when I go through security, but I've also cut down dramatically on the packaging. Think about small travel size deodorants – it's mostly plastic. Lush sells tins for their bars, but I keep mine in Altoid containers!
Lush has become somewhat of a global phenomenon and their shampoo bars will always be among the most popular travel-sized hair products because of their versatility, convenience, and commitment to protecting the environment.
Price: Between $10.95 to $15.95 depending on the scent
Volume: 1.9 oz to 3.5 oz
Darshana Natural Indian Hair Oil
For especially hard-to-tame locks that need a nourishing boost, Darshana Natural Indian Hair Oil keeps your tresses sleek and well-hydrated. Made from a unique blend of plant oils and free from sulfates, parabens, silicone, and artificial color, this all-natural hair oil keeps frizz at bay even after a long flight.
According to Shana at Darshana Beauty, it's a multi-use product that isn't limited to just your hair:
I use it during plane flights to moisturize my hair and face. This is especially important on long plane flights when the dry air sucks the moisture out of our body. It's so natural it can also be used on your face — I use it to hydrate my skin instead of the stock hotel lotion.
Price: $18
Volume: 2 fl. oz
Rasasara Skin Food Tridoshic Dry Shampoo Dust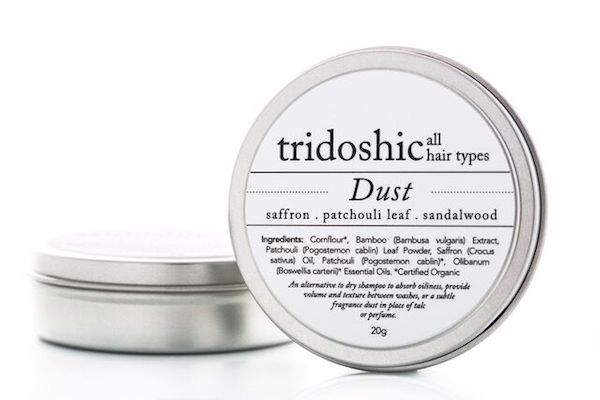 If you're one of the more adventurous types and love long hikes and camping, Tridoshic Dry Shampoo Dust is just what you need to keep your hair clean and smelling fresh. It's a great choice if you want your hair to look great even between washes, or just need something to freshen up if you have limited access to water.
Tridoshic Dry Shampoo contains saffron, patchouli, and sandalwood, and is made from all natural ingredients.
Price: $25
Volume: 0.7 oz
Redken Frizz Dismiss Instant Deflate Oil-In-Serum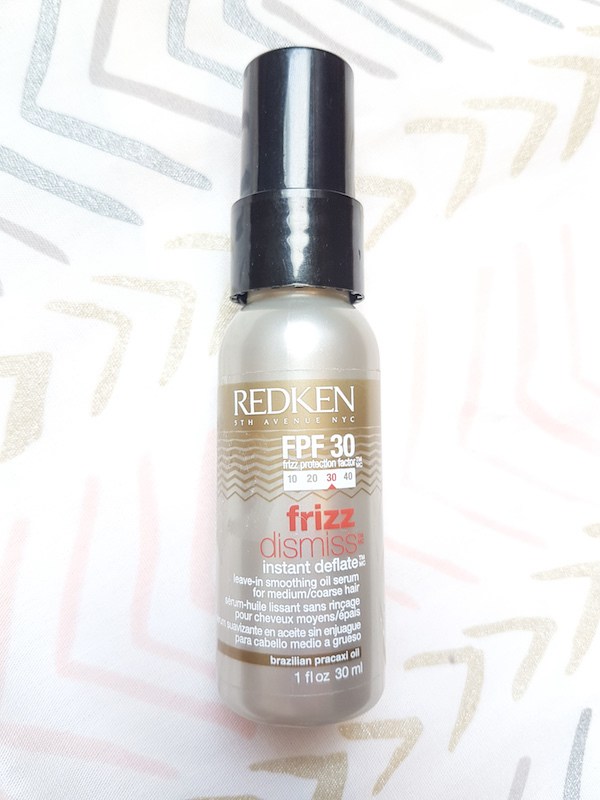 When traveling to tropical climates, the hot temperatures and humid environment can leave your hair a frizzy mess. Redken Frizz Dismiss Instant Deflate Oil-In-Serum is an excellent solution for battling flyaways and poofy, frizzy hair thanks to its sodium chloride-free formula that is enriched with Babassu oil.
Travel Coach Dominique Lessard of easyplanettravel.com swears by this product:
Do you remember Monica's frizzy hair when she traveled to the Caribbean in the show "Friends", and everyone was scared of her? That's what my hair looks like wherever I travel in the world (well, maybe not in the desert lol). This Redken serum instantly deflates my hair and leave it shiny and soft. I've been refilling this tiny bottle over and over again, and it's always the 1st thing I pack.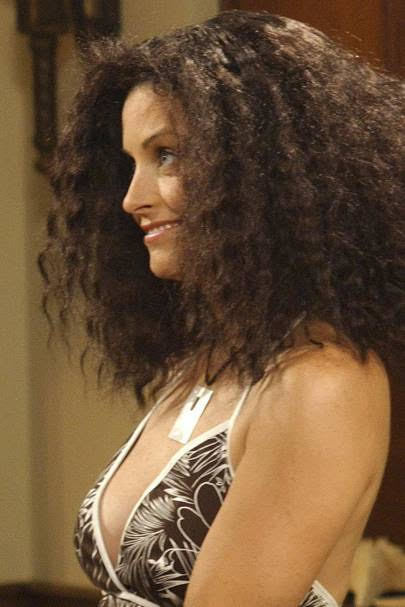 Price: $10
Volume: 1 fl. oz
Our Picks for Travel-sized Facial Care Products
Origins Drink up Overnight Hydrating Mask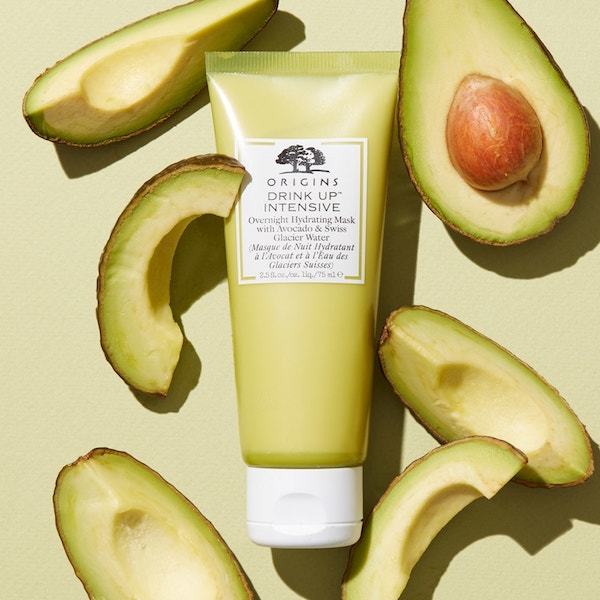 Made with avocado and clear glacial water from the Swiss Alps, Origins Drink Up Overnight Hydrating Mask is a nourishing, refreshing, and fully hydrating face mask that comes in a handy, travel-sized bottle.
Designed to be worn to bed, it's just what you need to keep your skin fresh as you ready yourself for a long day of adventure.
Travel writer Jessica van Dop DeJesus of diningtraveler.com says it is one of her favorite travel-sized beauty products:
My go-to beauty product on the road, especially for long flights, is the Origins "Drink up Overnight Hydrating Mask". Once I board the flight, I wash my face and apply the product. It truly helps my skin stay hydrated. Best part is that you don't have to rinse it off. It truly does miracles making you look refreshed after a long journey! I've been using it now for more than five years.
Price: $13
Volume: 1.5 oz
Mask Moments Jetsetter Hydration Masks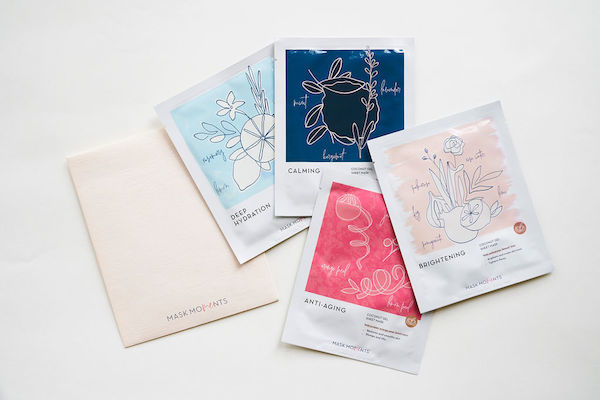 Specially formulated for travelers who are constantly exposed to the dry, moisture-sapping air of a flight cabin is the Mask Moments Jetsetter Hydration Mask. This luxurious facial mask comes in a pack of 8 and can easily be worked onto your face as you nap in your seat during a flight.
Travel enthusiast and face mask expert Sophia at Mask Moments says:
The in-cabin air is so dry and travel takes a toll on skin, so having this mask is like carrying a portable facial in a pouch! A must-have, especially if I'm on a LONG flight. I like to put these on as soon as the lights go out! These are no paper masks, but made of premium coconut jelly!
Price: $35 for 8 pieces
Basq NYC BRIGHT EYES Cucumber Tea Eye Gel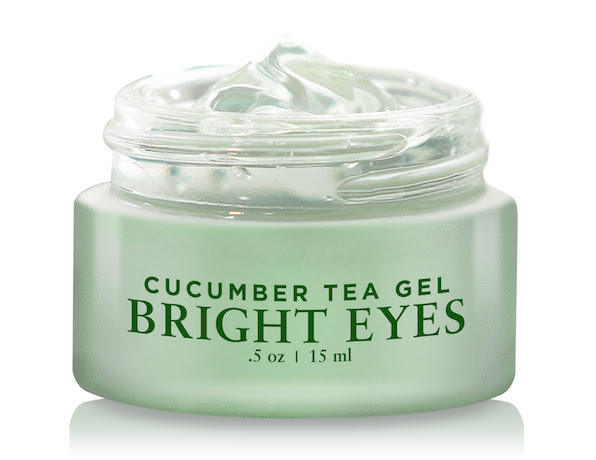 Jet lag and long nights of partying in a new city can leave you with eyebags that can be seen from a mile away. This is why BRIGHT EYES Cucumber Tea Eye Gel is just what you need to soothe skin and reduce puffiness underneath your eyes.
This cucumber and tea infused gel is intensely soothing and revitalizing, and comes in a handy, travel-sized tub too!
PR whizz Marisa Ryan Honig says:
Perfect for those travel days when you need to revive your tired, puffy eyes. This antioxidant-rich cucumber and green tea formula smoothes puffy eyes and fine lines while providing your skin with an instant, refreshing wake-up call. Ideal before bedtime as a deep treatment or in the morning as a smoothing primer.
Price: $24
Size: 0.5 oz
Inflight Skincare Serum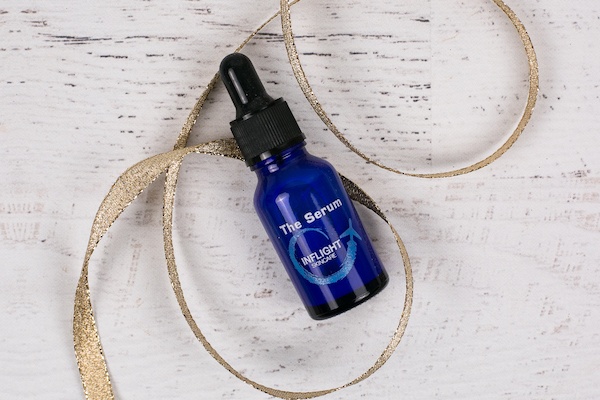 Inflight Skincare Serum from Flygirl Box is a product designed specifically for flight attendants, by a flight attendant. As anyone who has been on a long haul flight knows, the recycled cabin air can completely sap your skin of moisture, leaving it dry, flakey, and irritated. This serum plumps up and nourishes the skin, and is meant to be applied before your facial moisturizer as an extra boost. It contains vitamin C and E, alpha lipoic acid, and natural lemongrass.
Price: $18
Volume: 0.5 fl. Oz
Kiehl's Facial Fuel Face Wash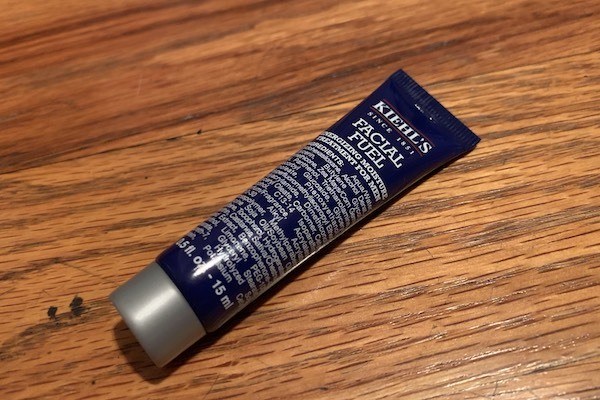 For the men we have Kiehl's Facial Fuel Face Wash, which is the perfect product for keeping your face fresh and clear, minimizing breakouts. This product removes dirt and debris with its gentle cleansing formula, and its use of caffeine, menthol, Vitamin E, orange and lemon extracts brighten the skin.
Travel blogger Adam at Travels of Adam highly recommends it:
I love Kiehl's beauty products and travel with them regularly. I always carry a travel-sized bottle of Kiehl's facial fuel face wash because it's convenient and easy to pack and always leaves me feeling refreshed. It's really a great feeling to wash your face on a long flight. Even if you don't have time or energy to shower, washing your face will make you feel fresh and clean.
Price: $10
Volume: 2.5 fl. Oz
Dermalogica Precleanse Oil-Busting Emulsifyer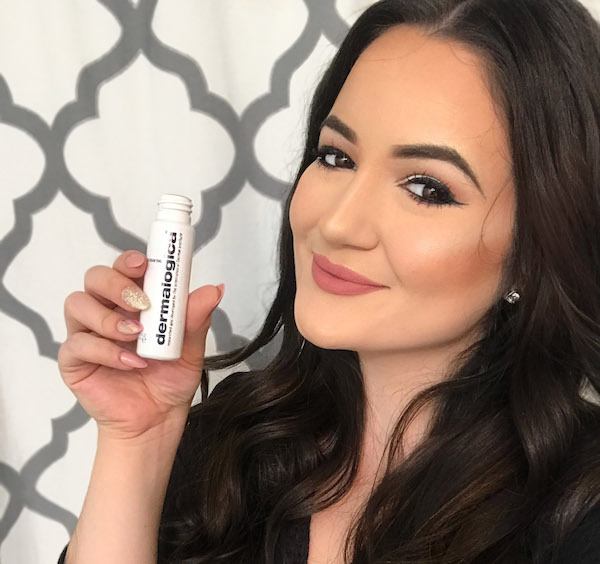 Sweat, oil, and caked-on makeup can really build up over the day, which is why you need a powerful, but hydrating facial cleanser. Dermalogica Precleanse Oil-Busting Emulsifyer is tough on makeup, but gentle on the skin, leaving you with a soft, smooth base for the next day.
Travel blogger Joanna Faith Williams at joannafaithwilliams.com swears by it!
Truthfully, I can't go a day without using this, even when I'm not traveling! It smells amazing, feels incredible, and works like true magic. This product leaves nothing behind; whether its removing layers and layers of sunscreen from a day on the beaches of Cozumel, or if it's tackling a ton of sea spray that's stuck to a full face of foundation after a day of looking out at sea on a massive cruise ship. A true staple and my forever top pick if I could ever only bring one thing.
This product removes oil, debris, and makeup build up, without stripping your skin of moisture.
Price: $45
Volume: 3.4 fl. oz
Our Picks for Travel-sized Skincare Products
Colorscience Sunforgettable Powder Sunscreen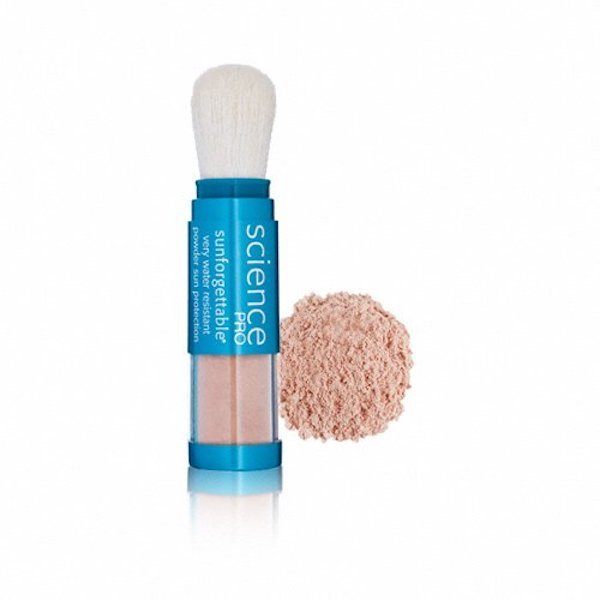 Colorscience Sunforgettable Powder Sunscreen has all the benefits of sunscreen in a sleek, travel-ready package. This sunscreen has an impressive SPF 30 UVA/UVB protection, is water resistant, and comes with a built-in brush for easy application. Just swipe and go!
Inessa Fishman, MD, a facial plastic and reconstructive surgeon at Aviva Plastic Surgery & Aesthetics, highly recommends it:
I love my trusty Colorescience Sunforgettable powder sunscreen and travel with a brush all the time. This water-resistant, ultra-light-weight, shimmery powder coverage is great for hiking, sports, swimming, and just being out and about.
Sunforgettable comes in five, blendable, lightweight shades.
Price: $45.50
Volume: 0.21oz
The Body Shop Shea Nourishing Body Butter
Shea butter has been a beauty staple for years because of its nourishing, intensely hydrating properties. If you need a natural moisturizer that works double time, throw a tub of The Body Shop Shea Nourishing Body Butter into your luggage and apply to any spots on your skin that need an extra moisture boost.
Travel blogger Holly Miles of hollypocketloves.com adores this product:
My number one tip when it comes to packing beauty products for your holiday is this mini Shea Butter by the Body Shop. What I love about this product is that it is small, ethical, fair trade, smells gorgeous and can be used for more than body cream! If I'm really tight on space (mostly because my clear plastic toiletries bag is already full with other products) then this mini body cream can double up as a face cream, hand cream and foot cream as well. So you save the space of THREE other products in your baggage just by taking this one instead.
Price: $7
Size: 1.69 oz
JK Naturals Deodorant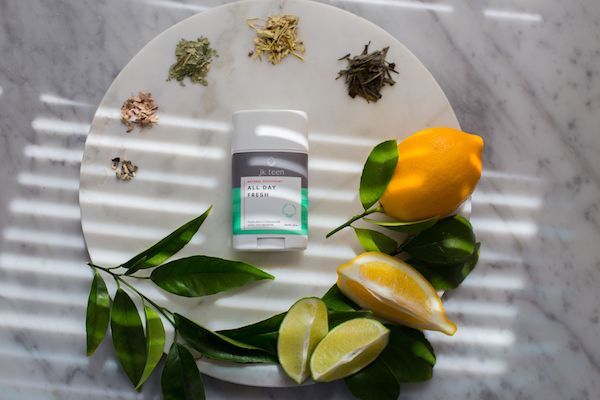 Natural deodorants are becoming more popular as they are free of aluminum salts and parabens. If you sweat a lot and want to keep smelling fresh on the road, throw in a stick of JK Naturals Deodorant, which consists entirely of natural ingredients. These solid deo sticks are organic and include natural odor-controlling ingredients, such as tea tree oil and lavender.
Price: $15.99
Volume: 1.76 oz
CC2Go Travel Pack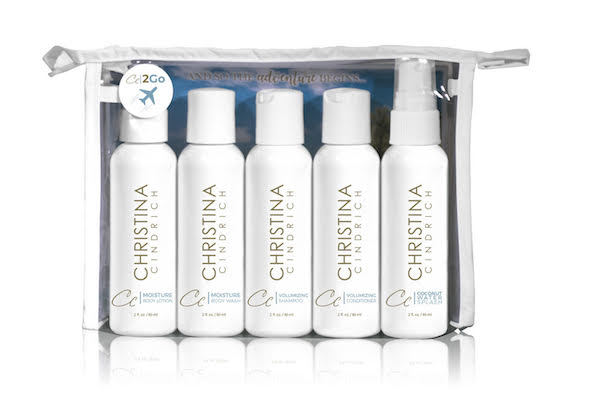 No trip is complete without a basic toiletry kit, which makes up the foundation of any beauty routine. Keep your skin and hair clean and healthy with the CC2Go Travel Pack by TV producer, host, and digital influencer Christina Cindrich. This convenient toiletry kit contains five products at 2 fl.oz each, which includes one body lotion, one body wash, shampoo, conditioner, and one bottle of coconut water splash, a hydrating face mist that you can use as a quick pick-me-up when your skin is feeling parched.
Its formula contains all-natural, high-quality ingredients. Christina Cindrich herself says:
The starring ingredient in my skincare line is Monoï de Tahiti, which I discovered in my travels to Bora Bora. Monoï de Tahiti is a sensual oil stretching back thousands of years in French Polynesia. Obtained by macerating fresh Tiare Tahiti-Gardenia flowers in natural, refined coconut oil, the results offer a softening, purifying and soothing effect that moisturizes the skin and protects hair from damage. CC2GO is TSA-Approved and ready for takeoff.
Price: $25 for one set
Volume: 2 fl. oz per bottle
PlaneAire Travel Mist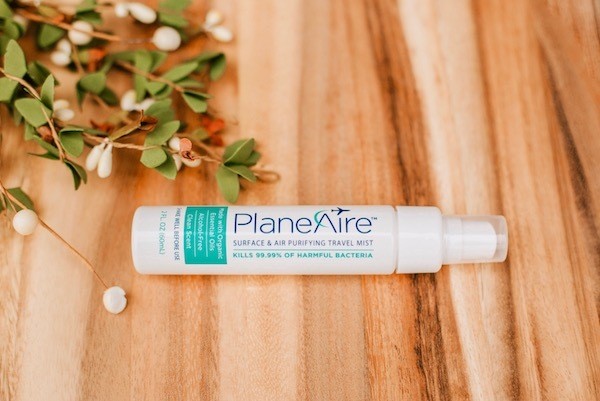 When we travel, there are times when we encounter bathrooms that are not as clean as we would like. PlaneAire Travel Mist can keep bacteria and viruses at bay with just a quick spritz on any surface that you'll need to touch. Unlike other disinfectant sprays, this one doesn't use alcohol or synthetic chemicals — it uses only organic essential oils and purified water.
While PlaneAire isn't exactly a beauty product, it is definitely something that belongs in every toiletry kit!
Alex Tran, a digital marketing strategist and travel blogger at weloveeattravel.com counts PlaneAire among her top travel essentials.
I use PlaneAire to clean surfaces while I am traveling long distances. It also smells amazing so it doubles as aromatherapy. It's made with essential oils so it's au natural!
Price: $14.99
Volume: 2 fl. oz
Beauty On the Go
When it comes to beauty essentials, these travel-sized products help you look your very best even on the go. Don't let delayed flights and grumpy TSA agents ruin your beauty routine! If you do experience a delayed flight, you might be able to apply for flight delay compensation europe.
Do you have any favorite travel-friendly beauty products that you absolutely can't live without? Share your must-haves in the comments below!
Flight delays happen, but that doesn't mean you have to accept them. You may be entitled to a much as $700 in compensation if your flight was delayed, canceled, or overbooked within the last three years.
Featured image by Raphael Lovaski