So, you've decided last minute that a trip to the football games in Russia is calling your name.
Maybe you want to exercise planned spontaneity. Perhaps you don't want to miss out on a travel adventure. Or, you simply want to head out to experience the summer of football first hand.
The real conundrum is … how can you quickly drum up a plan to make Russia happen for you last minute?
At AirHelp, we want to help travelers like you claim your share of the excitement and adventure.
We exist to help passengers, and we have solid solutions for making your dream a reality.
So here's your quick and snappy guide for turning a last minute whim into a reality.
Finding a Flight to Russia
So, first things first, you'll need to get looking for flights immediately.
But looking for direct flights to Russia this late might make you feel queasy when you fixate your eyes on the prices.
So how about an alternative route for reaching one of the host cities?
AirHelp Pro Travel Tip: Fly into a country closer to Russia and then hop on a shorter flight from there.
Consider flying into a major city closer to Russia like Gdansk, Riga, or Helsinki.
For example, flights to Gdansk are cheap from many European countries.
Traveling from Gdansk to the host city of Kaliningrad is only around 200 km, and there are a number of buses and trains that will take you from the airport to your final destination.
Compare Prices: Check a few of your favourite travel sites against other sites like kayak or skyscanner to get a feel for the right price and varying flight schedules.
Check out this video in our Football Tips & Tricks Series for more detailed information on reaching Russia from Poland.
Print Out Any and All Documents
As a word to the wise: paper is principally king in Russia.
Most airlines, hotels, and venues do NOT accept electronic issued receipts or booking references.
Instead, take an extra few moments before leaving home to print out any and all documents.
Fold the documents in half and store them in a convenient place so you can access them quickly. This will speed up your entry and exit at the airport.
Your preparation will also pay off because your documentation will ensure the airport experience is stress-free: you won't run the risk being refused entry.
You'll be glad to have the documents close at hand when you need it.
Getting On Your Flight to Russia
Considering that your trip to Russia is last minute, it might be a good idea to prepare yourself for the airport experience before you go.
Check out the Airport Experience in Russia post for tips and information on what to expect.
Inevitably, security measures during this time period will be heightened, so it's imperative for you to arrive at the airport at least 3 hours prior to your flight's departure.
Crucial Recap: Remember, don't rely on electronic tickets stored on your phone. Print out all travel related documents before you leave because in Russia, printed out paper passes rule.
Navigating Russia: How to Get Around
So you've landed in Russia and you're going to need to know how to get around.
You can start by learning some basic phrases with AirHelp's Russian phrasebook. It's also a good way to impress the locals with some football expressions.
For traveling around cities in Russia, use apps like 2GIS to find your way from place to place.
What's the best part about this app? After downloading the city map, you can then get directions on-the-go without being connected to the internet.
This means you can use the app while you're in an airport, on the road, or on public transportation.
Last Minute Logistics: Comms and Tech
Passport, Passport, Passport!
Always carry your passport with you. I know that might sound obvious, but in Russia, your passport is the key to booking train tickets, hotel rooms, purchasing SIM cards and much more.
SIM Card If you want seamless access to data for your smartphone, you'll want to purchase a Russian SIM card.
Foreign cell phones often won't pick up signal in Russia too so it's a good idea.
What's more, to use public WiFi you're number will need to be verified by SMS.
Straight after landing, head to a mobile provider or stand and buy a local sim card for around 15 euros.
You'll need your passport to get your sim registered.
Travel Tip: You will need an unlocked phone in order to insert a Russian SIM card into your phone, so try and sort this out before you head out.
Sim cards issued from providers such as MTS and BEELINE offer good coverage and deals.
Using Electronics in Russia
Russia uses two round pin plugs which is the same as many Europeans countries.
If you're flying from UK or outside Europe, you'll want to pack a plug converter or adapter to make use of your electronic devices while you're in Russia.
Whether you're traveling tomorrow, next week, or further down the road our last minute tips are here to give you everything you ned for the trip to Russia.
To make sure it sticks in your memory, check out our handy infographic with all of our tips summarized.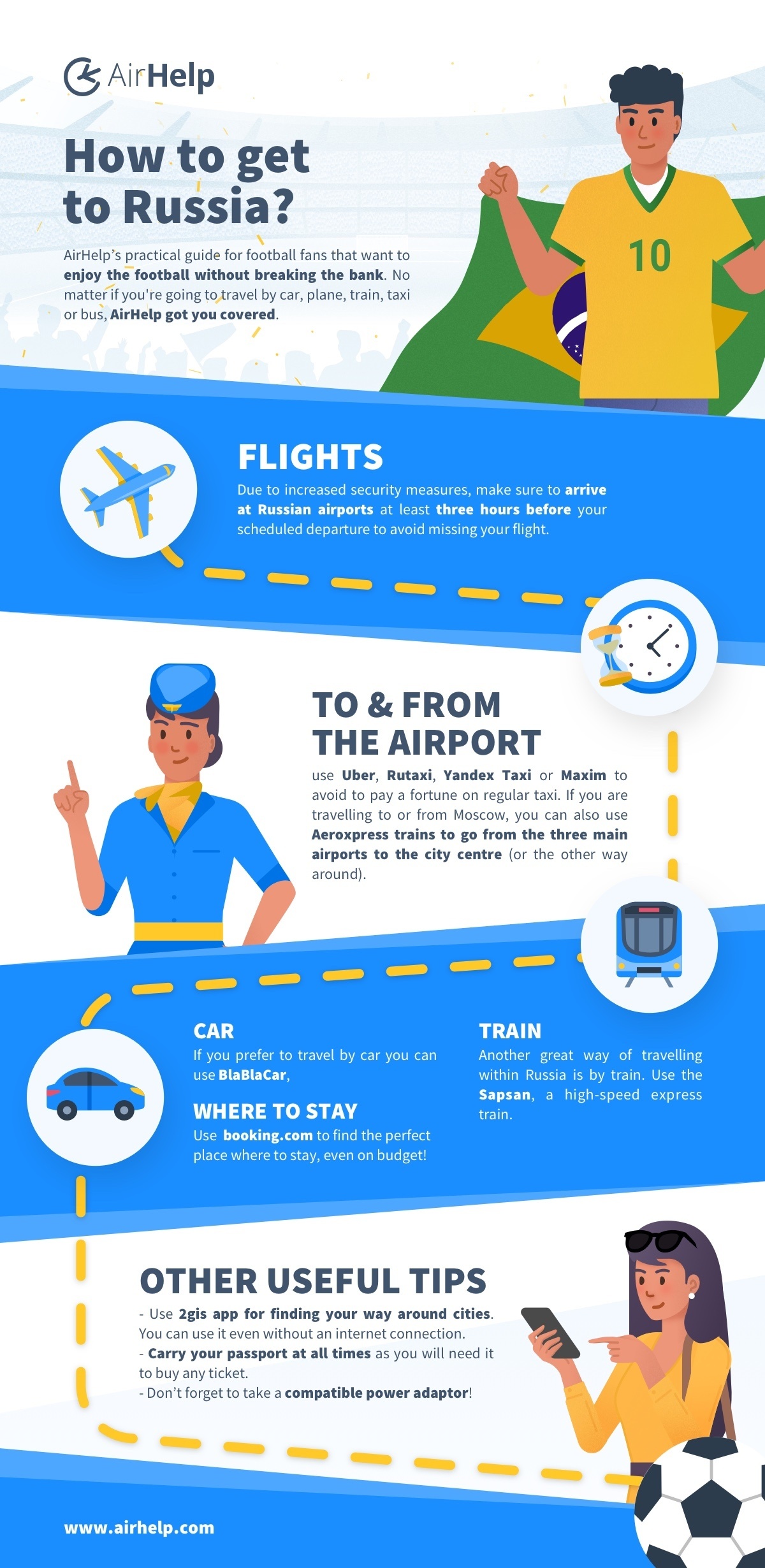 Flight delays happen, but that doesn't mean you have to accept them. You may be entitled to as much as $700 in compensation if your flight has been delayed, canceled or overbooked within the last three years.
Photo credit for Fauzan Saari.