Justice as a Service
By The AirHelper・Last updated on October 4, 2019
There's a new wave of customer empowerment coming. It's called Justice as a Service (JaaS), and you need to know about it because it benefits you – you just don't know it yet.
We've all experienced bad products and services. We've just come to accept it. We've learned to pick our battles and only invest our precious time in "making things right" when potential justice and retribution is within reach. But in most cases, we don't do anything. We figure it's not worth it. What are these injustices? Well, they range from all areas of B2C interaction. Maybe your flight got cancelled. Or your cable subscription got more expensive. Or maybe you bought something online and the day after the price dropped. Or the package arrived two days late. Sound familiar?
How come companies can get away with this? One would think they would try to deliver the best product or service every time. But even though the intentions are right, it isn't always possible. Some companies will downright speculate in delivering bad customer experiences to optimize for revenue. Luckily, there are consumer laws in place to make sure you don't get taken advantage of. But laws are typically not worth much, unless you know they exist, and most people don't.
Justice-as-a-Service is an on-demand service, powered by tech, that challenges private and public companies by representing the consumer in their fight for justice/compensation based on laws, consumers' rights, and contract of carriage.
Why is there a need for Justice as a Service (JaaS)?
You don't know your consumer rights. No one has 2-3 hours to study international, regional and state consumer laws to find out if you are entitled and what you are entitled to.
You don't know how to claim and neither does the service provider. The companies who stand to loose money will not make it easy for you to claim. Try calling any customer representative and ask about your consumer rights. Most likely they won't know them or know how to make a claim.
You don't have the time to fight for your rights. After you've read the law, found out how to claim and filled out the paperwork, you likely have to follow up in order to get an answer. Most people don't claim because it's simply not worth their time and frustration.
Success is very unlikely. If you finally succeed on getting an answer, the chances of your claim being rejected is very high. This is partly because the company delivering the service doesn't know the consumer laws, but also because there's a tendency to speculate that if they don't answer or reject your claim, you won't take any further action.
Litigation on consumer rights has existed for decades. Every time you see a "No Win, No Fee" sign you're most likely reading an offer on legal representation to claim some form of compensation on your behalf. This can be anything from car accidents to failed hip surgery – hence the name "ambulance chasers." So how is JaaS different?
Traditional litigation law mostly focuses on high value claims. Otherwise, it wouldn't make sense for the lawyer to spend time on processing the claim and take legal action if needed. That rules out all small consumer right claims with low claim value. JaaS companies are different. The rise of big data and the access to this data has made it possible to build software that automatically validates a claim instead of someone manually assessing it.
As a result, a larger part of the claim procedure can be automated making the unit economics work for a much wider range of consumer right claims. Another way JaaS is different from classic litigation law is the use of online platforms such as web and mobile apps. This enables on-demand assistance and protection at the time of need – it's the same reason Uber boosted the entire ground transportation industry by making it easy and convenient to order a taxi at the time of need. The combination of automation, online user interaction and legal tech pushes the development and allows scalability. All this wasn't possible a decade ago.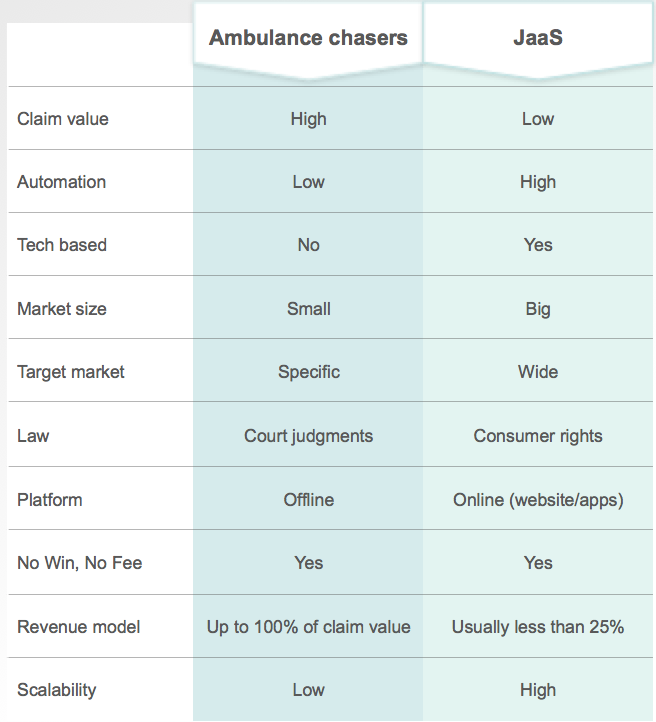 Who is doing Justice as a Service (JaaS)?
The first brave pioneers are already experimenting in many different verticals. The revenue model is mostly the same. "No Win, No Fee" either as a share of the compensation or a fixed fee. Here are some examples worth following and perhaps trying out for yourself:
AirHelp. Helps you get money back from airlines if you've been on a delayed or cancelled flight, according to air passenger rights laws. You type in your flight info or login with your email. AirHelp then fetches all of your flight confirmation emails from the past 3 years (statute of limitation) and shows you your flights that are eligible for compensation. They charge a service fee if they are successful in getting you your money. If not, then it's free. AirHelp uses flight, weather and airport data to automatically validate a claim. Then the law is applied and a probability analysis is made to determine the likelihood of claim's success. Everything happens in seconds before claim docs are generated and then sent to the airline.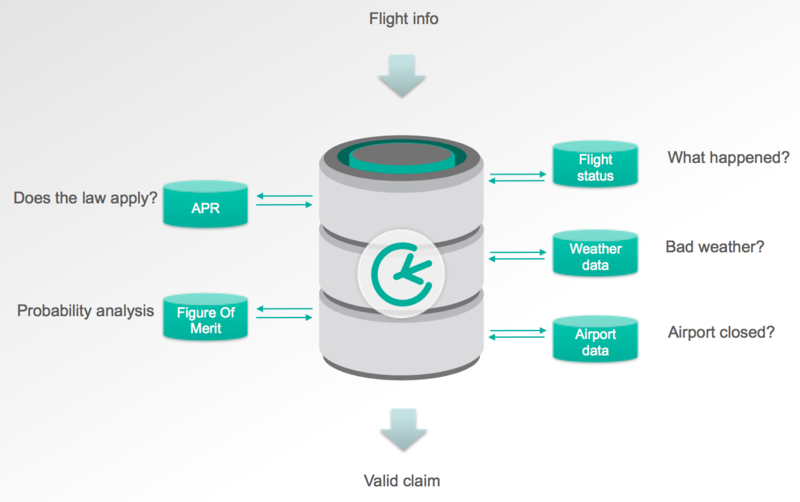 Fixed. Take a picture of your parking ticket. Send it to Fixed and they will challenge your ticket on your behalf. Fixed charges a flat fee (depending on your location) if successful.
Paribus. Paribus monitors your Amazon orders by granting them access to your order history through Amazon's API. If the price drops shortly after you made a purchase then you're entitled to the price difference, according to Amazon's terms and conditions. Paribus automatically sends the claim to Amazon on your behalf and charges a fee of the refund.
BillFixers. For a percentage of the savings, BillFixers fix your mobile or cable bill by making sure you're not paying more than what is being offered in the latest marketing campaign from the mobile or cable provider.
71lbs. B2B service for shipping delays and lost packages. 71lbs monitors your UPS and FedEx packages, and if they are delayed the company claims compensation according to T&Cs.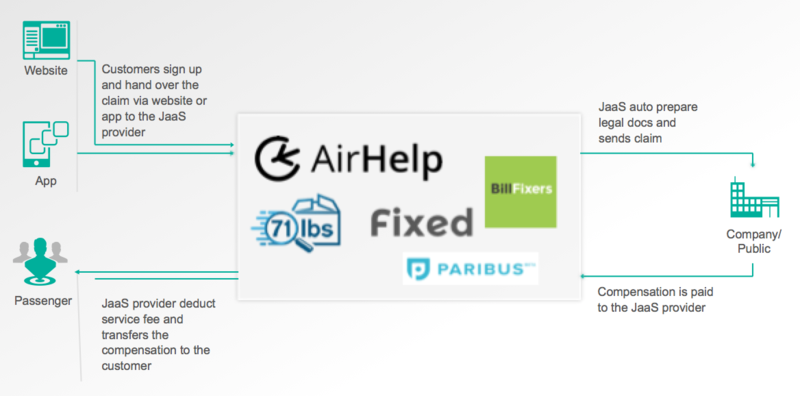 JaaS is about converting law into code and making it available in the palm of your hand. It's legal tech and big data coming together to disrupt and expand an industry that has a bad history of being very manual and slow to adopt the latest technology, as their incentive is to invoice as many hours as possible. We're seeing the beginning of an industry that not only will force lawyers to start thinking in code, but will also make life easier for you and I by standing up for the consumer and providing justice…and all that JaaS!
Join the AirHelp Community
Pick up tips, tricks and good vibes from fellow travelers.
---