The Best Carry-On Luggage for Expert Travelers
By The AirHelper・Last updated on February 22, 2020
Wherever you go, what you take with you is crucial. On a trip, all you've got is everything you have, so a good pair of shoes, the right tech and functional luggage are essential. Here we lean towards the brands who are really thinking about what it means to be a modern traveler. The focus is on carry-on luggage rather than suitcases, because that's the key for experienced air travelers.
Away Carry-On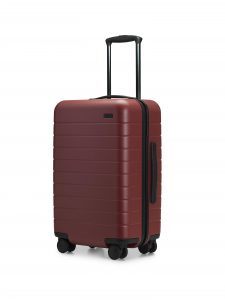 Available in several different sizes, and colors that don't necessarily scream 'business trip', the Away Carry-On bags come with a built-in battery to charge your phone and other gadgets. They're scratch-resistant, with excellent wheels and a TSA-compliant lock. Oh, and they're "unbreakable", with a Lifetime Guarantee.
Travelpro Platinum Magna 2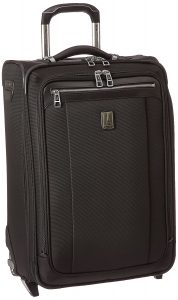 If you're looking for a sensible balance of size, price, durability and overall reliability, we can only point you in one direction. Arguably it lacks glamour – and even personality – but this carry-on bag is designed purely to serve you with its smooth-rolling maneuverability and under-the-hood flexibility. The smart bag for serious frequent flyers.
Tumi International Carry-On V3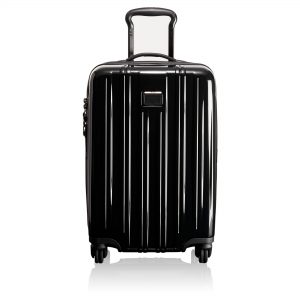 Perhaps not the sweet-spot price point for the globetrotting millennial, but this is a roomy, lightweight and stylish carry-on. It's got a retractable, telescoping handle and four dual wheels on the outside, three zip pockets and tie-down straps on the inside. Tumi has a long-standing reputation for quality luggage; those who do take the plunge never shop anywhere else again.
Raden A22 Carry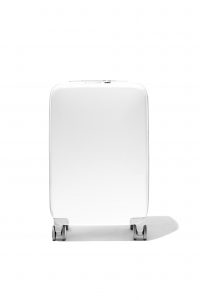 Sleek design, a built-in scale, USB ports and an accompanying app make Raden the pin up for Luggage 3.0. The A22 weighs in at just 8.4 lbs, epitomizing the archetypal aspirations of the tech elite. It's slick to look at but the shiny shell can scratch easily and some have grumbled that for all its forward-thinking features, this is bag lacks a core feature: space.
Rimowa Topas Cabin Multiwheel
You see this bag a lot, its aspirational aluminium hue sliding through the airport tethered to glamorous individuals. Rimowa – like Apple – is infamous for never discounting its prices, adding to the well-heeled aura of those who have never flown coach. It's an astonishing price, so likely to attract the odd conspiratorial nod. We've included the Rimowa for its classic looks, and as a benchmark for the real value to be found elsewhere.
Did we miss something? Have you got a favorite carry-on bag that deserves to make the list? Let us know on Twitter, @theAirHelper..
Know Your Rights: The Basics of Luggage Problems
For bigger trips, it's necessary to check luggage. But sometimes your bag goes missing, or turns up damaged on the carousel. If this happens, you've got rights. Here's our man Scott with the basics to keep in mind…
Flight delays happen, but that doesn't mean you have to accept them. You may be entitled to as much as $680 in compensation if your flight was delayed, canceled or overbooked within the last three years.
Join the AirHelp Community
Pick up tips, tricks and good vibes from fellow travelers.
---
AirHelp has been featured in: