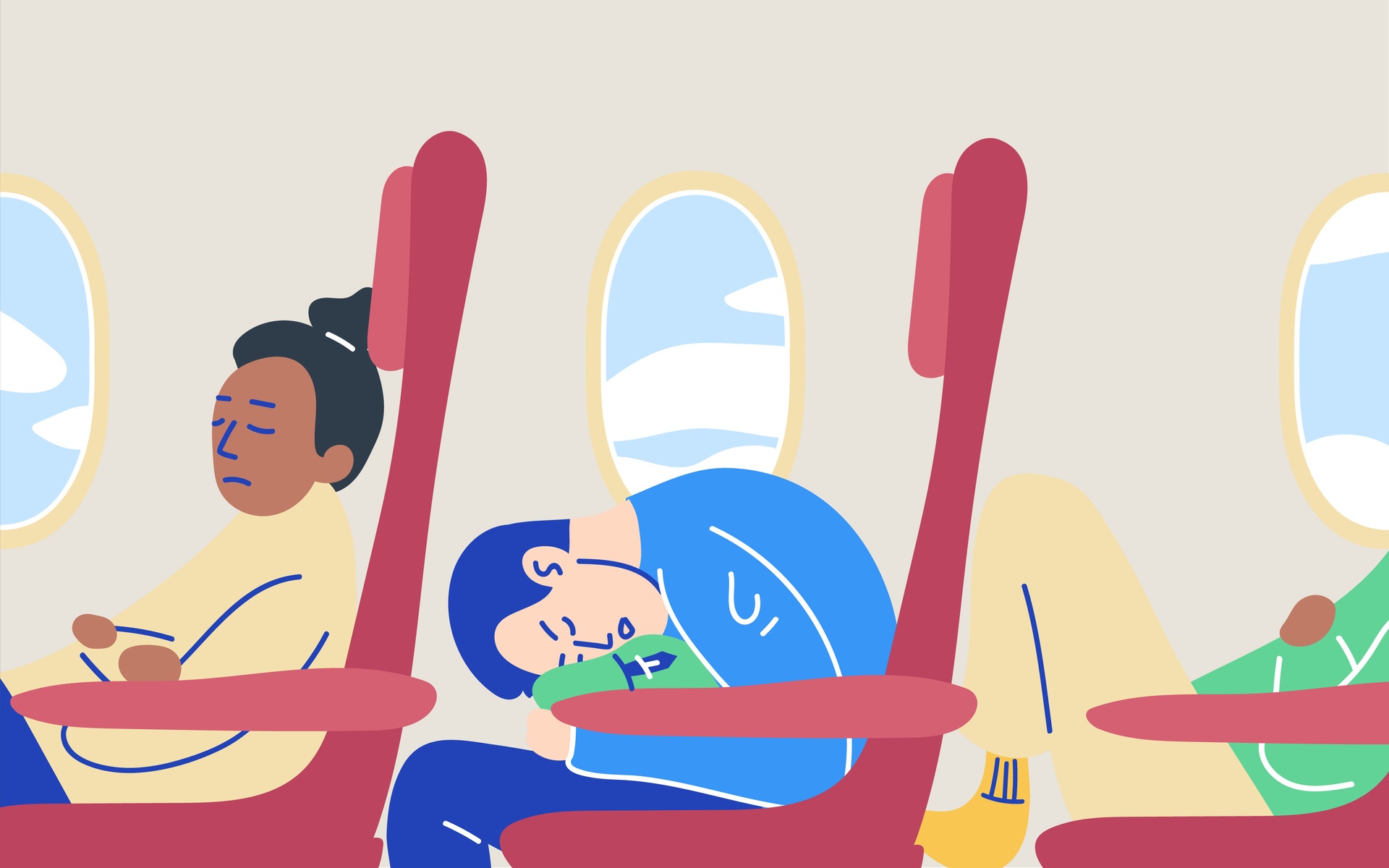 The Best Ways to Sleep on a Plane
By Serita Braxton・Last updated on October 23, 2019

Uncomfortable seats, not enough room to stretch, crying kids – airplanes are not the best place to get a good night's rest. You want to land at your destination looking well-rested and refreshed not worn out and frazzled.
You've already got the best travel pillow in town but what are the other sleeping hacks for when you're in the air?
We've found these tried and tested bedtime tips and comfy positions for the best ways to sleep on a plane.
Before Sleeping on a Plane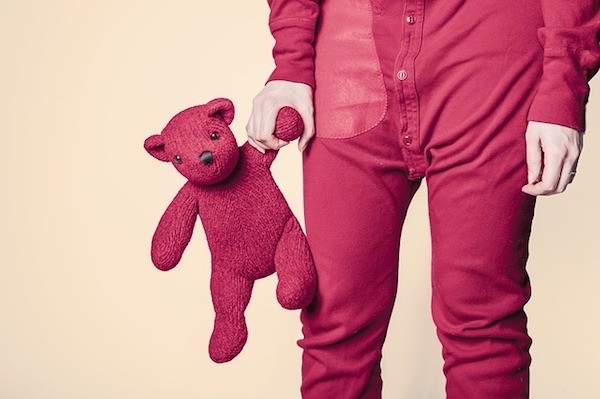 Without getting too carried away, try to make yourself as comfortable as possible. Make sure to pack some items in your carry-on that will help you create the same bedtime routine you have at home. Those familiar rituals will help get your brain in the mood to go to sleep on a plane.
A frequent traveler on long haul flights, Nick Brennan of My UK Sim Card shares some tips to relax before falling asleep:
"Take something more comfortable to change into, brush your teeth, have a soothing herbal tea. In other words try to replicate as much as possible what you do at home before going to bed."
The space around you is cramped enough, so only keep the items that will help you sleep near your seat. Beverly Friedmann of ReviewingThis suggests:
"Remove all of your bags (and shoes) to maximize your space and recline your feet. Bring along your favorite books, blanket, and anything else that reminds you of feel-good relaxing home vibes."

While it helps to get warm and cozy on the plane, try to cool off before you put on your comfy travel clothes. Travel nomad and co-founder of Bureau Sib Mahapatra says:
"Take a cold shower (as cold as you can stand). Works even better if you have access to an airport lounge and can shower right before boarding the plane. Sleep science shows that cooling the body helps with both falling asleep faster and maintaining high quality of sleep."
Once you get settled those brrs will turn into zzzs.
Carry-on Items that Help You Sleep on a Plane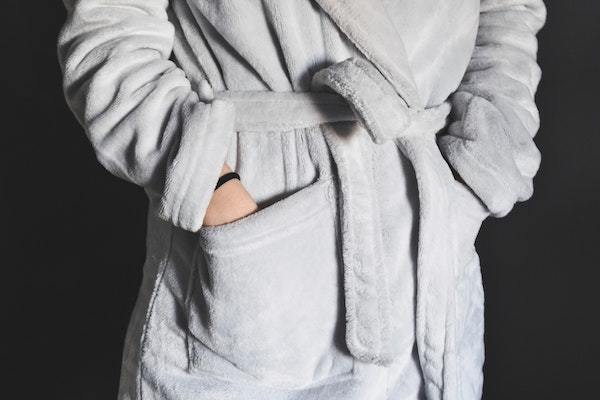 You don't need to add a bunch of extra items to your carry-on order to doze off. Many of the items you already carry with you can end up being the key to how to sleep on a plane. You may not look so glamorous, but you'll be counting sheep in no time.
Eric Wychopen of Penguin & Pia has found a creative way to keep yourself from doing that annoying head bob thing:
"You have to be okay with potentially embarrassing yourself. At least you'll be well rested! First, put a scarf around the headrest, tie a knot, and slide that to one side of the chair. Then you slip your head under the loop and essentially tie your head to the headrest. The key to the head wrap is the tightness of the scarf – it should be snug around your forehead. You can even drop the material down over your eyes to become a sleeping mask!"
For Chris Brantner, Certified Sleep Science Coach at SleepZoo.com getting some sleep can be done in two easy steps:
"First, lower the tray in front of you. Then place your personal item (for me it's a backpack) on the tray. Lean over and use it as your pillow. I like this position because it keeps my head from flying around or even accidentally ending up on the shoulder of the person next to me. It also keeps me from tilting my head back and snoring (how embarrassing is that on a plane?!)."

A gift unexpectedly changed the way Jermaine Amada of J Amado Photography could sleep on a plane for the better:
"I had to bring a robe that I received as a Christmas gift on board because there wasn't any more space in my carry on. It was a revelation! It was in the middle of winter, so it kept me warm and it was fluffy, so it made for a great pillow when I didn't need to use as a robe. (Yes, I walked around the airport in a robe.) And the most amazing part was that the sleeves were large and I was able to stick my head inside them and use it as a fluffy eye mask."
Key Positions to Sleep on a Plane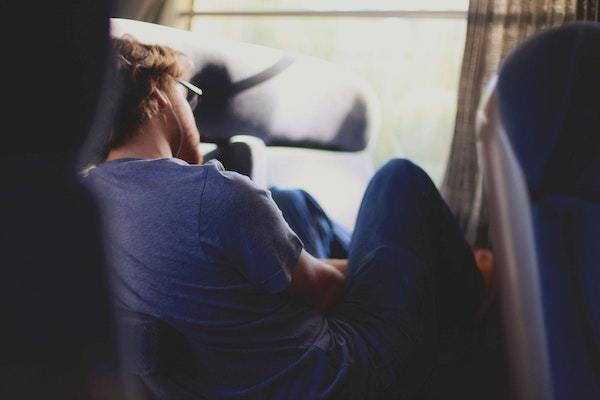 Unless you're flying on a lie-flat seat that allows you to spread out, you're confined to your one armrest (or two if you're in the middle seat according to the Unwritten Rules of Flying) and a seat that only reclines a few degrees. That's why it's important how you position your body, not only to improve how to sleep on a plane but also to prevent getting a crick in your neck.
Dr. Rick Swartzburg Chiropractor and inventor of the Snuggle-Pedic pillow recommends:
"Tilting the seat back a bit and using a pillow that will stay put behind your neck, which can also wedge your head and neck as you lean a bit towards the window frame. This gives you the best advantage in terms of pure support. If the pillow that wraps around your side is not thick enough, you can use a blanket or jacket to further add to the lateral support of your head and neck, but be sure that you give more support to your neck than your head."
Matt Boyd, founder of Moving.co.nz reminds you not to forget about how you position your bottom half:
" A good tip is keep your legs straight, with a slight bend on your knees. If you're trying to go to sleep on the plane the thing you want to do is lean back the seat at a comfortable position and uncross your legs."
Once you've found the right position and are ready to drift off to sleep, subtly let others know not to bother you like Ana Rojas of ComfyCommuter:
"I have used a hotel 'Do Not Disturb' sign and hung it on my blouse. This seemed to have worked pretty well!"
Keep Your Head Clear to Sleep on a Plane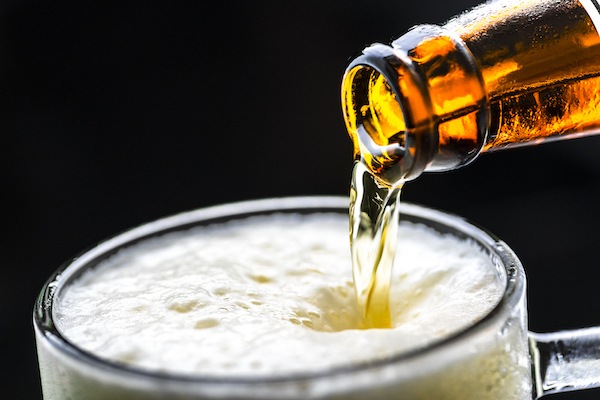 If you're a nervous flyer or just want to ensure that you will be knocked out as soon as you take off you may be tempted to use sleeping aids. There are several medications or good old fashioned booze that can help travelers take the edge off. But sometimes altering your mental state can end up backfiring.
Brett Manders, International Airline Pilot and author of Behind the Flight Deck Door – Everything You've Ever Wanted to Ask a Pilot warns:
"I would not recommend sedatives. They will certainly help you to sleep however, their danger lies in if there is an emergency and you need to evacuate the aircraft. You want to be 100% alert, not groggy from medication."

Dr. Kent Smith of Sleep Dallas also suggests you keep your buzz to a minimum:
"Limit alcohol consumption – While it's true alcohol aids in relaxation, it also sedates the body's breathing muscles. It is more difficult to maintain a clear airway when you are sedated, so the muscles are relaxed and less likely to prevent the snoring. Partake wisely in the mini liquor bottles, or better yet, stick with the ginger ale."
Instead of feeling rejuvenated with rest you may risk feeling groggy at the end of your flight.
Sleeping Hacks for Toddlers
Traveling with little ones can be tough for parents (and sometimes fellow passengers). Before you can put into practice your own sleeping hacks you'll want to make sure that your kids are dozing off. Try these tips for how to sleep on a plane with your toddler.
Just like you, your tiny traveling companions appreciate their bedtime rituals. Lifestyle and luxury travel writer Katie Dillon says:
"Familiar items like pillows, blankets, and pajamas help kids sleep on airplanes. Every parent knows traveling with children makes everything significantly hard, so familiarizing an unfamiliar space is crucial. If your child is sleeping soundly, you are much more likely to be able to unwind, relax, and sleep as well."
Trish McDermott of BabyQuip recommends strategic planning when it comes to flight times:
"Book a flight during your kid's nap time or one that begins close to their bedtime. Dress your young children in pajamas, as this reminds them that sleep is likely to be in their near future. All bets are already off when you are traveling with young children. No one expects you to be stylish or trendy, so opt for comfort."
Celine of Baby Can Travel has a comfy setup that helps her toddler sleep on airplane floor space:
"We have an inflatable airplane cushion that fits in the floor space between our child's seat and the seat in front – turning his seat into a bed. Getting him to lie down comfortably almost always works to get him to sleep. And every once in a while, if I have him positioned right, I can sneak my feet up on it too to be more comfortable and catch a little sleep!"
Dave Munson of Saddleback Leather has a suggestion for parents who need space for more than one kid to sleep:
"When our kids were little, we would always reserve all four seats in the middle section of the plane and then my wife and I would sit on either end of that row. We would put one kid on the ground between our feet and one kid across the two seats between us."
Try out these sleeping hacks to get the best sleep on a plane!
Do you have tips for how to sleep on a plane? Let us know in the comment section!
If you get delayed and have to sleep in the airport, remember that you have rights. Claim your compensation from the airline that has left you stranded.
Flight delays happen, but that doesn't mean you have to accept them. You may be entitled to a much as $700 in compensation if your flight was delayed, canceled, or overbooked within the last three years.
Join the AirHelp Community
Pick up tips, tricks and good vibes from fellow travelers.
---