8 Best Travel Pillows for Domestic and International Flights
By Biki John・Last updated on May 22, 2019
Frequent flyers are often on the lookout for a travel pillow that provides optimal neck and chin support. Whether you are traveling on a domestic or international flight, you'll want to be as comfortable as possible during your trip.
There is more onus to find a great travel neck pillow when you're traveling cross-Pacific or cross-Atlantic. As a regular traveler, I know the feeling of trying to mold my airplane pillow into a travel pillow that supports my neck adequately. Often I am not successful and I'm left with no other choice than to drop my head in defeat and sleep.
When I awaken, I am greeted with a crick in the neck, sore lower back and a nagging headache.
Not pleasant.
This is why a travel pillow that supports your head is a vital piece of travel gear.
If you are organized, before your flight, you'll be aware of the best flight tips for long-distance trips.
However, no matter how many activities you've planned for your international flight, at some point, you are likely to want to doze off. When you do, you'll need a pillow you can snuggle into that doesn't give you post-flight neck cramp.
Unfortunately you can't claim compensation for sleeping bad in a plane, the same way you can do a flight delay claim. So you need to find the perfect pillow for your trip!
Travel Pillow Checklist
When choosing an ideal neck pillow, the following criteria are important:
Support
Neck support is the name of the game. When getting your travel pillow, ensure it provides adjustable options that allow you to find your perfect sleeping position.
Chiropractor, Dr. J. Scott Martin, advises that the best way to arrive at your final destination pain-free, is to invest in a neck pillow that aligns your nose with the middle of your chin. That way you prevent unnecessary straining on your joints and soft tissues.
Size
You'll want a neck pillow that's portable and easy to pack or can attach to your hand luggage.
After all, you won't want your travel pillow to take up much room in your carry-on.
Texture
Nobody ever had sweet dreams lying on a pillow made from scratchy fabric. A travel pillow with a soft finish facilitates a good nap.
We also advise you get a neck pillow that's machine washable to get maximum usage.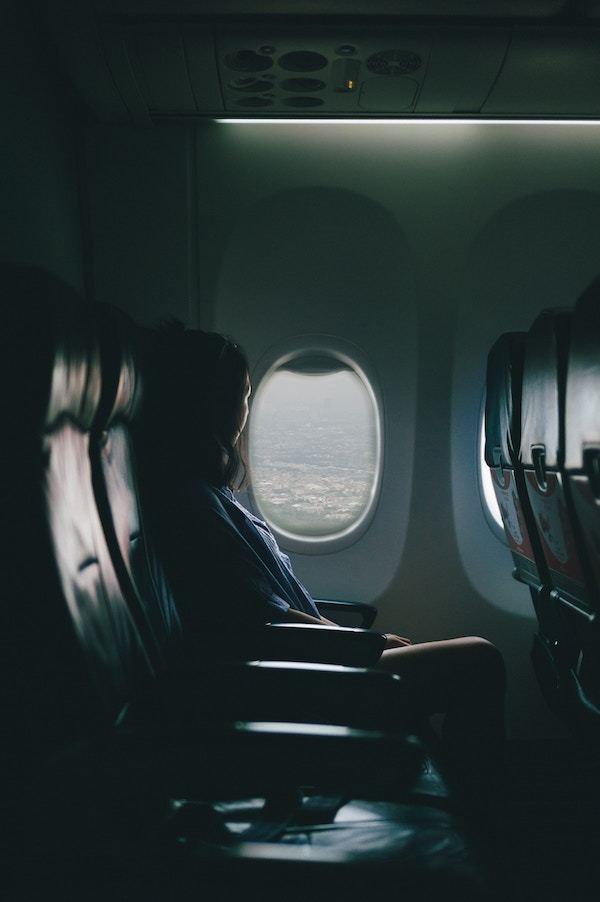 The Best Travel Pillows
With so many neck pillows to choose from, selecting the perfect one can seem like a daunting task.
In this article, we asked travel enthusiasts for their favorite travel pillow. Whether you are drawn to travel neck pillows that offer foam support or ones that are more compact for traveling, our top-notch picks will ensure you get much-needed shut-eye as you cruise at high altitude.
1. Best Travel Pillow for the Side Sleeper: The TRTL Pillow
Top Features
Retails at $29.99
Hidden internal support that props up your neck and head
Machine washable and hypo-allergenic velvety fleece texture
Lightweight and portable
Frequent flyer, Kristen, attests that she wasn't able to sleep on a plane until she discovered TRTL.
TRTL comes at an affordable $29.99 on Amazon. When describing its design, she admits that "it looks ridiculous, but it's worth the comfort and neck support".
When asked what else she liked about TRTL, Kristen added that "it's much easier to transport than a typical neck pillow and folds up nicely without taking up too much room in your bag".
If you sleep on your side like lifestyle blogger, Brian Fischer, you'll like how TRTL wraps around your neck and supports your neck in any direction.
2. Best Travel Pillow for the Mother with a Baby: The GoPillow
Top Features
Price ranges from $28.99 to $59.99
GoPillow's uses can be adapted to the age of a baby or a young child
Multi-purpose pillow with features including a pillow and swaddling wrap for babies
Can be used hands-free
Easy to travel with as fits on the arm of many airplane seats
If you are a mother about to travel with your baby on the plane for the first time, you are bound to be slightly anxious.
The prospect of traveling on a long-haul flight, trying to ensure you and your baby are comfortable can seem like 'Mission Impossible'. How will you ever get your energetic baby to sleep? Will you manage to doze of yourself?
Entrepreneur, Tangela Walker-Craft, is the designer behind GoPillow and she created the innovative product to solve the many problems mothers face when they travel with a baby or toddler.
Mums will be happy to know they can use their GoPillow as a cradler, nursing pillow with a built-in privacy cover-up, changing surface, infant pillow with attached swaddle blanket and toddler travel pillow.
The multi-use child care product starts at $28.99 and goes up to $59.99 (for the organic bamboo version).
3. Best Travel Pillow for the Difficult Sleeper: The AERIS Travel Pillow
Top Features
Retails at $24.90
High-quality memory foam
Includes earplugs and eye mask
Washable velour
I was born with an enviable gift. When the need arises, I can fall asleep in pretty much any position—anywhere, anytime and anyplace.
This is not a talent shared by all. Some travelers need certain things in place to doze off: darkness, silence… These prerequisites may be easy to create in your own home. However, when you're in an aircraft cabin with little to no legroom and a small seat, finding a comfy spot can be agony.
Traveler Jenna used the AERIS travel pillow on her recent trip to Europe and has nothing but glowing praise for it.
She is fan of the high-quality memory foam that fits comfortably around your neck. She was also drawn to the pillow being packaged in a small bag, which made it easy to fold up without losing its shape.
For travelers who want to get some deep sleep on their next long-haul flight, the fact that the pack comes with earplugs and an eye mask to maximize comfort is bound to stir interest.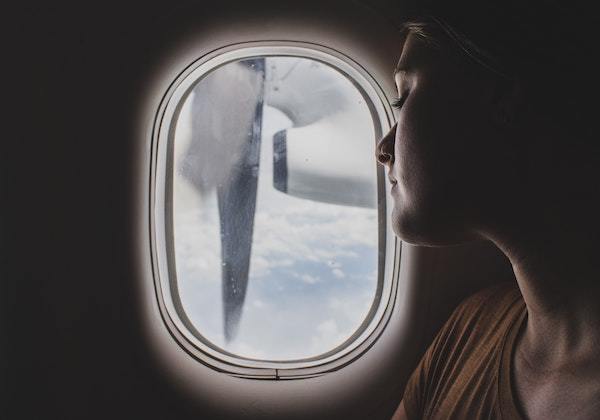 4. Best Travel Pillow for the Bobbing Head Sleeper: The BCozzy Pillow
Top Features
Retails at $29.97
Cushion to hold your head in place
Can be attached to the outside of your carry-on
Easy-to-carry built-in handle
If you tend to push your head forward when you sleep on a plane, then you are used to waking up with a sore neck.
The BCozzy chin supporting travel pillow offers a solution to this painful problem. The pillow's overlapping ends and adjustable over-the-ear headphones provide great chin support for travelers.
Also, if you're prone to waking up from a long snooze with your mouth agape and drooling, BCozzy's comfy wrap will put an end to such embarrassment.
Travel lovers will be delighted to know that you can twist the wrap to be as loose or tight as you prefer. This will ensure your mouth stays closed while you sleep and keep your dignity intact.
5. Best Travel Pillow for the Luxe-Loving Sleeper: The OstrichPillow Light
Top Features
Price starts at $40.00
Adjustable ringed pillow
Silicon-covered micro-beads to block out noise
Nutrition expert Scott travels a lot for his job and welcomes the opportunity to get a decent shut-eye when he's on a red-eye flight.
His favorite travel pillow is the OstrichPillow Light which he describes as "less of a pillow and more of a neck wrap".
He does admit that one may look silly wearing it but it's a small price to pay given that using it ensures you wake up at your final destination refreshed and energized.
Scott also advises fliers to '"turn on your air vent before nodding off because it can get a little warm with the pillow on".
OstrichPillow has a few other variations of their product. Lifestyle blogger, Brian Fischer, got the OstrichPillow Original as a college gift and believes it's by far the comfiest travel pillow for lengthy travel.
The design of the pillow is such that it wraps your head in a soft pillow and has openings for breathing. This means that it blocks out unwanted ambient noise and cocoons you in a dark atmosphere, making it easier for you to doze off.
Brian admits that the out-of-the-box design will make you look like a "dork" but the fact that the OstrichPillow is soft, comfortable and blocks out light, means it's a must-have for his international flights.
Retailing at about $100, this neck support pillow doesn't come cheap and is slightly bulky but Brian believes it's "totally worth it".
6. Best Travel Pillow for the Fussy Sleeper: The J-Pillow
Top Features
Retails at $29.95
Helpful instruction guide showing illustrations of how to use the pillow
Easily attaches to your carry-on
Machine washable
When travel blogger Kirstie Jeffries spent 18 months backpacking around the world, she had to travel on planes, trains and buses. For these journeys, she opted for the J-Pillow as her go-to support pillow.
This quirky-shaped pillow may attract some stares on the plane, however, you'll have the last laugh as you enjoy the support it gives your head, chin and neck while you catch those Zzzs.
The 'J' shaped pillow gives travelers several options for how to orient it for comfort. Kirstie's personal favorite position is with one 'arm' resting under her chin because the position, alongside the pillow's volume and firmness, means that she gets the best head support she's ever had from a neck pillow.
7. Best Travel Pillow for the Bargain Hunter: BestMaxs Travel Pillow
Top Features
Retails at $9.99
Luxurious micro-velvet pillowcase with invisible zipper
Unique one-way air valve system
Machine washable
Wedding photographer, Jasmine Norris, swears by BestMaxs' Travel Pillow. After pulling her neck on a flight from too much neck nodding, she was relieved to come across this travel pillow.
Its curved design means that it adjusts to the natural curve of your head and neck. This ensures that it holds your head upright and makes it easier to have a good snooze.
Don't be put off by its inflatable design, one or two puffs inflate the device and it's easy to adjust the inflation and deflate it as well.
BestMaxs' travel pillow is compact and folds up easily to fit into your carry-on, or even your jacket.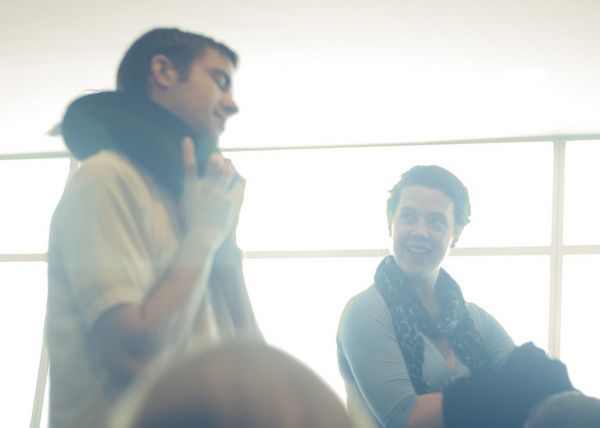 Top Features
Retails at $44.95
Memory foam
Phone pocket for hands- and lap-free listening
Memory foam ear plugs
Travel photographer, Charlie Gardiner, is a fan of this responsive memorable foam neck pillow. When she made a 20-hour journey across Southeast Asia, the Cabeau Evolution pillow made her flight enjoyable.
She prefers this pillow to the other travel pillows on the market because she believes the adjustable drawstring provides good head support. The adjustable toggles stops the pillow from sliding off your shoulders, thus providing extra support.
If your head tends to drop forward when you sleep, this neck travel pillow allows you to spin the pillow around, giving your chin full support.
Frequent travelers will be able to get plenty of use from this pillow as it's machine washable, whilst the memory foam core can be hand washed.
Charlie also likes that the Cabeau Evolution pillow is easy to carry around. Simply compress it into a small carry case or strap it to your carry-on bag to save space.
And Finally…
With all the travel pillows on the market, it can be hard to find the perfect neck pillow. This guide should give you a good idea of the best type of pillow to suit your sleeping habits.
We'd love to hear from you about your favorite travel pillow. Which neck pillow would you recommend for travelers on the search for the perfect pillow? What features does it have that makes it your go-to travel pillow?
We can't wait to hear your suggestions!
Have a safe and comfortable journey!
Flight delays happen, but that doesn't mean you have to accept them. You may be entitled to as much as $700 in compensation if your flight has been delayed, canceled, or overbooked within the last three years.
Join the AirHelp Community
Pick up tips, tricks and good vibes from fellow travelers.
---