10 Fun Things to Do on a Plane: How to Pass the Time on a Long Flight
By Biki John・Last updated on June 7, 2019
I was on an international flight recently. Thirty minutes into the six-hour flight, the announcement that all long-haul flight travelers dread vibrated throughout the cramped aircraft,
"We are sorry to announce but our in-flight entertainment is having problems. We are doing our best to fix this."
Various coiffed flight attendants then proceeded to assure us that the in-flight entertainment system would be restarted. Alas, this made no difference.
Catching up on TV shows is one of my favorite things to do on a plane. However, sometimes this is not an option due to technical issues or the entertainment selection not taking my fancy. If you have Wi-fi you can learn something new, e.g. that it pays (quite literally) to know about your air passenger rights. 87% of passengers don't know that if they suffer a flight delay and are eligible, the airline is obligated to give them cash compensation up to $700 for their inconvenience.
At AirHelp, we remain dedicated in helping air passengers get EU flight compensation for flight mishaps (like a flight delay) that occurred in the past 3 years.
Assuming you've brushed up on your air passenger rights, how else can you pass the time on a long flight?
Sleeping is always a good way to make time fly by on a plane, but what happens when you can't doze off for long?
When you have a long distance flight and the Wi-Fi is playing hard to get: what are the fun things to do on a plane?
We asked a selection of travel experts and bloggers to shed light on the topic.
What Are the Most Fun Things to Do On a Plane?
1. Play Games
2. Creative Writing
3. Learn a Language
4. Pre-load Your Content
5. Keep Your Hands Busy
6. It's Good to Talk
7. Stretch It Out: Yoga
8. Coloring for Adults
9. Keep the Kids Busy
10. Listen to a Podcast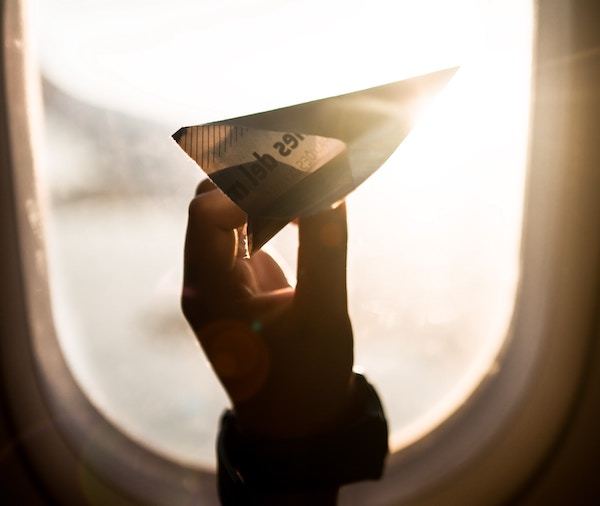 Combat Boredom on a Flight: It's All a Matter of Perspective
Like Naomi Ritz (of Crossing Travel) we agree that,
Who says you need Wi-Fi to beat boredom mid-flight? Here are a few interesting and creative activities to try.
We've even included some children-friendly games. You're welcome.
Things to Do on a Plane
1. Play Games
No Wi-Fi? No problem. Seasoned travelers like Chris Backe enjoy playing games that can be accessed offline and have zero ads.
Author Eileen Roth is an advocate for having fun the old-fashioned way by playing games like:
Pocket/travel games. E.g. Backgammon (Magnetic), Yahtzee (The dice are even locked into the container so you can't lose them)
Paper games like Tic Tac Toe or Hangman (If you are traveling with someone)
Puzzle books (E.g. crosswords and word searches)
2. Creative Writing
When traveling on a journey long enough to serve flight meals, the secret is to see the glass half full as opposed to half empty.
The silence and lack of distractions make long distance flights an opportune time to get creative and write.
You don't need to be a journalist by trade to put pen to paper. Here are some content ideas to get your juices flowing:
Think you've got what it takes to write a short film or book? Then pick up a pen and make magic happen.
If you find it difficult to find the time to write your diary, a flight overseas should give you ample time. Inma Gregorio likes to jot down her thoughts during her trips. She's a believer that a 'good old pen and paper are always a source of never-ending entertainment.'
Have you ever had a surge of inspiration on a plane and written some great content?
3. Learn a Language
Before your trip, download a language app like Babbel and Duolingo.
.
You are likely to get more out of your trip if you are available to connect with its residents in their language.
Take advantage of the time you'll have on the plane and learn the need-to-know phrases of the country you're visiting.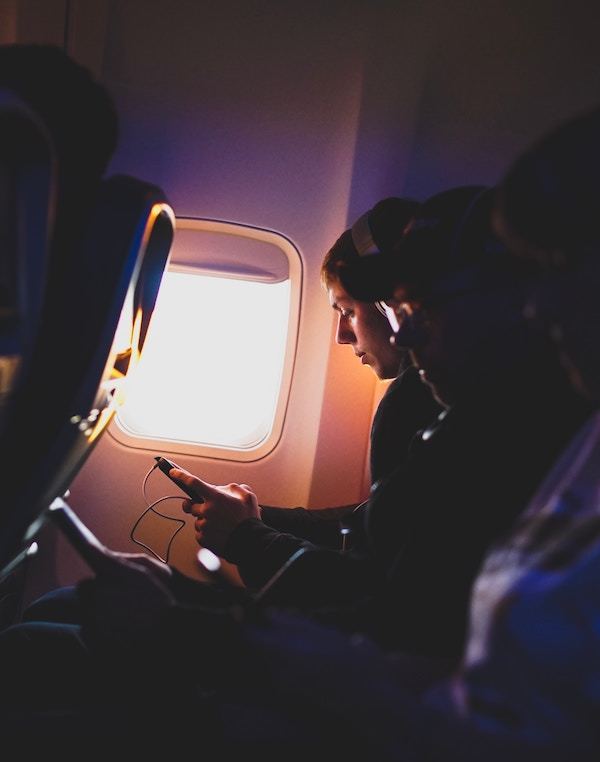 4. Pre-load Your Content
Even if you have a Wi-Fi connection on your flight, it might not always be reliable or fast enough to stream movies, TV shows and music.

Co-founder of Strabe Ned Nadima recommends long-distance travelers to pre-load their content of choice on their phone or tablet before boarding a plane. One of the favorite things he likes to do is pre-load blogs he wants to read.
Ned saves them in reading mode, that way once he is on the plane he goes through them one by one. He finds this methodology works for videos, ebooks and music.
5. Keep Your Hands Busy
Knitting is a good way to give your gift a personal touch.
Start or complete a project of knitting, crocheting or needlepoint. Make sure you abide by the knitting needle rules on a plane.
Before you hit the tarmac, download photo editing apps. When you're traveling at high altitude, use these apps to get the photos on your phone Instagram-ready.
Social media guru Louise Sattler likes to use plane time to organize her photos on her computer. During a long flight, she has the rare opportunity to label them and add tags.
If you are sat by the window, take advantage of the view. Use your smartphone to capture different views of the sky. As the plane will be in motion, getting the money shot may take some time. But on an international trip, time is all you have.
We like adventure blogger Chantae Reden's onboard methodology of creating a cheap and meaningful holiday souvenir.
During her return flight, she journals about her trip and glues in any ticket stubs, flyers or memorabilia.
How do you prefer to keep your hands busy?
6. It's Good to Talk
Full-time traveler and writer Kelly Hayes-Raitt loves talking to interesting people on the plane. They can be either seatmates or flight attendants. She finds it a good way to get travel tips for her destination.
Some regular flyers like Ahmed Bhuiyan also find that engaging in deep conversations with strangers can be a fascinating experience.
Peter Lombard stresses that to have a mutually interesting dialogue with your seatmate, you should listen as well as talk. Learn from them.
When deciding to get chummy with your seat neighbor, we advise you to tread lightly.
As we explained in our article focused on airplane etiquette, not everyone is open to talking on a plane. Be sure to take note of your seatmate's tone of voice and body language as you attempt to shoot the breeze.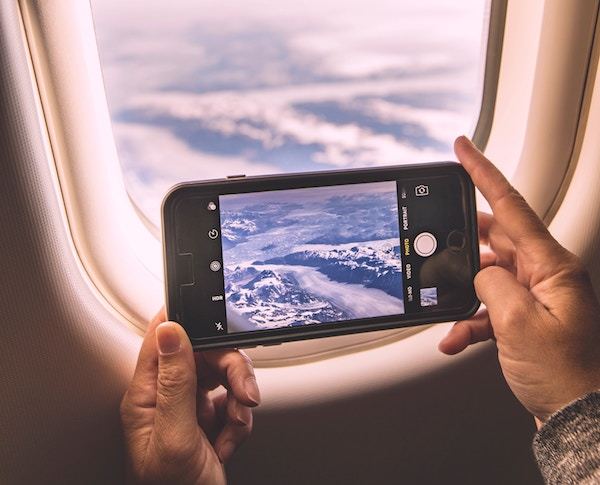 7.Stretch it Out: Yoga
When traveling on a long-haul flight, sitting in a small airplane seat can cause tension to build in your muscles.
The physicians at Mayo Clinic advise that during long flights, passengers ought to stand up and stretch their muscles at least once an hour. This motion helps to prevent stagnant blood pools from causing potential clots, i.e. deep vein thrombosis (DVT).
As yoga relieves stress and tense muscles, many flyers turn to this form of exercise on a plane. However, doing yoga on the plane can be challenging as you don't want to encroach on your neighbor's space.
Treating the airplane aisle like your yoga studio tends to raise a few eyebrows. Though that doesn't stop yoga teacher Katy Kay from executing yoga stretches in cabin aisles when she feels the need to stretch.

The good news is if you'd rather not show off your downward dog skills on the aisle, there are a few effective poses and stretching exercises you can do in your airplane seat to loosen your muscles.
How many of you like to demonstrate your yoga skills on the airplane aisle or are you more prone to stretch out in your seats?
8. Coloring for Adults
Don't dismiss coloring books as child's play. Adult coloring books are all the rage now. Style blogger Vanessa Vallente has her heart set on Vogue's, 'Vogue Colors A to Z'.
Naomi Ritz (of Crossing Travel)finds that when coloring, the repetitive movements are soothing and relaxing.

Still think coloring is for kiddies? Have a look at this Mandala Coloring Book, it could very well change your mind.
9. Keep the Kids Busy
One of the things parents fret about is how to entertain their younger ones during long-haul trips.
They know that leaving children to their own devices on a plane leads to their younger ones favoring anti-social entertainment. For instance—merrily kicking the seat in front of them.
Family travel blogger Jamie Harper packs toys like Lego sets in her carry-on to keep her kids occupied and happy onboard.
Melissa Mayer finds that wrapping new toys (from Dollar stores) like finger puppets is a great way to keep her child engaged and excited about their gift. She adds, 'like any endurance race, pacing is key. Make sure to stagger the little packages and use when needed.
PR Accountant Giselle Guillen urges parents to give their children adventure books that are fused with a paired activity.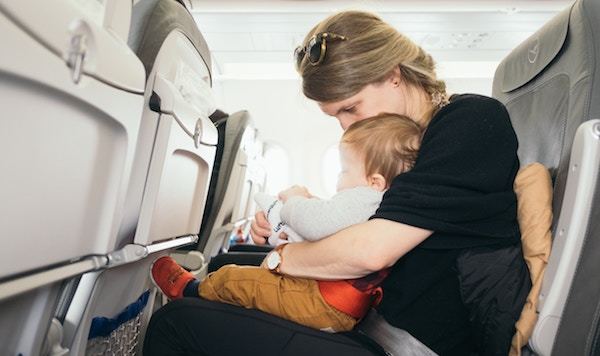 10. Listen to a Podcast
Before your flight focus on an area of personal development and download podcast episodes accordingly.
You're bound to come off your flight feeling enlightened and more confident.
Long Plane Ride Must-Haves
Our non-exhaustive tips will make you survive your long-haul flight. Survive and thrive.
To beat boredom effectively, we advise you mix the activities up, pace yourself and don't forget to stretch!
As well as things to do on a plane, there are also items you'll need to increase your comfort.
Every flyers list for long plane ride must-haves will vary depending on personal interests, popular ones include:
Toiletries
Homemade snacks
Hand sanitizer and wipes
Warm clothes
Medicine (as required)
Eye mask and earplugs
Tech tools
Notebook, pen and coloring pencils
Books and magazines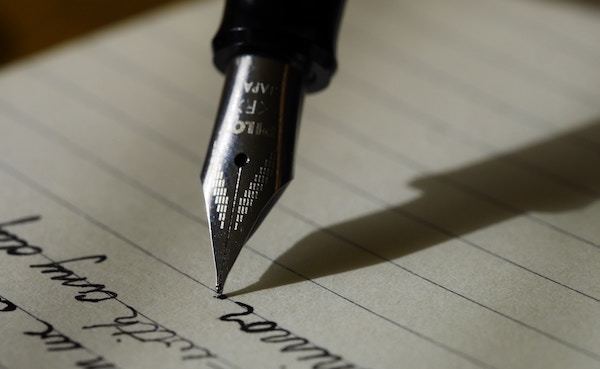 Time flies when you're having fun. We are confident that following our tips will keep restlessness and boredom at bay.
Our list of travel tips are not exhaustive and we would love to know what tried and tested tips you have to survive long-haul flights.
If you have young children, what do you find works to keep them engaged?
What activities do you recommend for making the time on a long-distance flight whiz by?
We can't wait for you to share your opinions!
Flight delays happen, but that doesn't mean you have to accept them. You may be entitled to as much as $700 in compensation if your flight has been delayed, canceled or overbooked within the last three years.
Join the AirHelp Community
Pick up tips, tricks and good vibes from fellow travelers.
---
AirHelp has been featured in: