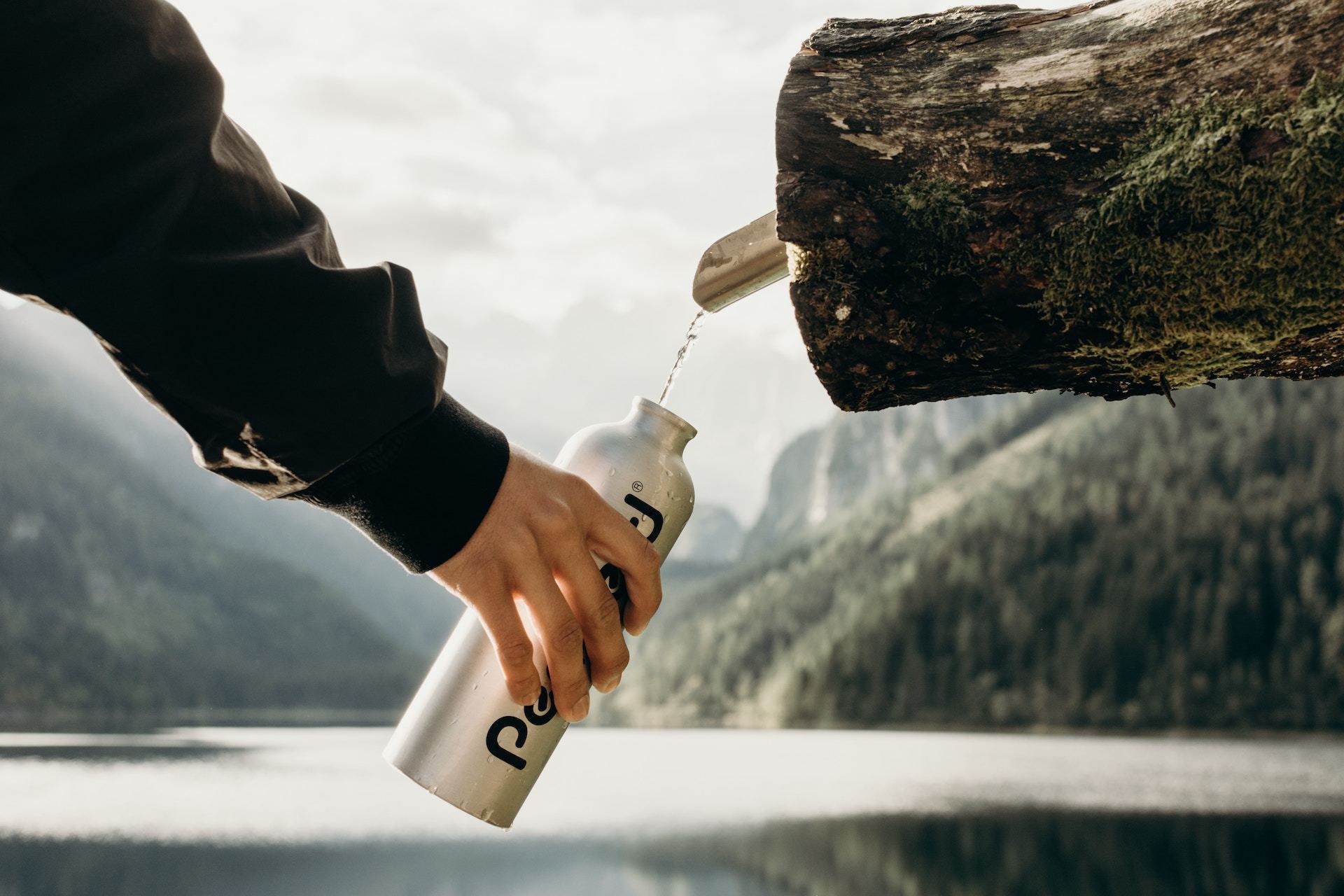 The Best Filtered Water Bottle for Travel
By Serita Braxton・Last updated on April 16, 2021
With an excess of plastic already in use, a reusable water bottle is a must-have on your packing list when you travel. Instead of purchasing water bottles along the way, get access to drinkable water wherever you go with a filtered water bottle for travel.
Not only is it a great way to reduce waste but it also filters out metals, bacteria, viruses, and more to turn any water source into drinkable water. On hikes through the outdoors or in countries where drinking tap water is a no-go, you want to make sure what you are drinking is safe.
Since access to clean drinking water is not always available it is important to have the best filtered water bottle that you trust. We asked seasoned travelers what water filter they pack with them to purify water on the go. They shared their top picks for refillable water bottles that include a filter to clean the water as your drink or independent water bottle filters to pair with your own container.
When you travel to a place where clean drinking water is not available you can still stay hydrated with either of these options:
Filtered Water Bottles
GRAYL Ultralight Purifier Filtered Water Bottle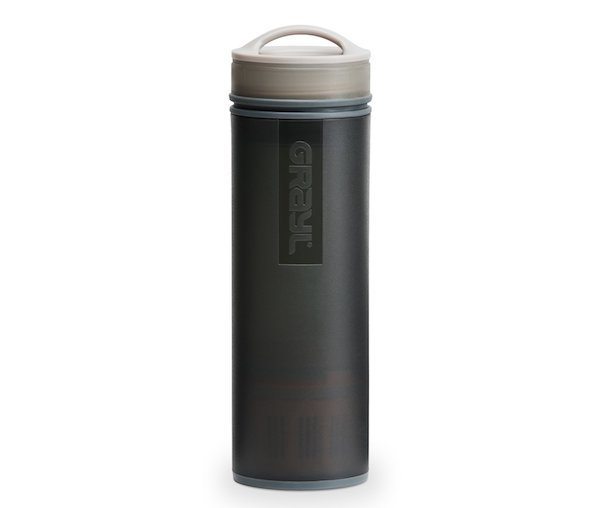 For a lightweight and efficient way to filter water the GRAYL Ultralight Purifier is a good fit.
The sleek filtered water bottle removes 99.99% of water-related viruses and bacteria including Cholera, Giardia, Hepatitis A, Rotavirus and Salmonella. The water filter's cartridge technology works to separate water from chemicals within 15 seconds. The company's OnePress Global Protection assures travelers that no matter the water source they can have clean drinking water all over the world.
Jenny Smith, travel blogger and founder of How To Move To New Zealand, believes it's the best filtered water bottle for travel that is easy to use during outdoor adventures:
"When we backpacked through South America we found our GRAYL Ultralight Water Purifier a lifesaver! Although the water bottle looks very simple it has everything you need to keep you healthy. It's perfect for all your outdoor adventures and is very easy to use. All you need to do is fill it and then press the inner container to enable the water filter and you can then enjoy fresh and clean water. It really is a must for any traveler who wants peace of mind when it comes to drinking locally sourced water."
The filter can be used for 300 cycles and can be easily replaced for a sustainable way to always have access to drinkable water. GRAYL also donates at least 1% of each sale to non-profits and environmental charities.
Price: $59.95
Size: 16 oz
Brita 23.7 Ounce Hard Sided Water Bottle with Filter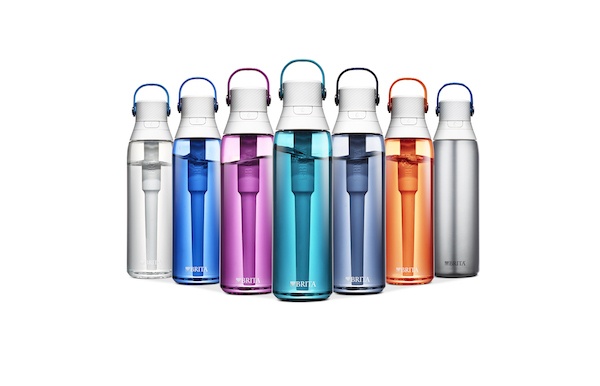 Your travels don't have to take you overseas for you to be in need of clean drinking water. The Brita 23.7 Ounce Hard Sided Water Bottle with Filter can be brought through airport security (empty of course) and refilled anywhere you travel. Its outer surface makes it durable while its inner filtration system reduces chlorine taste, odor and contaminants. The carrying loop and flip-up straw keep it compact and effortless to carry.
Daniel Gillaspia, founder of the travel rewards blog UponArriving.com appreciates the ease of using this reusable water bottle:
"I have used the Brita Hard Sided Water Bottle with Filter for a couple of years now and the bottle has been solid with great tasting water. I bring it through airports and it's also suitable for any time you are spending a lot of time outdoors, such as when visiting a theme park."
Each filter serves you 2 months of clean drinking water and one bottle replaces 300 single use water bottles of the same size. A win for you and the environment!
Price: $24.99
Size: 26 Oz
Water-to-Go 75cl Filtered Water Bottle
View this post on Instagram
The Water-to-Go water bottle with filter combines 3 different technologies for up to 3 months of clean drinkable water. Unlike most filtered water bottles, it eliminates heavy metals such as lead in addition to filtering out bacteria, viruses, and chlorine. There's even a filter timer to ensure that you're getting the most drinkable water possible.
Ellie Cleary, runs a responsible travel blog with her partner and suggests this heavy-duty filtered water bottle for travel:
"We have tried out quite a few different methods of water purification during our travels in multiple countries, including Iran, India and Bangladesh. One of our favourite methods is the Water to Go bottle. We love this bottle in particular because it filters out harsh chemical pollutants (including fluoride) as well as bacteria and viruses. Most water filter bottles that we have come across only filter out the bacteria and viruses."
This filtered water bottle comes in a variety of colors. A portion of the sales are donated to causes around the world such as the African Wildlife Foundation and Malaria No More UK.
Price: $36.53
Size: 25.6 Oz
LifeStraw Go Filtered Water Bottle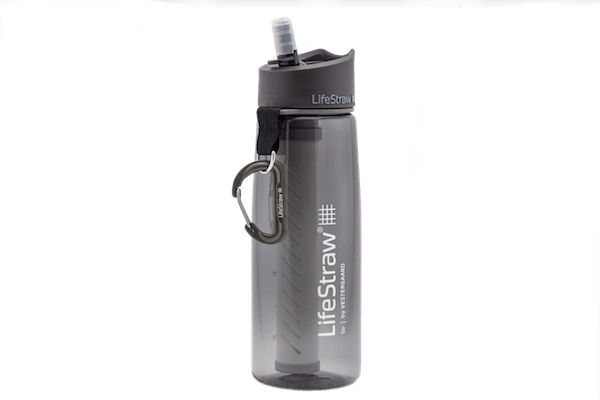 The LifeStraw Go water bottle with filter has a 2 step filtration system that gets rid of 99.9% of bacteria, parasites and microplastics while reducing chlorine and chemicals while improving the taste of water. The sleek design and metal clip makes it easy to carry the filtered water bottle for travel. There is even a customizable 10oz version called Play for kids where they can pick their colors, write their name on the lid, and draw on the bottle. Use each reusable water bottle for clean drinking water for up to 5 years.
Wendy B. Agudelo, Director of CGPR says that the filtered water bottles have made a huge impact when traveling with her kids:
"On our last trip to Denver, I filled our bottles 5 times a day during bathroom pit stops, at our hotel, or restaurant bathrooms. The confidence that comes with LifeStraw was the deciding factor for us, due to the filter's ability to reduce water smell and taste. It's a big deal for my family which contains two children with special needs. Sensory issues become compounded when you can't get your children to drink much-needed water for health and hydration due to how it tastes."
Not only do these filtered water bottles reduce waste and decontaminate water, a portion of each purchase goes towards LifeStraw's effort to bring clean water to schools and communities around the world.
Price: $44.95
Size: 22 fl oz
Water Bottle Filter
Sawyer Mini Water Water Bottle Filter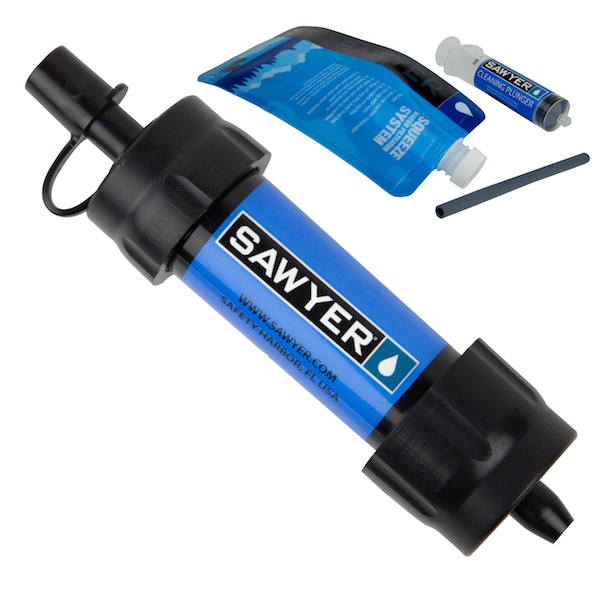 The Sawyer Mini Water Filtration System gives you clean drinking water in the palm of your hand. The 2 oz straw-like water filter can be used with your own reusable water bottle or with a 16 oz pouch that can roll up to fit right in your pocket. A single filter cleans up to 100,000 gallons of water and its micron filtration system makes it impossible for harmful bacteria to get through the filter.
Travel blogger Becky Pokora is grateful that the water bottle filter is mini enough to travel with her wherever she goes:
"As an independent publisher, I frequently traveled all over the world. I don't go anywhere without my Sawyer Mini Water filter. It's incredibly effective, and I've personally tested it in Africa, Asia, and South America (not to mention, even remote streams in the U.S.). Best of all, you can remove the filter and screw it onto any standard water bottle, like the 20 oz bottle you buy at a convenience store, or even use it as a straw in any drinking glass."
Since this portable filtration system can simply be cleaned and reused there's no extra cost for cartridges that need to be replaced.
Price: $19.97
Lifestraw Universal Water Bottle Filter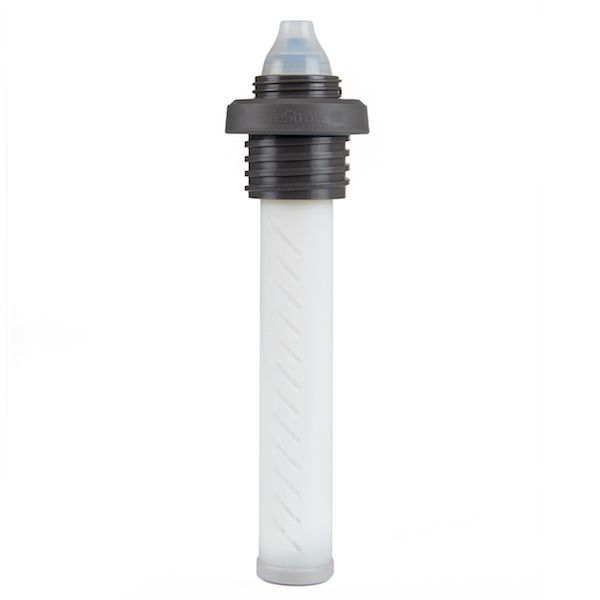 For a versatile way to get drinkable water, the Lifestraw Universal filter can be used in combination with your own water bottle. The filter has 2 adaptors that fit both wide and narrow mouthpieces, so no matter what size your reusable water bottle is it has you covered.
Outdoorswoman Joey Holmes appreciates the versatility of being able to use a water bottle with filter, or not:
"I've used a few different water filter systems and bottles over the years. Nothing comes close to the versatility and ease of the Lifestraw Universal. Last year I spent a few days hiking and camping out in Durmitor National Park, Montenegro. I drank whatever water was available; simply filling my Nalgene bottle up from streams and lakes. Once the filter was placed into the bottle and screwed on, the water is good to drink straight from the straw. The beauty of this filter is that it is compatible with most water bottles. So if you don't need to filter your water you can just take the filter out."
In the lifetime of one water bottle filter it can clean bacteria, chemicals, and parasites from 4,000 liters of water – eliminating the usage of 8,000 single-use water bottles!
Price: $34.95
Sawyer Select S1 Water Bottle Filter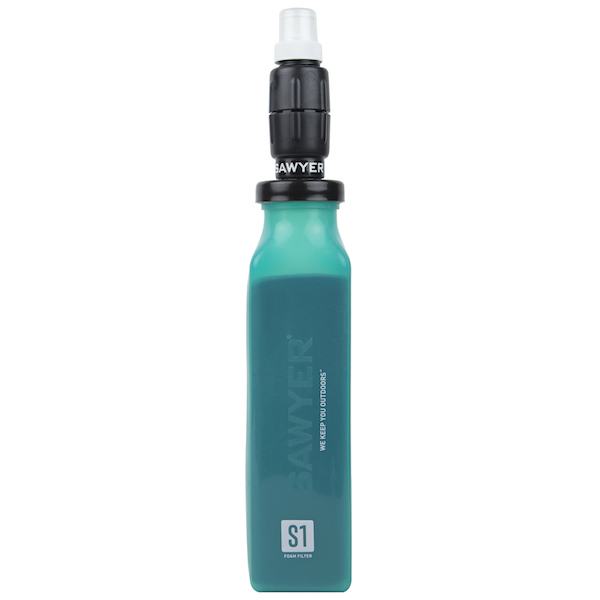 The Sawyer Select S1 Filter System uses a hollow fiber membrane filter along with a foam membrane to remove bacteria, pesticides, chemicals, and protozoa from water. You can use one filter at least 1600 times with any water source to get drinkable water. With higher removal rates and faster flow rates the S1 filter system reduces even more chemicals and pesticides than recommended by the Environmental Protection Agency.
Travel writer Lauren Mims was saved from a close call with the help of her water bottle filter:
"Two summers ago I attempted backpacking to Conundrum Hot Springs. After a few miles I fell ill due to altitude sickness. I quickly ran through all my water trying to ward off dehydration and was starting to dip into my partner's. The only water source nearby at 13,500 ft was a half-melted puddle of snow. I had never used the S1 filter before so you can imagine my concern. When I filled up the bottle and what came through was crisp, clean, and honestly delicious water. And better yet, no sickness! I was able to continue refilling from the source to get enough energy to make it back down the 8.5 miles and 3,500ft of elevation safely."
Price: $59.99
Being able to access clean drinking water with the help of a water bottle filter can be an invaluable part of your travels.
Instead of purchasing single-use water bottles you can save lots of money by carrying a filtered water bottle or using a water bottle filter with you when you're on the go. With these sustainable choices you can feel good about the water you're drinking when you travel and also the positive impact on the environment.
Flight delays happen, but that doesn't mean you have to accept them. You may be entitled to a much as $700 in compensation if your flight was delayed, canceled, or overbooked within the last three years.
Join the AirHelp Community
Pick up tips, tricks and good vibes from fellow travelers.
---