British Airways Compensation - Flight Delays and Cancellations
If you've had a delayed flight with British Airways, then you've come to the right place to get your British Airways compensation. Continue reading to learn how AirHelp can help you to enforce your rights and claim up to €600 in cash compensation!
Check Compensation
4,7

out of 5
British Airways Compensation
Try as they might to ensure every flight experience of their passengers is void of issues – unfortunately, British Airways flight delays and cancellations happen.
Naturally, British Airways make every effort to stick to their advertised schedules, but sometimes things don't go according to plan. When air travel takes an unexpected turn, AirHelp strives to be the silver lining of air travel. This is because we help you get the British Airways compensation you deserve from the airline, if you have suffered a flight mishap and the airline is at fault.
Just enter your flight details into our free flight delay compensation calculator and it will inform you on whether you are eligible to make a claim and how much the airline owes you in both British Airways delay compensation and British Airways cancelled flight compensation.
British Airways Flight Delay Compensation
Under the EU regulation, EC 261, which protects the rights of air passengers, not all flight delays are eligible to compensation.
According to the legislation, British Airways passengers are entitled to British Airways flight delay compensation if their flight arrived at the final destination 3 hours after the scheduled estimated time of arrival.
Other factors also determine whether you are eligible to claiming cash compensation for a flight delay. For instance, certain perks offered by the airline like a voucher could waive your right to British Airways compensation. This is why it's very important to be diligent and not sign any document offered to you by an airline when there has been a flight issue without reading the fine print.
If you want to avoid the hassle of working out if your British Airways flight delay qualifies for British Airways delay compensation – our easy-to-use compensation calculator will do the grunt work for you. Provided that our compensation checker confirms that you are indeed eligible for compensation for your flight mishap – our team of trusted industry experts will help you with your claim at each step of the way.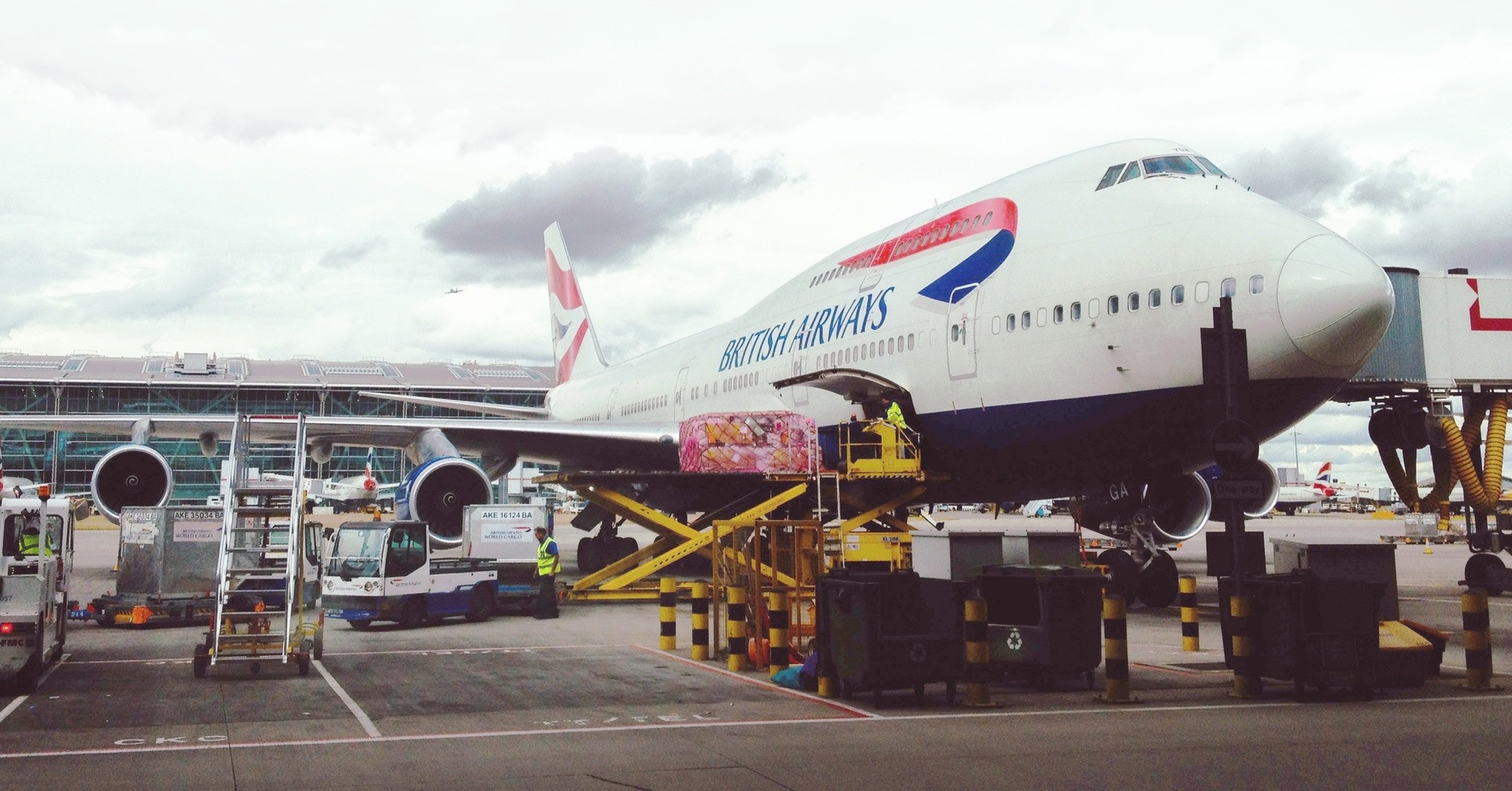 British Airways Disruption? AirHelp Can Help You Claim Compensation
Claim Now
British Airways Cancelled Flight Compensation
Under EU regulation, if you are a British Airways passenger and your flight is cancelled and:
You were not informed of your flight's cancellation, or
You were informed of the cancellation less than 14 days before departure, or
You weren't offered a rerouting option
You can be eligible for British Airways cancelled flight compensation.
Generally speaking, when British Airways cancels flights, the airline will attempt to rebook passengers onto another flight at no additional charge. In fact, in most cases of cancelled flights, British Airways will automatically try and rebook you onto another flight. You can request further changes if the alternative flight doesn't work for you, or if you no longer wish to travel that route.
The situation is different if you need to cancel your flight. There is no compensation owed if it is your decision to cancel your flight. Tickets can usually be rebooked on British Airways' website. You may be asked to pay a rebooking fee and a handling charge, depending on the type of ticket you purchased. If you rebook a ticket that turns out to be more expensive than your original flight, you'll need to pay the difference. As a general rule, as long as there are still seats available, you can usually rebook your ticket in the same fare class or higher.
Are You Eligible For Up To €600 British Airways Compensation?
Check Now
How is British Airways Compensation Calculated?
There is a popular misconception about British Airways compensation which is the amount of compensation you are owed depends on the price of your ticket. It isn't. According to EC 261, which elaborates on air passenger rights, the amount of British Airways compensation you are owed when you've suffered a flight delay is based on the distance of your flight.
Our helpful chart breaks down what you are owed based on the distance of your flight. And remember, when in doubt of how much British Airways compensation you are owed, you can follow this link to our free compensation checker and find out in minutes how much you are entitled to for your British Airways flight disruption.
€250 for flights delayed three hours or more, in which the total flight distance is less than 1,500 km
€400 for flights delayed three hours or more, in which the total flight distance is between 1,500 km and 3,500 km (or more than 1,500 km within the EU).
€300 for flights delayed between three and four hours
€600 for flights delayed more than four hours, in which the total flight distance is more than 3,500 km (or between an EU and non-EU airport).
If your flight is delayed five hours or more, by law, the airline has to give you:
A full refund for the flight
A full refund for other flights in that same reservation which you won't be able to make
A flight back to your original point of departure (the first airport you departed from)
Food and drinks
Access to phone calls and e-mail
Accommodation if you're delayed overnight as well as transportation between the airport and the hotel
When are you not entitled to British Airways Compensation?
According to EU legislation, there are circumstances when a British Airways flight delay or cancellation will not lead to British Airways compensation.
If your flight delay or cancellation is caused by extraordinary circumstances, which is loosely defined as scenarios beyond an airline's control. These situations include, but are not limited to: lightning strikes; medical emergencies; and strikes by airport or air traffic control staff. However, if the airline staff members strike, then the affected flight qualifies for compensation because airline management is considered responsible for their employees' behaviour.
It's important to note that if an airline explains that a flight delay or cancellation occurs because of "technical difficulties" or "operational difficulties", these circumstances do not count as "extraordinary circumstances". That means you are still eligible for flight cancellation compensation.
If these rules are too mind-boggling for you- our free flight delay compensation calculator simplifies the process by telling you if you are eligible for compensation in minutes.
Why should I claim my compensation with AirHelp?
Each year almost nine million passengers are entitled to compensation for delayed and cancelled flights, as well as denied boarding. Yet, 87% of travellers do not know their rights.
Only 66% of these people will file for the compensation that they are legally owed.
68% of travellers feel that they are not informed by airlines following a flight disruption, so AirHelp is the perfect solution for frustrated, time-is-of-the-essence passengers facing delays which are out of their control. AirHelp offers travellers a hassle-free experience for gaining the compensation that is rightfully theirs.
I would fully recommend using AirHelp.
I would fully recommend using AirHelp to anyone who has experienced a cancelled flight. The communication was easy and the money that we were compensated with is now in my account. This is all after the airline refused any sort of compensation or real apology. Excellent work, folks.
- Family
About British Airways
British Airways is the largest airline in the United Kingdom based on fleet size. When measured by passengers carried, it is second-largest in the United Kingdom behind EasyJet.
British Airways Headquarters
Address: British Airways Plc. Waterside, PO Box 365, Harmondsworth, UB7 0GB, United Kingdom
Website: https://www.britishairways.com