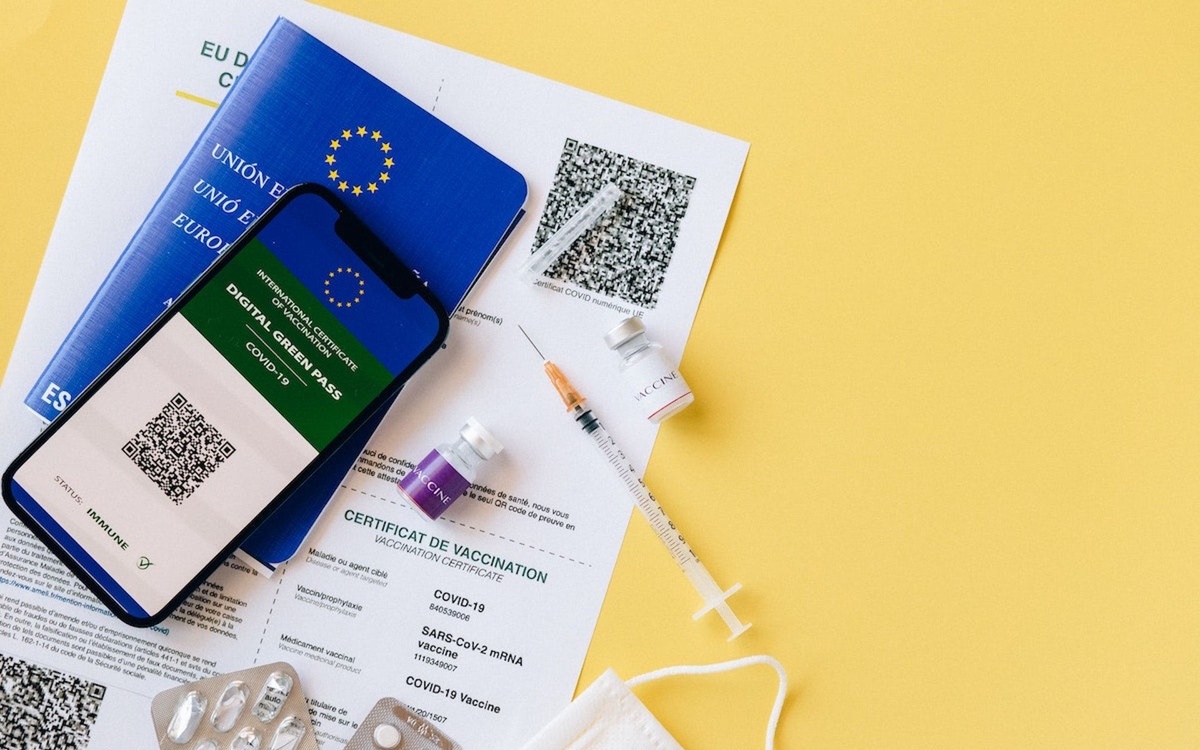 What you need to know when travelling with the Covid-19 vaccine passport
By Jaqueline Junginger・Last updated on 28 July 2021
The coronavirus pandemic has led to thousands of flight cancellations and a shut down of international travel. But there's some good news for travellers: some countries are already opening up for travel, especially to vaccinated tourists.  
You've probably already heard that many countries, especially in the EU, are introducing a Covid vaccine passport to allow vaccinated individuals to travel freely across borders. This is fantastic news not only for airlines and travellers, but also for entire economies that rely on tourism. 
But how does vaccine passport travel work? And how do you get a vaccine passport in the first place? We break it down: 
What is a Covid vaccine passport?
A vaccine passport is, simply put, a document that proves that you've been vaccinated against Covid-19. In countries where they are accepted, they should allow you to travel freely, without the need to quarantine or (in most cases) without presenting a negative corona test. The vaccine passport should also allow you to visit establishments that require you to be vaccinated, such as museums, sports stadiums, and restaurants.
One thing to watch out for, however, is that despite the introduction of vaccine passports, not all countries have the same entry requirements, and a vaccine that has been approved in one country may not be valid in another.
Julie of This is Luxury Travel had this exact problem when she travelled to Europe: "I got fully vaccinated in Indonesia but it was not recognized in Belgium. So I had to get vaccinated again in Belgium which seemed like a total waste of vaccines, but I could not find a way around it."
These policies are still extremely new and constantly changing, which is why it is important to do your research to know exactly what is required when entering a country.
Which countries have a vaccine passport? 
There are several countries that already have some sort of vaccine passport system in place:
EU
When it comes to vaccine passports, the EU vaccine passport is probably one of the most recognized, as it was introduced to once again allow free movement across the bloc. This digital document is now accepted in all EU member states, as well as Switzerland, Iceland, Norway, and Liechtenstein. 
This means that you can already start travelling through all of the EU member states, which includes some of the most popular tourist destinations such as Italy, France, Greece, and Spain. The vaccine passport in the EU is available as a digital vaccine pass with a QR code, but you can also present a paper booklet in the form of the World Health Organization (WHO) International Certificate of Vaccination. 
UK 
The UK does not have an official vaccine passport. However, the NHS Covid Pass has unofficially become the NHS Covid vaccine passport app as it functions very similarly to the EU vaccine passport. It provides authorities with digital proof of your vaccinations, and can already be used not just within the UK, but internationally too, especially while travelling around Europe.
In fact, some travellers have already tried using their NHS app to fly abroad. Take Nellie Khossousi of Third Culture Nellie: she has recently travelled from the UK to Denmark, and had few issues entering the EU, though she did run into some trouble upon her return: "I have recently flown with the UK's NHS app, which shows my vaccine status, from London to Denmark. On my return, I used Denmark's Corona passport (Coronapas). 
My journey to Denmark was very quick and easy with the NHS app. I showed them my vaccination card but they wanted the app to be sure the card was mine. 
The return to the UK was more complicated as they required vaccine proof, a negative Covid test and a passenger locator form, with proof of purchasing the day 2 and day 8 test packages for the quarantine."   
US 
The US, like the UK, does not have an official passport and the government has already made it clear that they will likely not create one. This may become a problem, because while the Centers for Disease Control and Prevention (CDC) do issue paper vaccine cards which serve as proof of vaccination, there is no centralized passport system that will be accepted everywhere. 
So far, the only state offering a government approved digital pass is New York. Called the Excelsior Pass, it should allow people to travel freely within the state, however, it is unclear if it will be accepted internationally. 
Luckily, your proof of vaccination card may be enough for some countries. Parts of the EU including Cyprus, Ireland, France, Greece, and more are already open to US travellers who can provide proof of vaccination. Just be prepared to present your proof of vaccination and to fill out a lot of self declaration forms before boarding. 
Brady Simpson of the Peanut Travel Company shares his experience: "I recently travelled from the US to Italy for a 2-week road trip. Instead of the Covid vaccine passport, I used proof-of-vaccination as the main Covid-related document. What was confusing however, was all of the 'self declaration' forms, some of which were not translated in English, that were required when entering/exiting countries. These self declaration forms asked a series of questions, including whether you've been vaccinated or recovered from Covid-19 and while they seem simple, in practice it was difficult to fill out some of these forms especially on a mobile phone with reduced internet speed."
Other countries
Like the European Union, many other countries around the world have also started providing their own version of a Covid vaccine passport, or are accepting proof of vaccination via international certificates or travel passes. Here is a list of countries who either have a digital Covid vaccine passport app, a physical pass, or ask for a certificate of vaccination: 
How to get a vaccine passport?
Though the process of getting a vaccine passport varies from country to country, in the EU, it is just a matter of obtaining an official copy of the International Certificate of Vaccination or Prophylaxis approved by the WHO. It's a small, yellow booklet that serves as a record and proof of all of your vaccines and is not limited to just Covid-19 — it can be used to record other vaccines as well, including Influenza, Hepatitis, and others. Some countries, especially those with local epidemics of cholera or malaria, will require visitors to have more than just a Covid-19 vaccine to enter the country.
Many people who have been vaccinated in the EU will likely already have a copy of this document, but if you are new to the EU or have lost your copy, you can purchase a new booklet from pharmacies, as well as online (just be sure to watch out for fake or unofficial printings). 
Once you have been fully vaccinated, your doctor will add the appropriate sticker and number code to your vaccine booklet. You can then take these stickers to a participating pharmacy or to a coronavirus vaccine center to convert it into the digital EU vaccine passport. You will be required to download an app such as CovPass or through a similar app in the issuing country. This app is where your QR code proving your vaccination status will appear. Your vaccine passport will only become valid 14 days after you've had your second dose, once your immunity kicks in. 
So who can get the vaccine pass? Anyone who has completed two doses of the vaccine (or one dose if you took the Johnson & Johnson vaccine) or have recovered from Covid-19 and have had at least one dose can get the passport. 
Veronica Cussi of Touristear.com shares "We both had Covid-19 in November and as soon as the vaccination process was opened for us we signed up. We got our vaccination certificate passport on May 31, 2021, in France, where we live.
The protocol states that if you have had Covid-19, you get the vaccination certificate with a single dose. In our case, of the Pfizer vaccine."
You can learn more about how to get your EU Digital Covid Certificate here.  
With the introduction of vaccine travel passes, more and more people can now travel safely and enjoy freedom of movement similar to before the pandemic. Though many countries are yet to open up, the vaccine passport is just yet another step towards normalcy. 
Did you also know that you can claim for delayed, cancelled, or overbooked flights from up to 3 years ago? AirHelp is here to help you check if your flight is eligible — it's quick, easy, and totally risk-free! Get started with your claim now.
Join the AirHelp Community
Pick up tips, tricks and good vibes from fellow travelers.
---