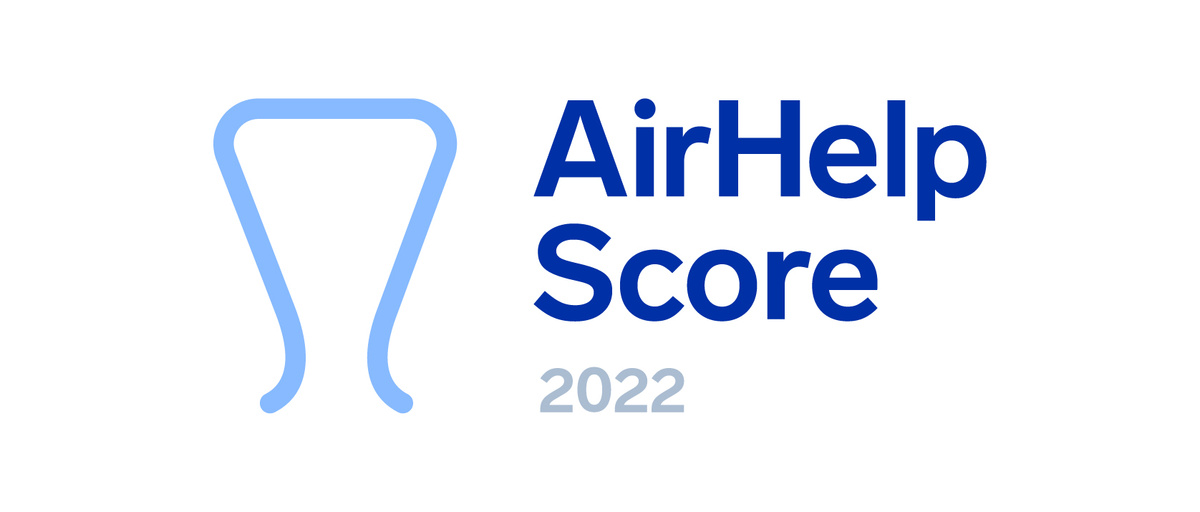 AirHelp Score 2022: These are the best airports in Europe
Last updated on 13 December 2022
AirHelp, the world's largest air passenger rights organization, publishes the annual AirHelp Score, which ranks airports and airlines

The best airports in Europe are located in Spain, Austria and Italy
Berlin, December 13, 2022 – After a two-year corona break, AirHelp (www.airhelp.com), the world's largest air passenger rights organization, has rated all airports and airlines around the world in the comprehensive AirHelp Score. European airports in particular fared very poorly in this year's ranking: of the 151 airports assessed, only five airports in Europe made it into the top 50.
Europe's best airports are in Spain
For the AirHelp Score, airports were evaluated in the categories of punctuality, customer opinions and food and stores. With an overall score of 8.25 points, Spain's Madrid-Barajas Airport makes it to 12th place, making it Europe's best airport in 2022. Second place in Europe also goes to Spain: With 8.05 points, Bilbao also secures a place on the podium - in terms of punctuality, the Basque airport is even 0.13 points ahead of Madrid (8.39 and 8.26 points, respectively). In terms of customer opinions (8.19 and 7.81 points, respectively) and the range of food and stores (8.30 and 7.28 points, respectively), however, Spain's capital has its nose in front. Bilbao ranks 24th in the global rankings.
The third-best airport in Europe, with a score of 7.79, is Vienna-Schwechat Airport, Austria's largest and best-known airport. In the overall ranking, the Austrian airport thus only achieves 44th place. Italy's Milan Linate Airport (49th place with 7.74 points) and Norway's Bergen Airport (50th place with 7.72 points) only just make it into the global top 50, placing fourth and fifth in the European comparison.
Great Britain has the worst airports in Europe
Not only in the European comparison, but also in the overall global ranking, the British airports perform particularly poorly: four of the ten worst airports are located in Great Britain. With an overall score of 6.48, London Luton Airport is Europe's worst airport and also the third worst in the world. Just ahead are Antalya Airport (6.50 points) and the three other British airports Bristol Airport (6.54 points), Manchester Airport (6.56 points) and London Gatwick Airport (6.64 points). Only Canada's Aéroport international Pierre-Elliott-Trudeau de Montréal is in between in the overall ranking with 6.60 points.
In addition, Europe's ten worst airports include Lisbon-Portela Airport (6.75 points), Brussels South Charleroi Airport (6.78 points), Prague Airport (6.8 points), Bucharest Henri Coandă Airport (6.8 points) and Naples Airport (6.85 points).
Düsseldorf Airport is the best airport in Germany
Six German airports were evaluated in the AirHelp Score 2022. The best of them, with an overall score of 7.47 points, is Düsseldorf Airport, which makes it to 85th place in the global ranking. With a score of 7.15, the North Rhine-Westphalian airport is also the most punctual in the country. Germany's second-best airport is Munich's "Franz Josef Strauss" Airport, which secures 89th place in the world with a total score of 7.44. In terms of customer satisfaction, the airport in Bavaria's capital is the German winner.
The following places go to Hamburg Airport (7.32 points), BER (7.17 points), Germany's largest airport in Frankfurt (7.07 points) and Cologne Airport (6.86 points. Frankfurt Airport has the best range of stores and food in the German comparison (8.17 points).
"Our goal at AirHelp is not just to educate passengers about rights and help them enforce them in the event of delays and cancellations. Rather, we want to ensure that passengers have a generally satisfying flight experience. AirHelp has one of the most reliable and accurate collections of flight data in the world. This allows us to provide vacationers and business travelers with an in-depth look at how airlines and airports are performing. At the same time, the AirHelp Score is a useful tool for companies to assess their position and identify areas for improvement," explains Tomasz Pawliszyn, CEO of AirHelp.
About the AirHelp Score
The AirHelp Score is a ranking of the best and worst airlines and airports in the world. AirHelp has been publishing the AirHelp Score since 2015 (with a break during the pandemic) to help passengers better plan their flights. The Score allows passengers to see what treatment they can expect from airlines and airports based on data. To calculate the AirHelp Score, multiple data sources and factors are combined to give passengers a comprehensive picture of how an airline or airport is performing. The airline score is based on three factors: on-time performance, customer opinions and complaint handling. These are weighted equally. The rating of airports is also based on three factors: punctuality, customer opinions, and food and business. Here, punctuality is the biggest factor at 60 percent. To determine the results, data from January 1 to October 31 was analyzed and passengers were asked about their most recently used airlines and airports.
About AirHelp
AirHelp is the world's largest air passenger rights organization. Since its founding in 2013, the company has helped travelers enforce compensation for delayed or cancelled flights, as well as in the event of denied boarding. In addition, AirHelp takes legal and political action to further strengthen the rights of air passengers worldwide. The company has already helped more than 16 million people and operates worldwide.
Join the AirHelp Community
Pick up tips, tricks and good vibes from fellow travelers.
---