Before You Start
Its a good idea to gather together all the details of your flight before you begin your AirHelp compensation claim.
Search your inbox for the original flight booking confirmation, or dig up the paper copy. That way when we ask you for information like the travel dates and flight number, you'll have them to hand.
Got them? OK, you're ready to follow our step-by-step guide.
STEP 1: Find Out if you're Eligible to Claim Flight Compensation
• Where did you fly?
• What happened?
STEP 2: Fill in Your Details
• How to find your booking reference
STEP 3: Provide Supporting Documentation
STEP 4: Fill in some (optional) final details
• Here's what will happen next
STEP 1: Find Out if you're Eligible for Flight Compensation
To start off your claim, head straight to our eligibility checker, which is where you start making a claim through AirHelp.
First we will find out if your disrupted flight entitles you to claim compensation under EU law.

So even if you're not sure if your flight cancellation or delayed flight is eligible, it's fine to just plug the details in here. We'll quickly tell you if the flight is likely be covered or not.
Where did you fly?
In this first section we want to hear about the whole journey that was affected.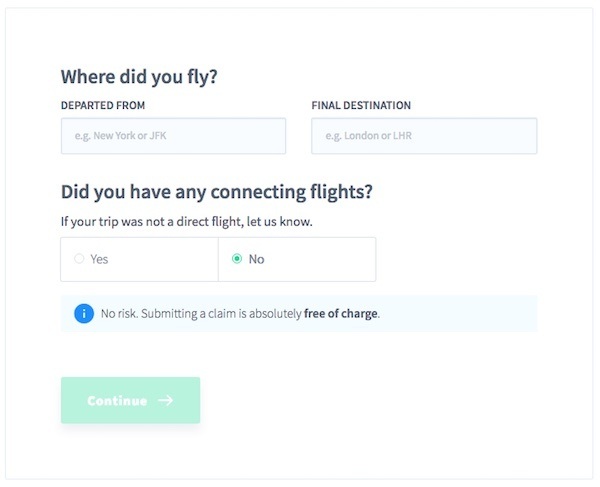 That's pretty straight forward if you took a direct flight. You just need to type the name of the city or the airport into the "DEPARTED FROM" and "FINAL DESTINATION", pick the correct airport in the dropdown and you can continue.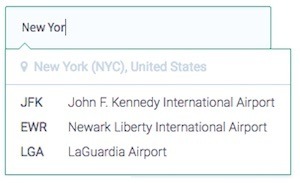 But what if your journey involved a connection?
For example if you flew from New York to London, and then on from London to Budapest. Well, you still "DEPARTED FROM" New York, and Budapest is your "FINAL DESTINATION", so you can fill those in. Then choose "Yes" on the connecting flights question, and you can add the airport in London under here.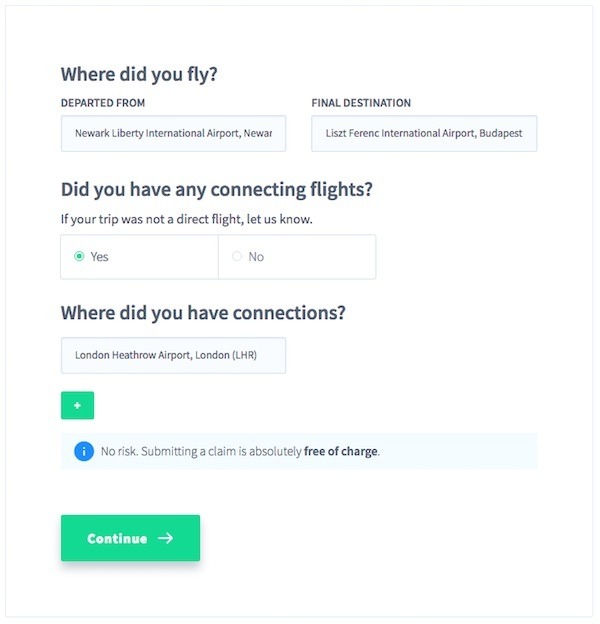 By the way, this is only covered if you bought the flights together as part of one journey. If you booked the flight from London to New York first. Then decided to book yourself an onward flight to Budapest separately, this would be considered as two journeys, though you can still put in a claim for the one flight that was disrupted!
What happened?
The EU law on flight disruptions, EC 261, covers compensation in three main areas: delayed flights, cancelled flights and passengers denied boarding.
You will be asked to choose which of these happened on your flight, and then to tell us roughly how long the delay was before you arrived in your final destination.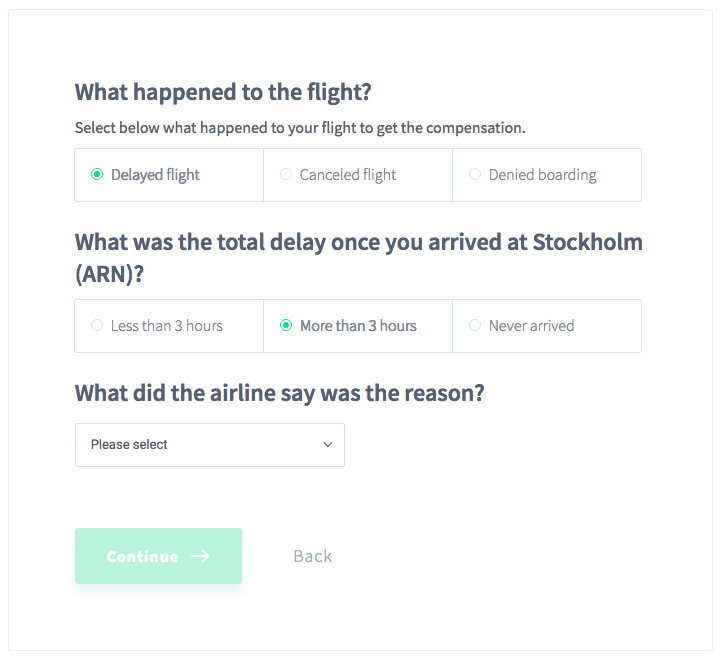 Hopefully it's clear which of these areas your disrupted flight falls into, but here's a quick clarification:
Delayed flights: flights which take off late (and arrive late at their destination).
Cancelled flights: flights which the airline cancels, so they do not depart (or arrive) on the scheduled time you booked. This covers both flights that are cancelled at the last minute, and flights that are cancelled in advance. Just so you know, if your flight is cancelled, the airline is obligated to rebook you on another flight to your destination (or refund you if you would prefer). But you could be entitled to claim compensation on top of that if they cancelled your flight less than 14 days before it was due to depart.
Denied boarding: This refers to passengers who have not been allowed onto their flight through no fault of their own. Sometimes airlines sell more seats than are available – this is known as overbooking. Then if all the passengers show up, some passengers will be asked to fly on another flight. If passengers do not voluntarily give up their seat, this is classified as denied boarding. Overbooking is rare in Europe, but more common in the US.
How long was the delay?
Regardless of what caused your disruption, EU law bases your compensation off how late you were getting to your final destination, not how late your flight took off. This is why airlines often try to make up time while you're in the air.
Not sure how late you were? Just make your best guess. We have access to many flight reports and we will check the exact time for you.
Finally, we want to know what caused your flight to be disrupted. Our form suggests some of the most common reasons, such as "Technical problem" and "Strike" but if you don't know the reason, that's fine – just choose "No reason given".
If you were on a connecting flight you will also need to specify which flight was disrupted before you say what happened.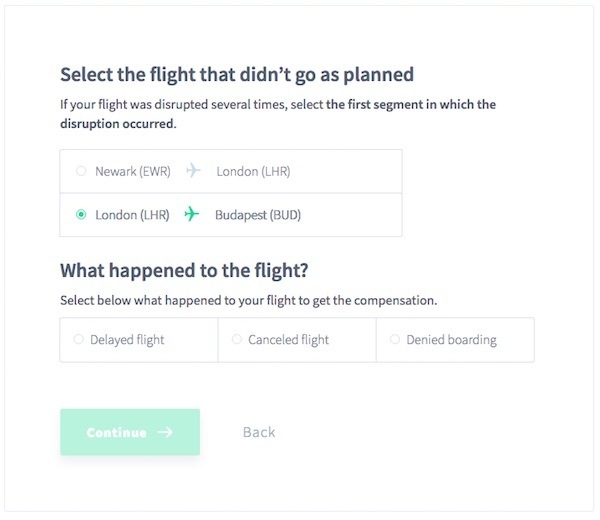 Share your itinerary
We need some more details at this stage so that we can identify your exact flights.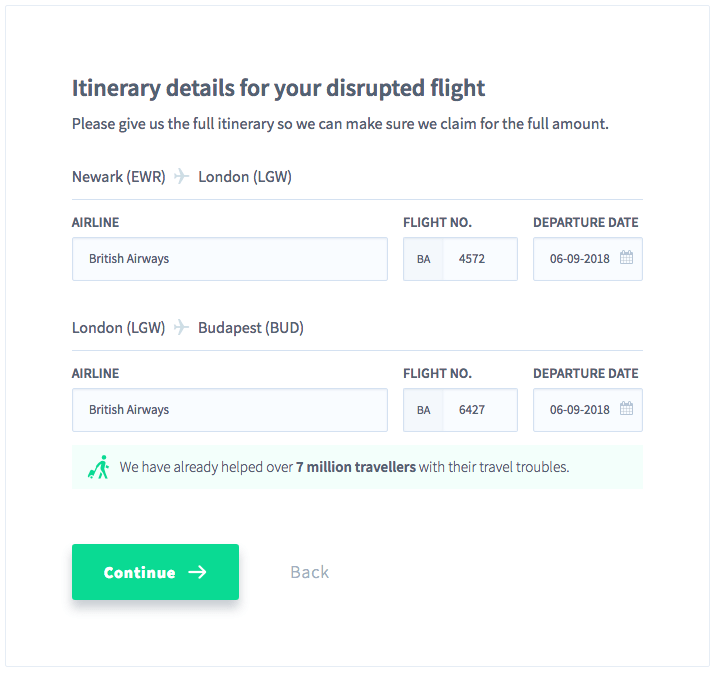 We need to know your airline – you can just start typing your airline into this field. This should be the airline that you flew with by the way, because we know that it is sometimes different to the airline you booked with.
We also need to know your flight number – you can find this on most documents from the airline, including your booking confirmation or boarding pass.
And finally you can select the departure date from a calendar.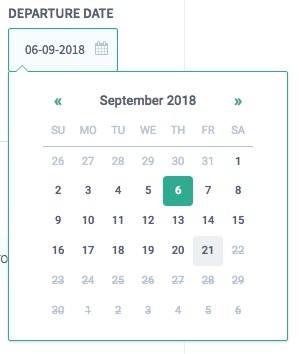 Sometimes people are a bit confused about which date to put. We want to know your flight's original departure date. So even if you were delayed past midnight, or if you were rebooked onto a flight the next day, you should still select the date your flight was originally scheduled to depart.
How do we contact you?
To make it as easy as possible we've added several ways you can share your contact details.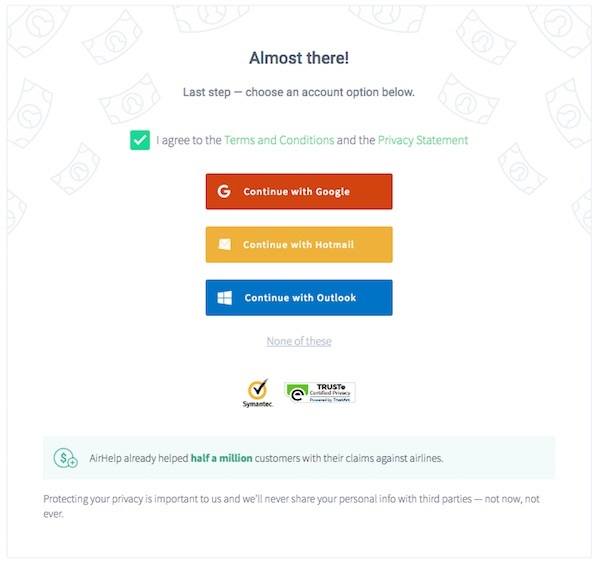 If you don't have one of these options though, just chose the "None of these" option and then you can type in your email address yourself.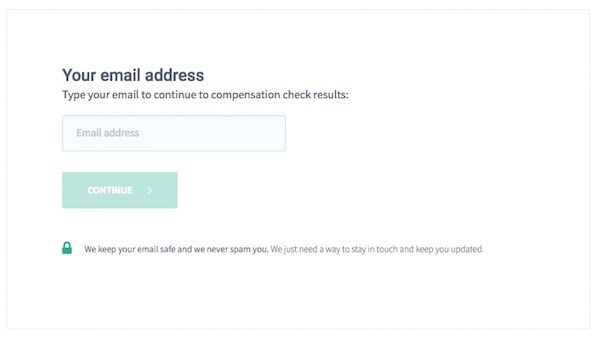 Are you Eligible?
We don't want to waste your time, so we'll tell you straight away if you don't have any grounds for compensation.
For example, if your flight was delayed for less than three hours, there is no coverage under EC 261

If you don't see this message – that's great. That means you have successfully passed our eligibility check, and we think you have a valid AirHelp compensation claim.
It's important to know that our initial eligibility check can't guarantee compensation – though it is a very good sign.
Once you submit your claim, our experts are going to run much more thorough checks to establish exactly what you are entitled to.
STEP 2: Fill in Your Details
It looks like you have a valid claim for compensation. That's some good news after all your travel woes at least!
If you want AirHelp to go ahead and claim that compensation on your behalf, this is where you give us the details we need to do so.
Who was flying?
Start with your own name, and take care to type it in exactly as it appears on your flight's booking confirmation.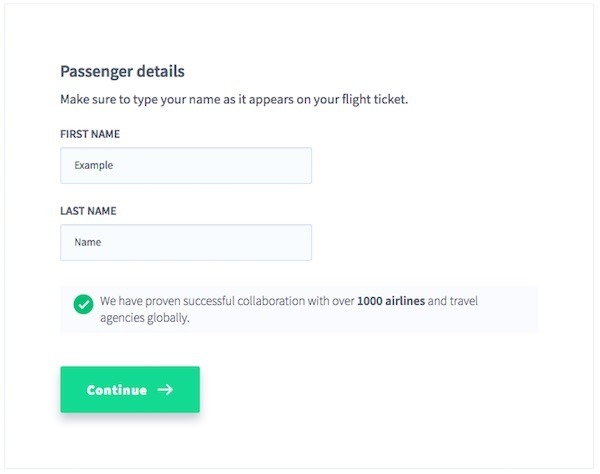 Once you hit continue here it's time to think of your fellow passengers. If you were travelling as a group everyone you were flying with is eligible for the same compensation as you. So do them all a favour and fill in their details so we can help them claim too.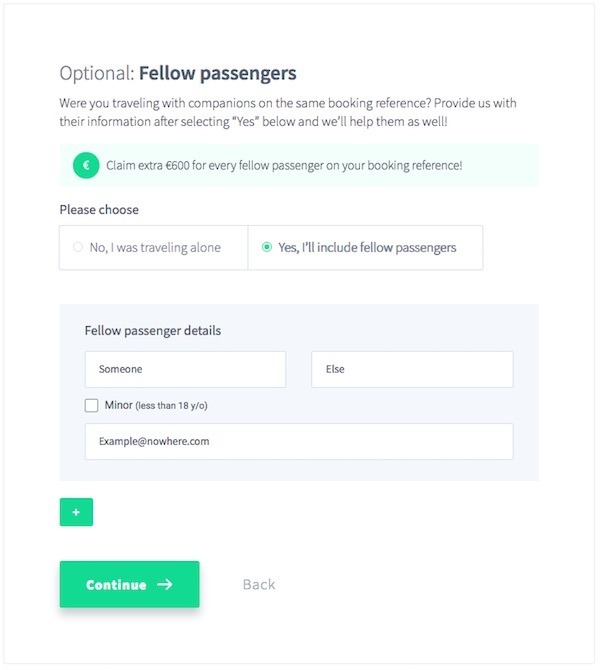 Just so you know, other adults in your group will need to submit their own documents and signature so that we can submit claims on their behalf – that's a requirement from the airlines.
But if you had minors (under the age of 18) travelling in the group, they don't need to provide signatures. Although we may need additional documents to support their claim.
Your address
Your address will be used on the supporting documentation that we send over to the airlines. It is something they require in order to process a claim.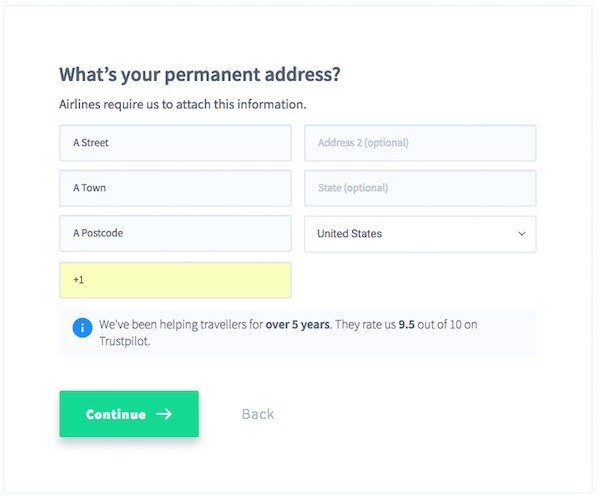 You can fill in your details on our form, and you can add a phone number too if you wish. We may use this if we need to contact you about your claim.
Find your booking reference
One thing that almost all airlines will require us to provide is your booking reference.
This reference will be printed on many of the documents you receive from the airline – as it is the number they use to identify your booking.
Usually it is a six digit code, which may include both letters and numbers.
As our form says: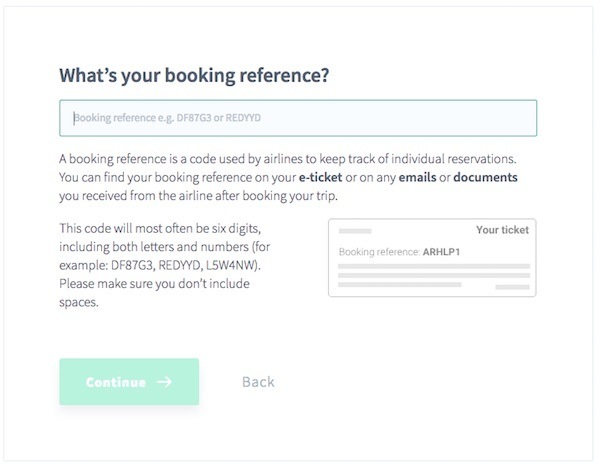 But we know it can be hard to identify, as there's no standard format between airlines.
It will probably look something like this: 8NEPUU, HV7YPY, EV5K6PG.
But some airlines do have longer codes…
Also complicating matters: not all airlines refer to this code as a booking reference.
Airlines might refer to it as:
PRN
Reservation
Reservation reference
Booking code
In fact, to give you an idea of the variety, here are the terms used by some of the most common airlines flying to or from Europe:
| Term used | Used by |
| --- | --- |
| Booking reference | Lufthansa, SWISS, British Airways, Aer Lingus, SAS, Norwegian, easyJet, Etihad Airways, Virgin Atlantic |
| Booking code | Eurowings, Iberia, Vueling, KLM, Austrian Airlines |
| Reservation reference | Air France |
| Reservation code (or PNR) | Turkish Airlines |
| Confirmation code | Wizz Air |
| Confirmation number | Delta |
| Record locator or PRN | American Airlines |
| Booking confirmtion | Qatar Airways |
The good news – this code is used everywhere by the airlines. Its usually the code you use to log into your booking on the airline website for example. And the same code you'll use when you come to check in. So if there's a number you see again and again in all communications from the airline, that is probably it!
STEP 3: Provide Supporting Documentation
Airlines will need us and you to provide documents which back up your claim. The good news is we have done this thousands of times, and we know what each airline will want in order to prove your claim.
Give us permission to handle your claim
There are many reasons why you might want AirHelp to handle your claim for you, rather than applying by yourself. It takes time, and effort to lodge a claim with an airline – and to keep chasing them afterwards. We're happy to take care of it for you. We also have access to a lot of data, which we use to support your claim.
But we do need to show the airline that you want us to handle the claim on your behalf.
That's why we're going to ask for your signature on the next part of our application process: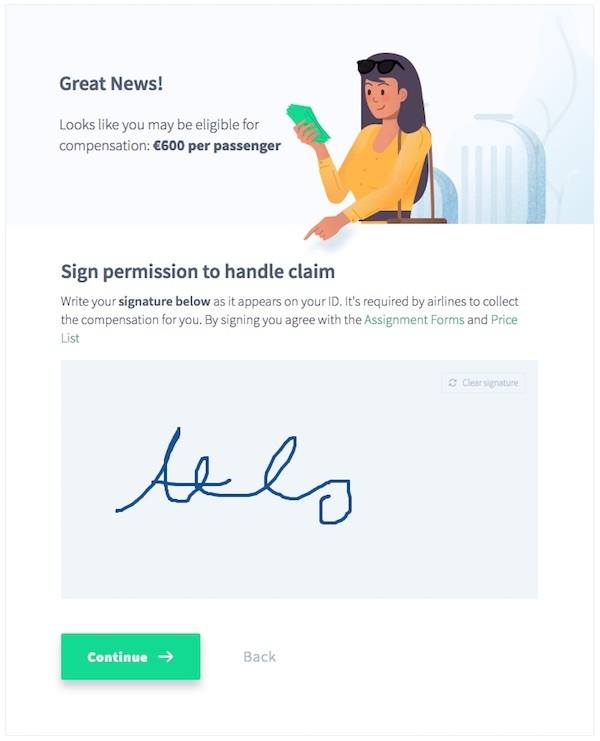 You should use the same signature you use in your ID – and you can use the 'Clear signature' to try again if you mess up your first tries.
There are a couple of links here for you to check what you are signing.

The first is the 'Assignment form' – this is a document which we send to the airline, proving you have instructed us to handle your claim.
The second is our price list, so you understand our fees. Remember you only pay if we are successful in getting your compensation.
Submit your documents
Every airline has different document requirements. Some airlines need to see the booking confirmation. Some want to see copies of your boarding pass. Some even as to see a copy of your passport.
The good news is we know what each airline will require, and this section of the form will prompt you to submit the documents that are essential for your claim.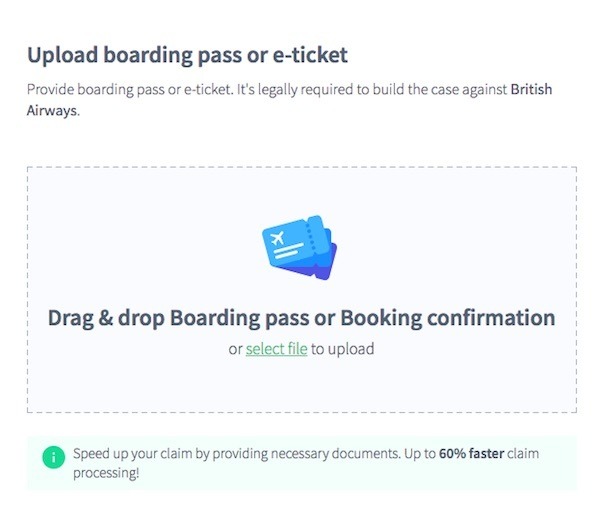 To add your documents you can drag and drop the files onto the form.
Or you can use the 'select file' link to choose the files you want to upload. If you prefer to upload them that way.
Some of the most common documents we ask for are:
Booking confirmation: this is usually the first document you receive from the airline after you have bought your flight. It will confirm that you have booked a flight and paid for it.
Boarding pass: this is airline document you show at the airport, both when you go through security and when you board the plane. It may be a piece of paper you print out at home, or it might be the ticket-shaped piece of paper they print out at the check-in desk. Today many airlines also use mobile boarding passes, so you may not have a physical piece of paper. But you can take a screenshot of your mobile boarding pass – that works just as well.
If you are asked for other documents, and you're not sure what is required, you can always check our Help section
STEP 4: Fill in some (optional) final details
You are done by this point. We have all the essential information we need to claim your compensation.
However, if you want to help your case some more you can add more information here to support your claim.
For starters…
Describe what happened
We have a field here for you to tell us some more about what happened to your flight.
This is especially helpful if your claim falls outside the three definitions of flight disruption we gave earlier: flight delay, cancelation and denied boarding.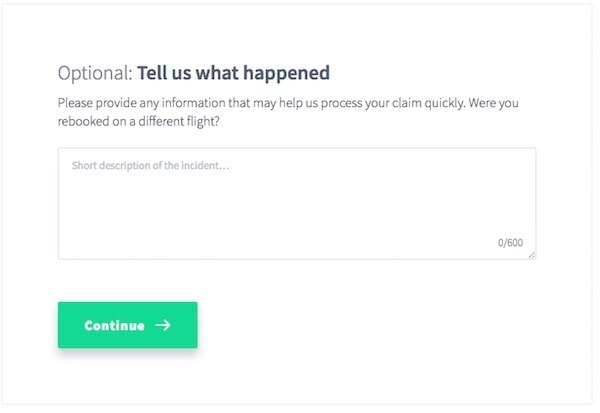 Some things it's great to include:
The airline response: did they give any explanation for the disruption? Did they provide you with replacement flights?
A timeline: what happened and when?
Final outcome: when and how did you get to your final destination?
Your preferences
This is space where you can tell us information that will help us serve you better. For example which language you would prefer to talk to us in. We can speak 16!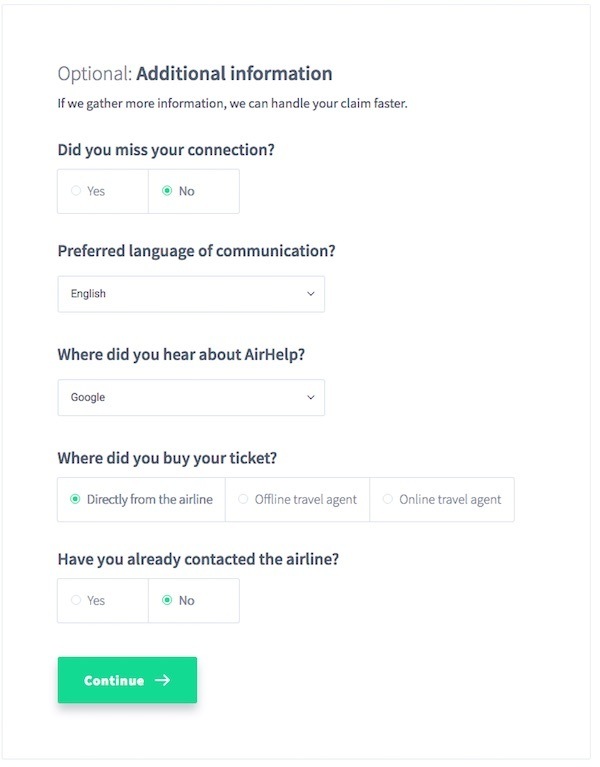 Spread the word
If you'd never heard of flight compensation and EC 261 before, you're not alone. So if you'd like to help us in our mission to help more air passengers, please recommend us to your friends. We've made it easy to share the news about flight compensation on facebook and twitter.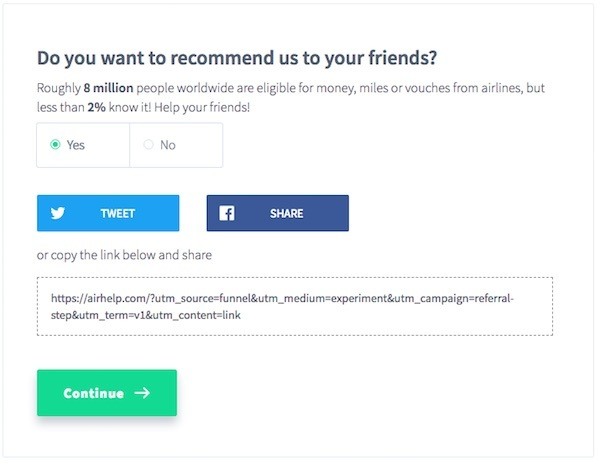 That's it!
Before you get on with your day take a moment to copy the link to your personal Customer Dashboard.
It's going to appear at the top of the final page we show you.
You will need this link if you need to contact us regarding your claim.
But don't worry! We'll have emailed the link to you too.
Here's what will happen next
Our claim experts and our automated tools will begin by checking the details of the claim
As soon as we've verified that the claim is eligible we will send all the paperwork to your airline
Negotiations! We use our data and expertise to back up any claims the airlines try to debate
If we're not getting anywhere with the airline, our legal team will step in to fight for your compensation
As soon as we hear that the airline will pay your claim we'll be in touch. We'll ask for your bank details and send you your compensation!
We're very efficient at processing claims for flight compensation. But unfortunately it's rarely a fast process.
Please don't worry if you don't get your money right away. We will be processing your claim as fast as we can, and we will be following up with the airlines regularly.
Relax – as soon as we have any updates we'll be contacting you.
Flight delays happen, but that doesn't mean you have to accept them. You may be entitled to a much as €600 in compensation. If your flight was delayed, cancelled, or overbooked within the last three years.