AIRHELP CELEBRATES FIVE YEARS ADVOCATING FOR AIR PASSENGERS WORLDWIDE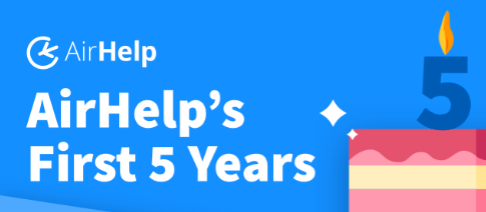 The number one flight delays compensation company has helped more than 5 million consumers in 188 countries to claim $350 million from airlines
AirHelp calculated that 35 million people have let their claims expire since the company's launch in 2013
To celebrate its 5 year anniversary, AirHelp's leadership team predicts the next 5 years in the travel industry
NEW  YORK (January 25, 2018) – Today, AirHelp, the world's leading flight delays compensation company, celebrates five years advocating for air travelers worldwide. Since its inception in 2013, AirHelp has grown from three to 500 employees and introduced cutting edge artificial intelligence (AI) technologies to streamline the claims compensation process.
AIRHELP'S 5-YEAR INFLUENCE IN THE INDUSTRY
In the last years, AirHelp's investments in legal tech, AI development, and launch of a new tool enabling passengers to check their flight history for compensation eligibility even in the past have made it possible to go to court at little expense, with no risk for the consumer. Staying ahead of the trend, AirHelp's AI lawyers, world leading data base on flight disruptions, and largest global network of local lawyers specialising in air passenger rights, enabled the company to help over 5 million consumers in 188 countries to claim more than $350 million in compensation.
AirHelp's legal team has fundamentally changed the industry by offering justice as a service to consumers on a no cure, no pay model. Winning an endless string of cases that have led to legislative changes around the world, AirHelp has made a positive impact on legislation worldwide, and helped to educate international travelers about their rights.
Looking back at the last five years, Henrik Zillmer, CEO of AirHelp reflects: "Since our launch, AirHelp's mission has been to hold the airlines accountable, and make the compensation claims process as seamless and efficient as possible for travelers. In the years to come, we will continue to advocate for consumers worldwide, educating passengers about their rights, influencing lawmakers and airlines alike to put passenger rights first, while continuing to elevate the industry by making the highest quality technological resources available for everyone."
LOOKING AHEAD: PREDICTING THE NEXT FIVE YEARS IN THE TRAVEL INDUSTRY
As AirHelp's leadership team plans the next five years for the company, the group of industry experts has joined forces to predict the main drivers of change in the travel industry.
Sharp changes ahead expected in the travel industry
Christian Nielsen, CLO, comments: "In the next five years, Airlines with roots in the fastest growing air passenger traffic markets, India, China and Indonesia, will enter the global stage. Forcing more established brands to reinvent themselves through superior user experience. Amongst other things through technology, transparency and personalization. Air passenger rights will also play a role. Airlines that can turn strong rights into a competitive advantage will win consumer favor."
Dealing with flight disruptions and corresponding compensation for travelers is at the core of AirHelp's business. Discussing how the industry will continue to work to improve customer experience, Kasper Rasmussen, Strategic Partnerships VP, says: "Most of the foreseeable flight disruptions will have been eliminated, as the cost of paying compensation and losing unhappy customers will be higher than making the investments required to cut delays and cancellations." Rasmussen is confident that by then, AirHelp will be at the centre in determining whether flights are eligible for compensation and all those entitled will receive their money automatically and independently of where they are in the world and whether they purchased their ticket through an airline, travel agent or any other point of sale.
Speaking of the current overwhelming lack of international payment solutions for the travel industry, Krzysztof Piernicki, Finance VP highlights the intrinsic need to be able to deal with local payments internationally including airlines, travel agencies, or travel disruption compensation companies. He adds: "Over the next five years, we predict that we will see a sharp increase in state-of-the-art flexible payment methods that will still manage to stay compliant with regulations worldwide. At AirHelp, we'll continue to stay ahead of the curve to make receiving compensation for disrupted flights even easier."
Adding to the debate on new market solutions, Dirk Busse, Marketing VP, comments: "Customer needs will become more transparent to marketeers as the technology available advances. Those companies in the travel industry that learn to adapt their campaigns and branding accordingly will become the clear market leaders. Our ambition at AirHelp is to be able to provide support when passengers need it the most, whether that is through providing real time support to deal with a problematic situation at the airport or provide live information on disruptions the minute they happen."
Continuing to reflect on advances that will be brought to the industry, Johnny Quach, Product VP, adds: "Travel booking systems have also remained the same for decades. As startups have built additional layers of technology on top of these systems to create modern user experiences, AirHelp expects the next big platform to reveal itself and force an industry wide transformation, whether that is augmented reality, virtual reality, blockchain, AI or something else."
The power of AI: a look into how it will affect the travel industry
The management team at AirHelp is certain that AI and machine learning will have a great impact in the industry. Discussing how AirHelp will shape the application of AI, Jakub Dziwisz, CTO, says: "The application of AI and machine learning in the travel industry is currently well behind other business areas. At AirHelp, we like to stay ahead of the trend so in the next few years we predict we will be able to manage 80-90% claims without any human involvement – from assessing the claim to sending it to court to directing the team where one-to-one customer contact is required from our human agents. Our existing robot lawyer, LARA, can already assess 50% of the claims so the future is already at our fingertips! We expect our use of AI to grow so far that we can bring to life a real AI travel assistant that can learn travellers' preference to the level of a human PA."
AI has raised endless questions about whether it can really replace the work of a human. Predicting its effects, Boleslaw Drapella, COO, answers: "As machine learning and AI take over a lot of processes, there will be an increased demand from customers for real human contact across the travel industry. This is particularly important when people find travel difficulties, including being stranded at airports following delayed flights, cancellations, denied boarding or missing a connection. Our advances in AI will help achieve exactly that – as AI takes care of the paperwork and the admin, our customer care heroes look after air passengers around the world."
As technology advances, there have been public concerns over how AI will impact employment. Clearly removing any doubts, Aleksandra Lazarowska, Head of HR, sees a wealth of opportunities to be able to have even happier employees thanks to the support of AI, as they will be able to focus more on self-development, training and customer care while machines look after the admin.
Closing the debate on how the future is shaped in the travel industry, Henrik Zillmer, CEO says: "Airlines owed travelers over $40 billion in the last five years, but despite their eligibility, 35 million people have let their claims expire. Our leadership in the use of technology will continue to be at the core of our competitive advantage, but nothing can beat our ever-growing international team and their endless commitment to help air passengers around the world exercise their rights."
For more information and to check your flight compensation eligibility, visit: https://www.airhelp.com/en/
About AirHelp
AirHelp is the world's leading flight delays compensation company, helping passengers apply for compensation following a delayed, cancelled or overbooked flight. Since the business was founded in 2013, AirHelp has helped more than five million travellers process airline compensation claims worth more than $350 million in total reimbursement. AirHelp has offices in five cities across Europe, Asia and North America and is available in 30 countries, offering support in 16 languages. The business employs more than 500 employees worldwide.