What is Shoulder Season in Europe?
By Lorne St. Clair | Last updated on

Shoulder season is a travel industry term. It's defined as the time between the high and low travel seasons of a specific destination. In the calendar, it sits between the peak and off-peak months.
If you're choosing the best dates for a dream vacation, it's high time you learned about shoulder season in Europe.
For the pro travelers out there, you'll be familiar with why it's a great time to travel to the continent.
You can grab the best bargains to top locations, with cheap accommodation and fewer tourists guaranteed.
The cost of flights and hotels usually increase during the high summer season and the Christmas holidays due to popularity.
The low season might mean lower prices, but these are months with fewer tourist activities and worse weather.
So if you're looking for cheap airfares and plenty of travel deals, shoulder season is your best bet.
When is Europe's Shoulder Season?
Summer and winter are the busiest travel seasons for tourists in Europe. Therefore, spring and fall are a good bet for lower prices.
In truth, there are two shoulder seasons; September to November and Easter to early June. Here you'll find a combination of good deals and warm weather.
As the geography of Europe is large and diverse, however, peak seasons differ in different destinations.
If often depends on specific activities taking place at the destination, festivals or other regional holidays.
That's why it's best to do some research before you make your final choice of destination, and see when the best time to fly out would be.
We've done a bit of that work for you. We have compiled five reasons why it's great to visit Europe during shoulder season, and then five reasons why it's best to stick to the peak travel months.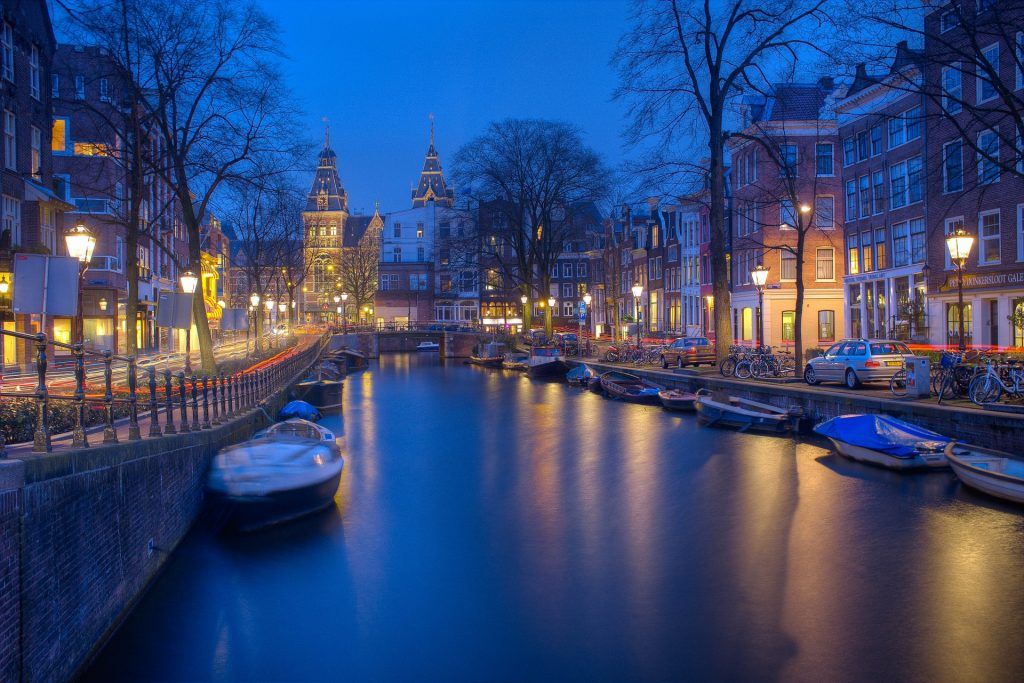 5 Reasons to Travel During Shoulder Season in Europe.
Mild weather – countries like Italy, Spain, Portugal, and parts of France will have clear, and warm climates during the off-peak months before and after summer. May and September, the months that bookend summer, are often beautiful all over Europe.

Fewer tourists – no need to wait around. The lines for many attractions will be significantly lower than during peak and off-peak seasons.

Low prices – during shoulder season, you're likely to experience off-season bargains and lower prices for most things (airfares, hostels, museums and other attractions).

Wildlife and gardens – spring and fall are colorful seasons in Europe because flowers and trees are in full bloom. You're sure to experience some natural beauty.

Great for family travel – if you're looking for a family holiday, these months are among the easiest and best times to travel. Here's our awesome guide for a stress-free holiday with kids.
5 Reasons to Travel During Peak Season in Europe.
Warm weather – in summer during Europe's high season, you can expect good weather across the continent. If the weather is your top priority, stick to the summer months of June, July, and August.

Winter wonderland – cities steeped in history with ancient architecture like Prague and Vienna are often prettiest to explore in winter. In these locations, snow-covered streets and Christmas markets offer a magical experience. Be sure to pack warm clothes though, it can get chilly.

Busy and bustling – you'll have no trouble finding new friends, as high season means hostels and hotels are full of travelers just like you.

More open attractions – busy travel seasons are geared towards tourists. You'll find more things open, even in smaller towns.

Speaking your language – you're likely to find activities and attractions catered towards English speakers.
Traveling to Europe? Planning Makes Perfect.
Now we've put the options in front of you, it's time to start considering the factors.
Whenever you choose to travel, during the middle seasons or the peak summer or winter months, you need to do your research.
For example, cities such as London, Rome, and Paris are open and operational during the low season, however, smaller country villages can feel like ghost towns.
Peak tourist season also means full hotels, restaurants, and museums so it's best to get your bookings done early.
Choosing the best time to fly and the best airline can be a real science too.
With so many flight booking websites on the internet, it's common to check every single flight expert site before finally booking a ticket.
Lucky for you, we've got a guide on how to avoid making mistakes when booking flights and how to work out the best deal.
Travel Disruptions During Shoulder Season
Like it or not, there are some things you just can't plan for.
No matter what time of year you book your flight, or where you fly to, there's a chance you'll experience a delayed or canceled flight somewhere along the way.
But are you more likely to encounter disruptions during shoulder season, or during the peak months for travel?
Using AirHelp's in-house data, we've created a graph to show air passengers what months had the most severe travel disruptions during 2016 and 2017.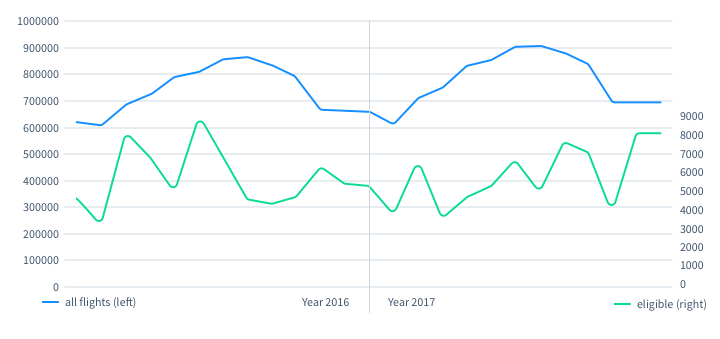 What the data reveals is that seasonality does have an effect on flight disruptions. The number of overall flights is on the left axis in blue, and flights that are severely delayed and therefore eligible under EC 261 passenger rights regulation is in green.
Severe travel disruptions seemingly occur during the peak travel times of summer and winter holidays. But there is also a rise in disruptions when seasons change.
During the transition between seasons, airlines usually have to alter flight paths, destinations, and other things. This could explain why disruptions occur at this time.
Have you experienced a delay, cancellation or were you denied boarding? You could be owed compensation for your troubles. At AirHelp our mission is to assist air passengers by fighting for your air passenger rights. Hopefully, we can put your holiday back on track.
What do you think makes traveling during shoulder season so special? We'd love to hear from you.
Flight delays happen, but that doesn't mean you have to accept them. You may be entitled to as much as $700 in compensation if you experienced a delayed, canceled or overbooked flight within the last three years.
Join the AirHelp Community
Pick up tips, tricks and good vibes from fellow travelers.
Comment Rules: We're here to help air passengers, but we can't answer questions about specific compensation claims here in the comments section. We're open to criticism, but if you're rude, we'll have to delete your comment. And to avoid giving the wrong impression, please don't post URLs in the comment text and use a personal name rather than that of your business. Otherwise, thanks for posting and welcome to the AirHelp community!