The Real Truth as to Why 11/11 Is a Lucky Number
The AirHelper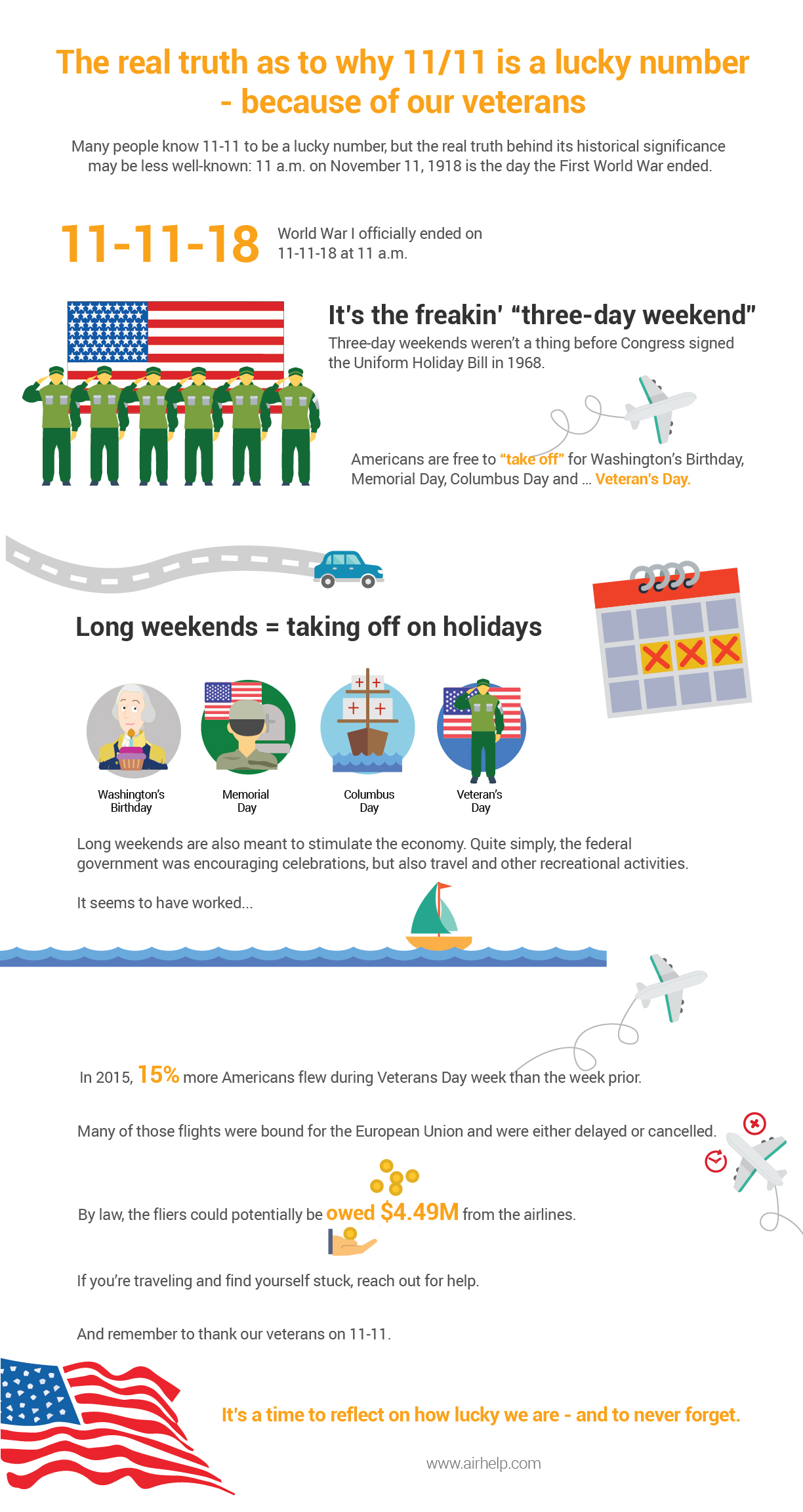 Many people believe 11-11 to be a lucky number, but the real truth behind its historical significance may be less well-known. If you're a veteran in America, however, it could come as less of a surprise. 11-11 is one lucky number because it represents the day the First World War ended — at 11 a.m. on November 11, 1918.
Veterans Day falls on 11/11 every year, after first being recognized by President Woodrow Wilson as "Armistice Day," as a tribute to the cessation of hostilities between the Allies and Germany.
"To us in America, the reflections of Armistice Day will be filled with solemn pride in the heroism of those who died in the country's service and with gratitude for the victory…" he said.
Double elevens (11-11) are often characterized as lucky because they tend to appear in sequence more frequently than can be explained by reasonable factors. In terms of historical significance, therefore, it's only fitting that the "double elevens" are a nod of appreciation to the brave men and women who have served in the military.
All of America was given the opportunity to honor our servicemen and women in 1968 when Congress signed the Uniform Holiday Bill, which enacted the start of the three-day weekend as we know it. In addition to Veterans Day, the bill also designated Washington's birthday, Columbus Day, Labor Day, and Memorial Day as official, federal three-day holidays within the national calendar.
11:11 isn't the only lucky travel number
In addition to honoring veterans for their love of country, three-day weekends were also meant to stimulate the economy by encouraging recreational activities and travel. It worked. More Americans tend to pack up to hit the road – or take to the skies – during holiday weekends as compared to other weekends.
In 2015, more Americans flew during the Veterans Day holiday week (Nov. 8-14) than the week before, including 15 percent of whom were on delayed, canceled or otherwise disrupted flights that would make them eligible for cash back under European Union Law (EC261). For passengers traveling during this time last year, this equates to $4.49 million.
It's safe to say many Americans will find themselves in the same situation this Veterans Day, especially since 11-11 falls on a Friday this year. While those staying local will have the opportunity to enjoy parades and celebrations starting at 11 a.m., others will likely show their patriotism on the road.
If you're traveling Veterans Day and find yourself on a delayed, overbooked or canceled flight, AirHelp might be able to help you. But if you're choosing to stay close to home, remember to take a moment to thank our veterans for their service and sacrifices for keeping our country safe at 11 a.m. on 11-11. It's a time and day to remember how lucky we are – and to never forget.