The 30,000ft Monopoly - How Much Extra Do Inflight Purchases Cost?
The AirHelper
Travel is well known for making the mind grow. At home running through the day to day motions, it seems as if nothing peaks our interest and we just don't ask questions. With the gigantic airports and endless amounts of planes there's a lot of magic and mystery behind the airline industry.
At AirHelp, travel is a huge part of our lives, and if there's something to research about travel then we've done it. We tracked down the answers from top researchers, so that you don't have to (we're good at doing that!).
How Much More Expensive are Inflight Refreshments?
We all know inflight refreshments are priced at sky high rates ?, but just how much more are these everyday products?
Firstly, the prices make sense. We're 30,000ft up in the air, so it's safe to say that the airline has a monopoly in place. To get an idea of what sort of increase in price we're paying, our friends at Kayak conducted a wonderful breakdown of inflight prices compared to in-store prices and the results were pretty incredible!
Some snacks onboard are demanding 2600% more than supermarkets with Cup a Soup being the worst offender. Various supermarkets sell it for as little as 12p, but Thomas Cook Airlines for instance charges £2.40 – a markup of 1820%.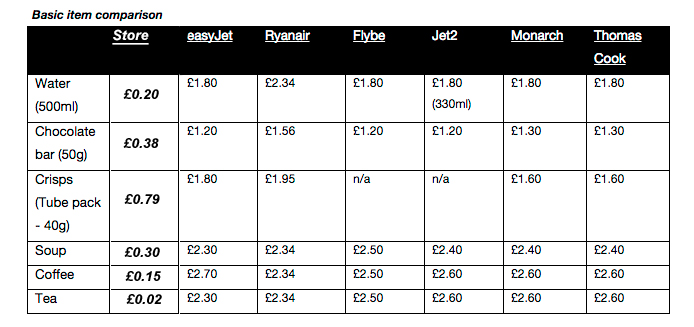 The pricing is pretty similar right across the board, but it's still a massive increase to pay if you happen to forget to stock up in duty-free.
Bonus Material: Dream of European Travel? You Need to Know Shoulder Season
Is Perfume Cheaper in Duty-Free vs. Amazon?
I'm willing to hazard a guess that duty-free is one of the most exciting parts of your travels. We all love it. The idea of purchasing premium brands for a fraction of the price is just the cherry on top of that delightful holiday cake.
One thing to point out is that this is based on in-flight purchases of duty-free perfume. With the 30,000ft monopoly in place, you are wise to assume that prices will be impacted. Let's dig deeper.
The Travel Statistician put together this study of prices with onboard duty-free perfume versus Amazon prices of the same perfume. Perfume is one of the biggest sellers in duty-free, and you can tell by the sheer quantity of options that are available, which is the reason why it got used as the pricing yardstick.
The study shows that only 40% of perfume brands were cheaper at duty-free as compared to Amazon.
Best Perfumes to Buy Onboard
Below you will find the best perfumes to purchase onboard versus buying via Amazon.Overall perfume prices are around $5.03 USD more expensive onboard, when compared to buying on Amazon. 45 of the 111 perfumes have very little price difference (between -$8 USD – $8USD).


Bonus Reading: Should You Check In Your Bags or Carry On?