Paris Air Show: 4 Highlights You Won't Want To Miss
Lorne St. Clair
Fasten your seatbelts, as this week the world's largest and oldest aviation show flies into view.
The 52nd Paris Air Show, happening now until 25th June at Paris-Le Bourget Airport north of the city, is the world's premier event dedicated to the aviation and space industry.
This year especially, it is important for the industry to show off some positives, after a string of PR embarrassments over the last few months — from a United Airlines passenger dragged off a flight to the British Airways stand still.
New French president Emmanuel Macron opened the event from the skies, flying in on a A400-M military plane to kick start proceedings.
In what is set to be a very warm week, a host of new commercial aircraft are making a debut, as well as daily displays by military planes, new technology showcases and of course lucrative business deals.
That's enough to make your head spin. So we've picked out four key highlights and interesting discussion points that will feature at this year's Paris Air Show.
The future of supersonic flights: New York to London in 3.5 hours
Thanks to US flight company Boom Technology, air travel could get a speed boost in the coming years.
They pledge that the flight time between New York JFK to London Heathrow could be under 3.5 hours.
Since the Concorde was retired in 2003, advances in supersonic commercial air travel have hit a standstill.
Things are about to change though.
Boom Technology are looking to hit the air travel holy grail with the XB-1 'Baby Boom' Supersonic Demonstrator, a passenger aircraft.
Although still in the early stages, it's predicted that the XB-1 will be able to carry 40 passengers and travel at 1,451 MPH; 2.6 times faster than any other commercial airliner in the world.
Phew. Getting across the Atlantic in under 3.5 hours could offset the unpleasantness of delays and cancellations.
EU flights can be eligible for up to €600 in compensation, but the flight must be arriving at an EU airport on a European carrier or departing from an EU airport on any airline. The delay must also be greater than three hours at the passenger's final destination.
It's no wonder that major airlines are already looking to add the XB-1 to their commercial fleets. Five global airlines, including the Virgin Group, are said to have made commitments on a combined 76 aircraft.
Additional airlines are expected to be announced at the Paris Air Show, plus other exciting news from the Boom Technology team.
Rivalry of the skies: Boeing vs Airbus
For many years the Paris Air Show has been the traditional battleground for commercial aviation giants Boeing and Airbus.
The U.S. and European manufacturers always seek to outdo each other by announcing big deals at the show. The last event in 2015 brought orders for 421 planes worth $57 billion for Airbus and orders for 331 planes worth $50 billion for Boeing.
This year's Paris Air Show began interestingly, as Boeing launched the newest member of the 737 MAX series, the 737 MAX 10.
This large new single-aisle aircraft is clearly a direct challenge to the Airbus A321, which currently outsells the MAX 9 by over four-to-one.
The 737 MAX 10, which should enter service in 2020, will be almost the same size as the A321 with 230 seats.
While competition for sales will be rife at the show, both plane makers will also focus on how to get through their massive backlog of orders.
Speculation about this will dominate conversations in the business chalets stretched along the runway at Paris-Le Bourget Airport, where the show takes place.
Qatar Airways Push Forward Despite Political Climate
This has been a turbulent month in the Middle East.
On 4th June, four Arab Nations — United Arab Emirates, Saudi Arabia, Bahrain and Egypt — enforced an embargo on neighboring country Qatar, closing their airspace and throwing the region into political chaos.
This has had a dramatic effect on the operations of Qatar Airways, the country's flag-bearer airline.
Neighboring nations have either severely restricted Qatar Airways' flights in the region, or outright banned them.
In previous years, Qatar Airways held the spot as the no.1 airline in the AirHelp Score, but this year was toppled from the top position by Singapore Airlines in the AirHelp Score for Airlines 2017 Winter/Spring rankings.
It now sits in third place, behind Singapore Airways and Etihad Airways.
This month, the Doha-based airline has seen delays and cancellations rise considerably, and it is expected to spike further as flight routes change.
Despite the diplomatic crisis, the CEO of Qatar Airways announced on Monday at the Paris Air Show that the airline would 'march on.' It will continue building new aircraft and remain committed to a growth strategy.
Military aircraft hits a high note
On Monday President Macron arrived at the Paris Air Show on an A400-M military transporter. This set a strong precedent for the showcase of military might to come.
Among the 130 military aircraft on display, the most exciting will be the cutting-edge F-35 stealth jet fighter, worth $100 million each.
The jet will wow with daily flights, as manufacturer Lockheed Martin hopes to impress potential foreign customers at the show.
According to reports, a deal of more than $37 billion has been made to sell a record 440 F-35 fighter jets to a group of 11 nations including the United States.
All of us at AirHelp wish you a wonderful time at the Paris Air Show.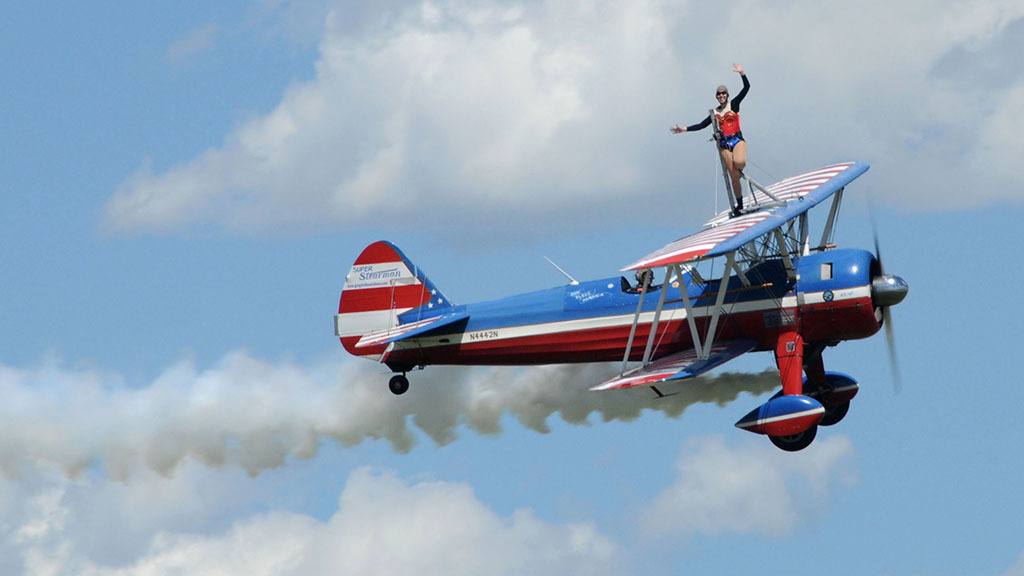 Flight delays happen, but that doesn't mean you have to accept them. You may be entitled to as much as $680 in compensation if your flight was delayed, canceled or overbooked within the last three years.