A Jewel in the Midwest: Cincinnati Northern Kentucky Airport Takes US Crown
Lorne St. Clair
Move over, Manhattan. Step back, San Fran. There's a hot new destination climbing up the ranks. Ladies and gentlemen, it's time to book your tickets to Cincinnati Northern Kentucky Airport.
Yup, you read it right — an airport you've probably not heard of, located at the intersection of Ohio, Indiana and Kentucky, has taken the title of no.1 US airport in our AirHelp Score for Airports 2017.
Cincinnati Northern Kentucky Airport might be quite a mouthful, But it has surprised everyone by surpassing major US airports like JFK, LAX and Chicago O'hare to the nation's top spot in our airport ranking.
But how on earth did this happen you ask? Well, let's find out..
How 'Cincy' clinched the top spot
Our AirHelp Score for Airports 2017 compares almost 80 airports across the world.
We compare each airport using three different criteria to give a full picture on how they perform. We provide statistics on the quality of service, on-time performance and passenger experience of each and then give them an overall ranking based on our findings.
Cincinnati Northern Kentucky International Airport (CVG) beat all other US airports for one significant reason; a very impressive adherence to a tight flight schedule.
Despite serving more than 42 airline carriers (Delta being the most popular), CVG scored 8.6/10 for on-time performance. This is impressive considering the airport is the busiest in Kentucky, offering nonstop passenger service to 56 destinations with 195 peak daily departures.
CVG is also well-known for extreme winter weather. If you've experienced delays and cancellations due to weather conditions or any other disruptions to your journey, find out your US passenger rights now.
In our global ranking, CVG ranks sixth overall. It finishes behind Singapore Airport, Munich Airport, Hong Kong Airport, Copenhagen Airport and Helsinki Airport.
But CVG also clinches the top spot in the US due to its quality of service. Visitors are wowed by fantastic shopping and eating facilities, including local food delicacies such as Skyline Chili and Graeter's Ice Cream. It's also praised for its wealth of parking options and easy access to downtown Cincinnati and Newport at the Levee.
A tale of two coasts – SFO and JFK
San Francisco International Airport (SFO) services millions of travelers per year and has won awards for its control tower and mobile app, but it barely scraped the top 20 in the AirHelp Score for Airports 2017.
Despite large and constant plane and passenger traffic, visitors were unimpressed by SFO, as shown by its 4.7 score in passenger sentiment and 19th place ranking overall.
Let's not write off SFO yet though. It has made strong gains in some areas, including recently debuting automated passport control. If you're an American citizen, you no longer have to stand in line for an hour at customs. Sounds pretty good doesn't it?
Another quirky passenger perk? Showers are now available in the international terminal. If you've got some hours to kill stuck in SFO with a delayed or canceled flight, a shower might be a real treat.
On the other side of the States is New York JFK International Airport (JFK) — the fifth busiest airport in the US
The 60 million air passengers traveling through JFK annually were not in the New York groove while there. It rated 4/10 in passenger sentiment and 52nd in the rankings overall.
No surprise passengers were frustrated though. JFK is a one/two hour drive from downtown Manhattan.
What's more, the airport itself registers the longest security lines around. Passengers wait 17 minutes on average according to Newsweek. To make matters worse, JFK's restaurants average 2.9 stars on Yelp. Yikes!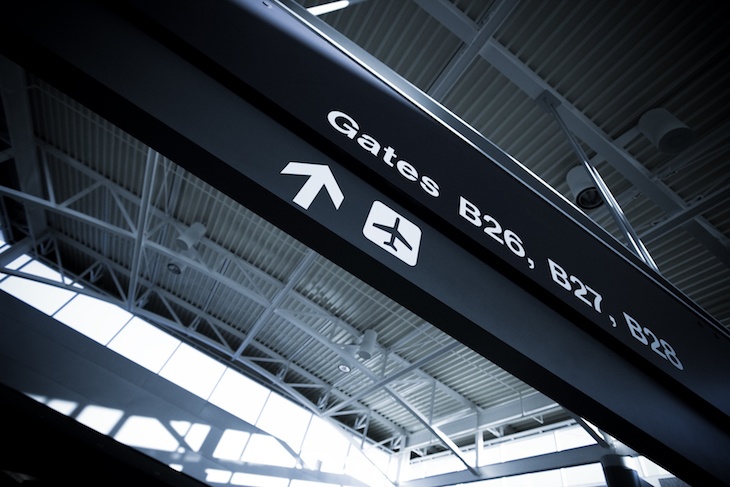 Marginal mentions: LAS, ATL and ORD
SFO and JFK aren't the only US airports that failed to impress in our AirHelp Airport Score 2017.
Three of the big players Las Vegas McCarran International Airport (LAS), Atlanta Hartsfield-Jackson International Airport (ATL) and Chicago O'Hare International Airport (ORD), ranked 53rd, 54th and 55th respectively.
Las Vegas (McCarran) is the seventh busiest airport in the US and the 26th busiest in the world. It services 46 million passengers annually, and when that number hits 55 million it will be at full capacity.
Yet its on-time performance isn't bad at 7.9/10. Instead, its quality of service and passenger sentiment is where it suffers overall. For instance, it's across the street from the MGM Grand Casino but will still cost you $18 for cab fare to get there from downtown Las Vegas.
One redeeming quality; it's one of fewer than a dozen airports worldwide using radio frequency to track checked baggage, according to the Las Vegas Sun.
It's hard to find much to like about Atlanta (ATL), with passengers rating it an abysmal 1.3/10 in sentiment analysis. With over 104 million air passengers traveling through annually, it's not only the busiest airport in the US, it's also the busiest airport in the world. Despite this, it's on-time performance rating (8.7/10) is stellar. It's okay, ATL, you can't please everyone!
Poor 'ole Chicago O'Hare (ORD) has a lot to deal with. As the third busiest airport in the US (78 million passengers annually), it's also battered by severe winter weather, more than most airports in the ranking.
Passengers are tough on ORD too. Reviews are mixed on the cleanliness of the airport terminals and there are many complaints of filthy restrooms. On the flip side, O'Hare has fantastic public transit and generally good food options.
Why US airports don't measure up on amenities
US airports deserve credit for getting passengers to their destinations safely and on-time. But for today's passengers, who are citizens of the world, this is not enough to get them up the rankings. Superior amenities rule above anything else, and airports in Asia and the Middle East are getting really creative with it.
Middle East and East Asian airports have made their mark by building intermodal, technology-enhanced airports, while the U.S. lags behind on basics like core infrastructure, according to BusinessInsider.
Hong Kong International Airport, for example, has brand new high-speed rail that runs every four minutes, complete with fully integrated baggage check-in at their central railway station downtown.
Singapore Airport built an impressive butterfly garden, movie theater, and a rooftop swimming pool with plans for a waterfall. Let's face it, unless US airports up their game it will be difficult to compete with that.
What the success of Cincinnati Northern Kentucky Airport shows above all, is that great things can come in small packages.
Other US airports should take heed that a good balance of top quality service, great on-time performance and favorable customer experience is the recipe for success in the AirHelp Score for Airports.
Can CVG keep up their good performance, or will another US airport up the stakes next time? Only time will tell.
Flight delays happen, but that doesn't mean you have to accept them. You may be entitled to as much as $680 in compensation if your flight was delayed, canceled or overbooked within the last three years.