Boarding Pass Scanner: Your AirHelp App Has a Great New Feature
By The AirHelper | Last updated on

If you like speed and convenience, you're going to love this.
We know that travel disruption is stressful, so we've been on the lookout for ways to make the AirHelp app as useful as possible. And the good news is that the fastest, easiest way to get money back for a delayed or canceled flight just got even better.
Delays, cancellations, and boarding denials are unfortunate realities in air travel, but they may also be worth money—up to $680. The AirHelp app tells you right away if you're eligible for compensation for your travel disruption and gets your claim moving while you're stranded at the airport.
Introducing the Boarding Pass Scanner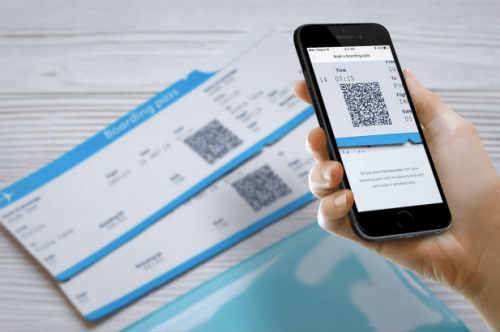 The AirHelp app is already the world's most downloaded flight delay compensation app, but new improvements—like the Boarding Pass Scanner—make it the fastest and easiest way for air passengers to get money back for delayed and canceled flights.
There are three main ways this is good for a traveler like you:
No need to manually enter (or even remember) your flight details or booking numbers anymore – a quick scan takes care of everything

Line up the barcode on your boarding pass with the photo window. The app will read it automatically, importing your flight details instantly

You can check your eligibility for delayed, canceled or overbooked flights even faster than before

If the airport or airline changes your flight status, we'll send you a notification, so you'll be the first to know

The ability to save all your scanned boarding passes in your dashboard for future eligibility checks
Basically, if you can use your phone's camera, you can file a claim.
The clever bit is that it uses the same technology as used by the airlines and airports. Line up the barcode on your boarding pass with the photo window in the app and you're done. Your flight details are automatically imported for you, faster than you can say "overhead bin."
We'll fill in your trip details with the info from your boarding pass (for trips with more than one leg, scan all boarding passes).
Then, if your flight is disrupted, you'll be able to claim immediately from the airport. Just remember to politely turn your nose up at those flight delay vouchers.
Download Today
The Boarding Pass Scanner works seamlessly with the rest of the AirHelp mobile app and your dashboard, so you can edit details or add connecting flights later, if needed.
If you don't have it already, the AirHelp mobile app is available for iOS and Android. With over 2 million travelers helped, we're ready to help you take back your journey.

Download for iOS | Download for Android
Flight delays happen, but that doesn't mean you have to accept them. You may be entitled to as much as $680 in compensation if your flight was delayed, canceled or overbooked within the last three years.
Join the AirHelp Community
Pick up tips, tricks and good vibes from fellow travelers.