AirHelp Score: The Details
Ada Kozłowska
We all know flight delays suck, but some delays suck way more than others!
Over the past 2.5 years, AirHelp has helped over 235,000 passengers file for flight delay compensation, and we've learned a thing or two about how the airlines operate — especially when it comes to customer service, flight delays, cancellations and overbookings.
That is why we have made it our mission to gather and analyze millions and millions of data points, and collect never-before-seen statistics on the airline industry. We want to put the power of big data directly into the consumer's hands, which thus began the birth of our first-of-its-kind, global airline-ranking system called the AirHelp Score.
In a nutshell, we want you to be able to better predict how the airlines will treat you, when they end up missing the mark and your flight gets delayed, cancelled or overbooked.
So what exactly is the AirHelp Score?
Good question indeed!
The AirHelp Score is a number out of 800 (similar to your own credit score) that we use to measure an airline's overall performance.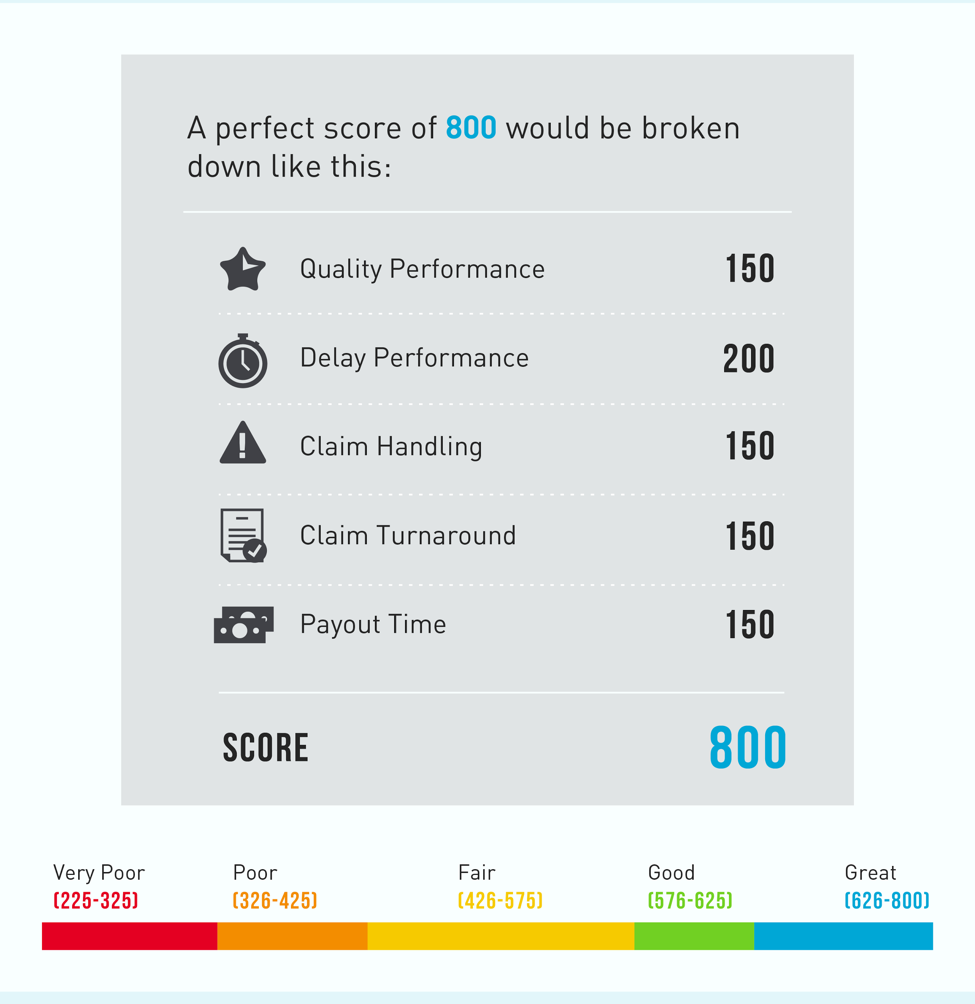 This metric is based on five key data points:
Claim Handling: how long it takes an airline to acknowledge that a passenger has a valid claim for compensation after a delayed, cancelled or overbooked flight
Payout Time: how long after a claim has been accepted does it takes for the airline to actually pay out compensation to the customer
Wrongful Rejections: takes into account the percentage of how often an airline erroneously rejects a valid claim from a passenger – often times this strategy is used as a delay tactic by the airline, and it is where most of the leg work at AirHelp is done
On-time Performance: based on data obtained from Flightstats.com, this percentage measures how often an airline lands within 15 minutes of its scheduled arrival times
Quality Assurance/Airline Product: this is a measure based on the world's leading ranking system for airline quality from the experts over at Skytrax – this factor takes into consideration the airline's overall product and service delivery
How can I use the AirHelp Score to help me plan my next trip?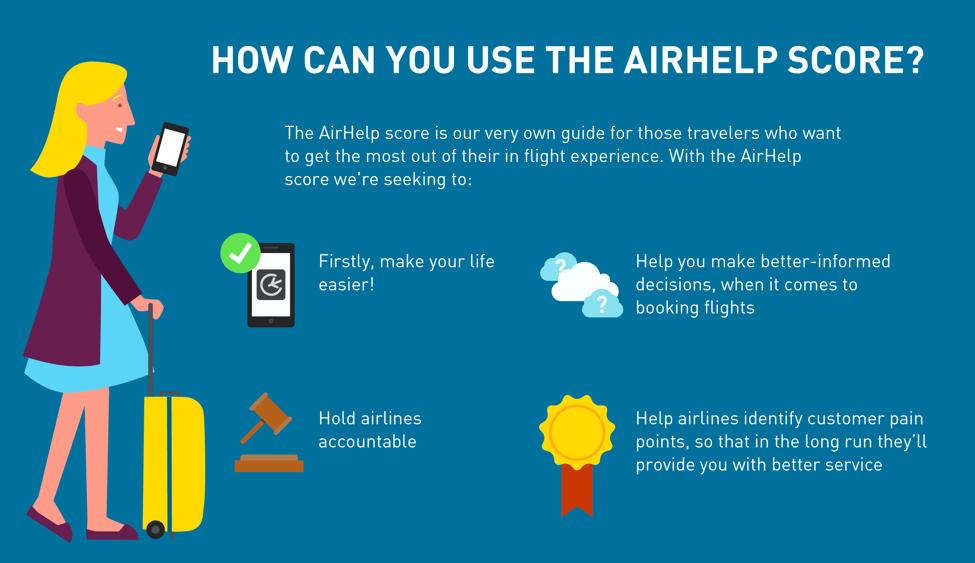 This is the coup de grace right here, and we tried to make it as simple as possible. If you not only want to have a pleasant in-flight experience, and you also want to make your trip as hassle and stress-free as possible, then try to book with an airline that has the highest AirHelp Score!
By booking a flight with an AirHelp Score top performer, you are not only more likely to have a more enjoyable flight experience, but you also have a much better chance of ensuring that the airline will actually give you the help you need if something goes wrong and a flight disruption occurs. By publishing this never-before-seen data, we hope you'll be able to better anticipate if an airline will handle your claim for compensation in a professional and timely manner, in the event that a delay, cancellation or overbooking occurs.
So if you are the type of traveler who likes to get the best deal, you can use our rankings as a guide to help you decide which airline to book with. For instance, you can use it to determine whether you should spend a few extra dollars to book with a higher-ranking airline, versus going with a slightly cheaper option, where you may end up finding yourself stranded at the airport delayed for hours and hours with no hope in sight!
Speaking of being stuck at the airport, you can also pull up the AirHelp Score on your smartphone, tablet or laptop, while you wait at the gate for your delayed flight, to see if you're more or less likely to get your rightful compensation based on the airline you're currently flying with.
When it comes down to it, we want to make it as easy as possible for you to make a more informed purchasing decision and help you in any way we can, so that you can get the help that you actually need!
Why did we create the AirHelp Score?
AirHelp has one of the largest collections of flight data on record, and we have analyzed millions and millions of data points in order to rank the airlines in this revolutionary, new way.
Not only that, but we've helped 235,000 people file for their rightful compensation so far, and have helped them recover nearly $20 million in reimbursement to date!
After hundreds of thousands of interactions with the airlines and their disgruntled passengers, we truly understand all of the personal pain points that people face when trying to file for compensation with the airlines, and we want to help spread the word about who's doing it right and who's doing it wrong in the ever-evolving landscape of the aviation industry.
On top of that, we also know better than anyone else the tactics that airlines can use to try and wiggle their way out of paying you compensation. So when it comes down to it, the AirHelp Score really is just another way for us put powerful, informative data in the palm of your hands, and help better inform you when it comes to making a ticket purchase and investing in your travel and vacation plans.
It is also our hope that the AirHelp Score will become a conduit for more open communication between the airlines and their passengers, so that we can all come together and address flight delays in a more timely and professional manner.
How was the AirHelp Score calculated?
We're glad you asked, because it wasn't an easy task, that's for sure!
To accurately measure all of these customer pain points, the AirHelp Score takes into account and weighs the different factors of the rankings as follows: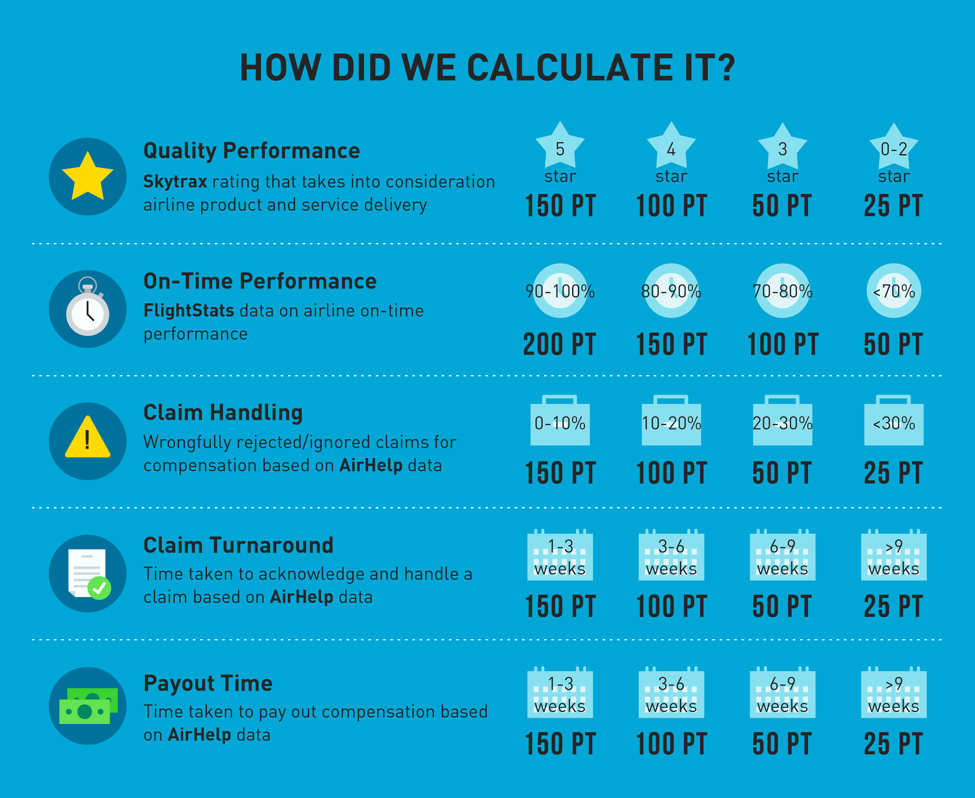 We've weighed on-time performance as the most important factor, since we know first and foremost that when you purchase a ticket that your primary concern is getting to your destination on time.
As a company, our expertise is in ensuring that passengers are rightly compensated when this expectation is not met, so we combed through our data archives to obtain stats from hundreds of thousands of claims, in order to generate the claim handling, wrongfully rejected and payout time data.
To make sure the data was as accurate as possible, we only included airlines in this initial release of the AirHelp Score, which we deal with on a routine basis. As time goes on though – and as we handle more and more claims from more and more airlines – we will update the AirHelp Score rankings and add even more carriers.
To measure quality assurance and on-time performance, we integrated data from both Skytrax and Flightstats.com respectively. Both of these industry leaders have perfected their measurements, so we knew it would be an invaluable addition to our own claim handling data, and help make the overall ranking as relevant as possible to the travel community.
Skytrax's quality assurance score gives airlines a star rating similar to those common in the hotel industry. Of note, the Skytrax rating "subjects the airline to the most detailed and exacting quality inspection and evaluation across all areas of customer-facing Product and Service standards." As such, we believe it is the best measurement to use in determining an airline's overall quality experience across all categories.
For this initial release of the AirHelp Score rankings, the Flightstats.com on-time performance data was obtained from the month of August 2015.
What's next?
This is really just the beginning, and our infographic is only the first step in the AirHelp Score journey.
Over the next year, we will be rolling out a dedicated subpage on our website, which will allow passengers to leave feedback based on your own personal experiences with a particular airline.
As we refine our processes, we will also enable a live version of the AirHelp Score that can report data in real-time about an airline's daily, monthly and quarterly progress up and down the AirHelp Score scale.
To stay in the know and get updates with all things AirHelp Score, sign up for our quarterly reports below!