Introducing AirHelp Pro
The AirHelper
Flight disruptions happen. AirHelp Pro is your go-to concierge when they do.
How many times have you arrived at the airport only to find that your flight is delayed, or worse, canceled?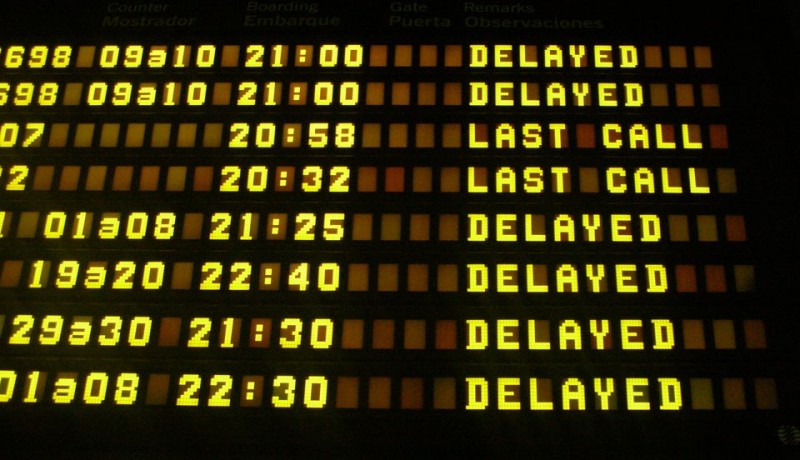 According to the U.S. Department of Transportation's Bureau of Transportation Statistics, 24.87% of arriving flights were either delayed or canceled in 2015. That's almost one of every four flights in and out of the United States. Those flight interruptions cost passengers a lot of valuable time (not to mention their sanity).
What makes the experience even more frustrating is that, when a problem with your itinerary does arise, it's a hassle to get answers on what your options are moving forward.
"If this flight is delayed, will I make my connection? And what happens to my luggage?"

"Since my flight is canceled, is there an option – any option – that can get me to my destination today?"

"Am I really going to have to sleep in this chair tonight while waiting for my next flight?"

Standing in line to get an update from the ticket agent who can only do so much, or waiting on hold to speak to the airline's customer service department is not exactly the way we want to spend our time before a flight either.
AirHelp Pro is here to help when travel plans unexpectedly change.
There are a lot of reasons why flights get delayed or canceled. When all you want is someone to give you some answers and a few good alternative solutions, AirHelp Pro is here to help.
AirHelp Pro is a new annual subscription for airline passengers providing instant cash back and perks when flight disruptions happen. (And there's a good chance they will.)
At AirHelp, we fight to get airline passengers the compensation they deserve, and we've decided to take our service to a whole new level. In launching AirHelp Pro, we aim to reduce your stress by taking over when things don't go as planned to get you back on track while you're still traveling.
How AirHelp Pro works.
As an AirHelp Pro member, we jump into action the moment a flight disruption occurs. AirHelp Pro can provide you with:
Flight rebooking assistance

Up to $1,000 in instant compensation

Airport lounge access

Airport tax reimbursement for canceled flights
Don't wait in that long line at the ticketing counter.
Instead, get comfy in the airport lounge and letAirHelp Pro get your travel plans back on track. (Plus, a little cash back in your pocket never hurts!)
Join Now to Save Time (and Stress) on your Next Trip.
A 1-year membership to AirHelp Pro is $59.95. Right now, we're offering a discounted introductory rate of $19.95 for the first year to AirHelp Pro members who sign up today. That's the same cost as a neck pillow from one of the gate convenience stores!
If you're traveling in or to the US, you have a one in four chance that your flight will be delayed or canceled. Don't get stuck during your next delay.
Sign up for AirHelp Pro today to get this limited time offer!
Image Credit: Jordiet., Holidayextras