AirHelp Celebrates Being EU Commission 'Certified' - And Why That Matters
By The AirHelper・Last updated on 20 July 2017
Our mission is first and foremost to inform air passengers about their rights. As you know, we fight for millions of you who are unsure where they stand, lack the expertise or simply don't have the time to file a complicated claim when things go wrong. And we're proud to fight a good fight.
Recently, the European Commission issued a notice, reprimanding a few shady claims processors and reminding them of their legal obligations. They emphasised:
1 – Claim agencies must clearly display the price of their services, i.e. showing an initial price on their website which includes all applicable fees.

2 – Claim agencies must be able to produce a clear power of attorney.

3 – Claim agencies should not resort to persistent unsolicited telemarketing.

4 – Ticket vendors, tour operators, travel agents (including online travel agents) and any third party having access to passenger data without being a party to the contract of carriage should not transmit personal data to a claim agency unless permitted to do so by applicable law, or specifically permitted by the passenger to whom it relates.
We at AirHelp fully support the EC notice, thank them for their ongoing guidance and hope that they are successful in filtering out the unsavoury few.
We also always recommend that people file claims themselves, directly with the airline, if they have the time. If they don't, or if they get rejected, then we're here to help.
Here's a quick statement to confirm our compliance with all EU directives:
"AirHelp agrees with the EU Commission's information notice and believes that all companies should abide by these very helpful guidelines. As the number one global air passenger rights organisation, AirHelp upholds and abides by all of these guidelines set forth by the Commission. In every industry there are a few rotten eggs and we do hope that any company that is not following these regulations will be held accountable for breaching consumer rights law. Our commitment to customer service has thrust us to the top of the industry with a 9.5 TrustPilot rating after helping more than 2 million passengers, and it will continue to be our mission to make people whole again after flight disruptions. We do believe that we play a significant role in making EC 261 an effective and successful EU regulation that the law makers in the EU can be proud of. AirHelp is here to help travelers, airlines and the NEBs to achieve the justice that is intended by EC 261 through our superior flight data, technology and case law experience."
'Excellent'.
That's Trustpilot's rating of our service based on reviews from passengers all across the world over the past four years. Our users – from experienced air travellers to first-time holiday goers – put us at 9.5 out of 10. We're proud of this. We call it 'Justice as a Service'.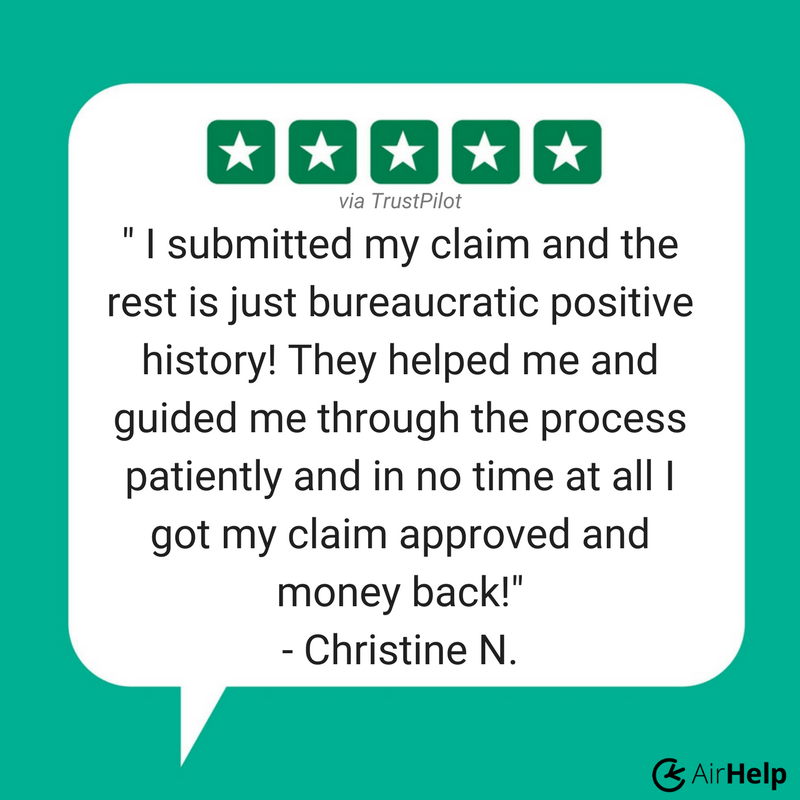 You can find out more about how AirHelp works through AirHelp Score for Airlines and our air passenger rights pages. We look forward to helping you soon!
Join the AirHelp Community
Pick up tips, tricks and good vibes from fellow travellers.
---
---