These top airlines hit new heights in AirHelp Score, the world-class ranking
Από τον/την Ada Kozłowska | Τελευταία ενημέρωση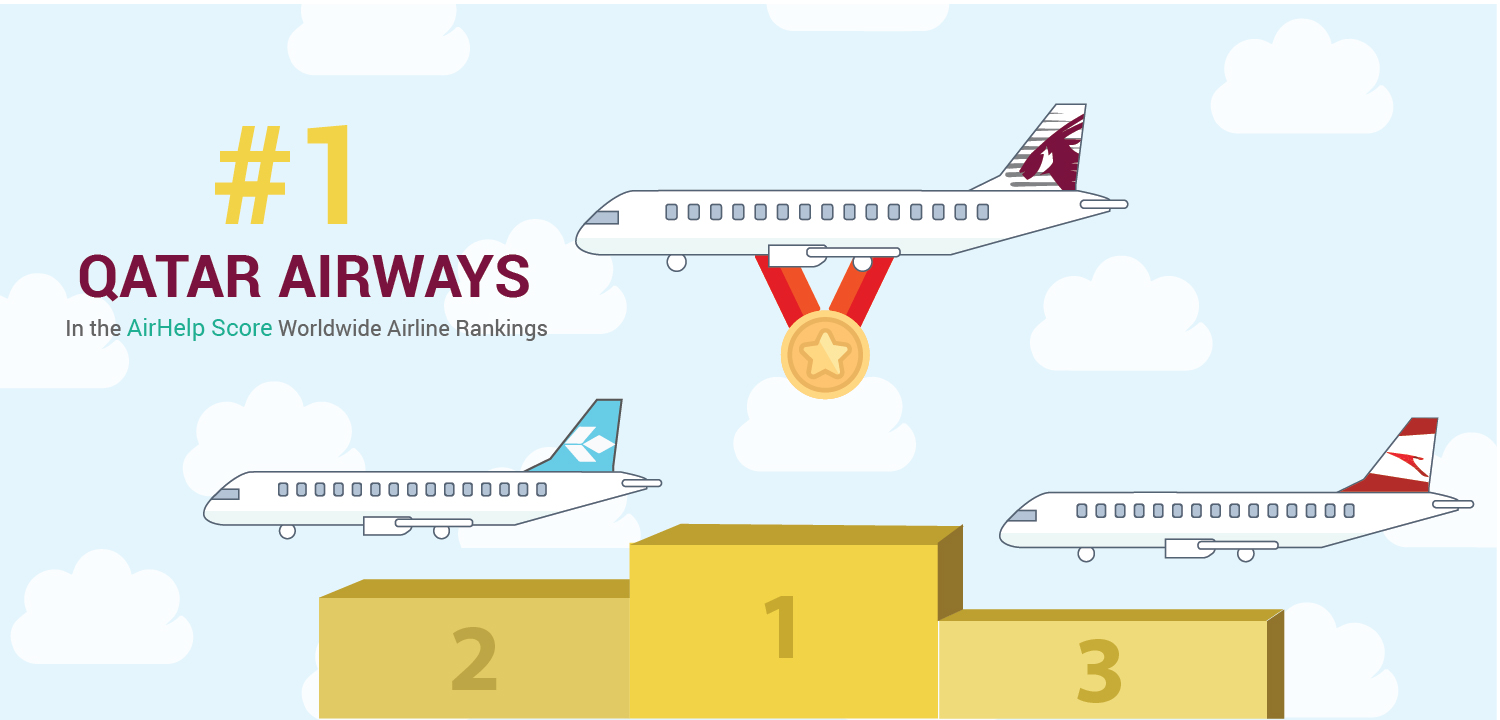 You don't need a first-class ticket to receive world-class care from Qatar Airways, the winner of the 2016 AirHelp Score, the definitive rankings of the world's largest airlines. Qatar Airways' overall score of 8.67 helped it maintain the top spot for three consecutive seasons. Italian-based Air Dolomiti and Austrian Airlines round out the top three spots in the AirHelp Score.
A superior air travel experience is about more than just ticket price. We at AirHelp compare each of the airlines on amenities, punctuality, and customer service to help you find the right flight for your journey. Airlines are ranked on three factors: quality and service, punctuality and claim responsiveness.
How AirHelp Score ranks the airlines – for better or for worse
Top-notch airlines are known to go the extra mile to anticipate the needs of its passengers – and the proof is in the pudding. While creature comforts, ample legroom and luxury amenities are integral to a superior customer experience, these aren't the only factors weighed by the AirHelp Score. Airlines are also held accountable for punctuality (landing within 15 minutes of the scheduled arrival time) and its ability to respond to claims in a timely manner.
If a flight is delayed, canceled or overbooked, passengers could be eligible for cash compensation from the airlines in certain cases. AirHelp has helped more than 1.2 million customers throughout the claims process – from filing to payout – therefore, those airlines that are able to quickly send passengers the cash they're owed are rated highest.
What makes Qatar Airways no. 1
It's for all these reasons that Qatar Airways tops the AirHelp Score. Its cabin crew have been voted "Best in the Middle East" for seven consecutive years, which attributed to its 10/10 score in quality and services onboard. The airline is above average in punctuality, too. Its on-time rating of 8.2 in the AirHelp Score punctuality category proves Qatar values its passenger's personal schedules. Lastly, when things don't go according to plan, it works with passengers to resolve claims requests, although it could work harder to address them in a more timely manner, as Qatar ranks 29th overall in claim responsiveness.
One business-class traveller on Qatar put it this way,"… This is the business class that spoils you for life. Flying home on another highly-touted carrier a few weeks later was a bit of a letdown after being so pampered on Qatar Airways. Meals when you want them, wonderful pyjamas, comfy beds/seats – didn't even get a chance to walk around as I usually do, because it was just so nice in our little piece of paradise."
And the honorable mentions are…
Airlines across the globe provide their passengers with superior service worth raving about in each category within the AirHelp Score. Here are the airlines that round out the top five.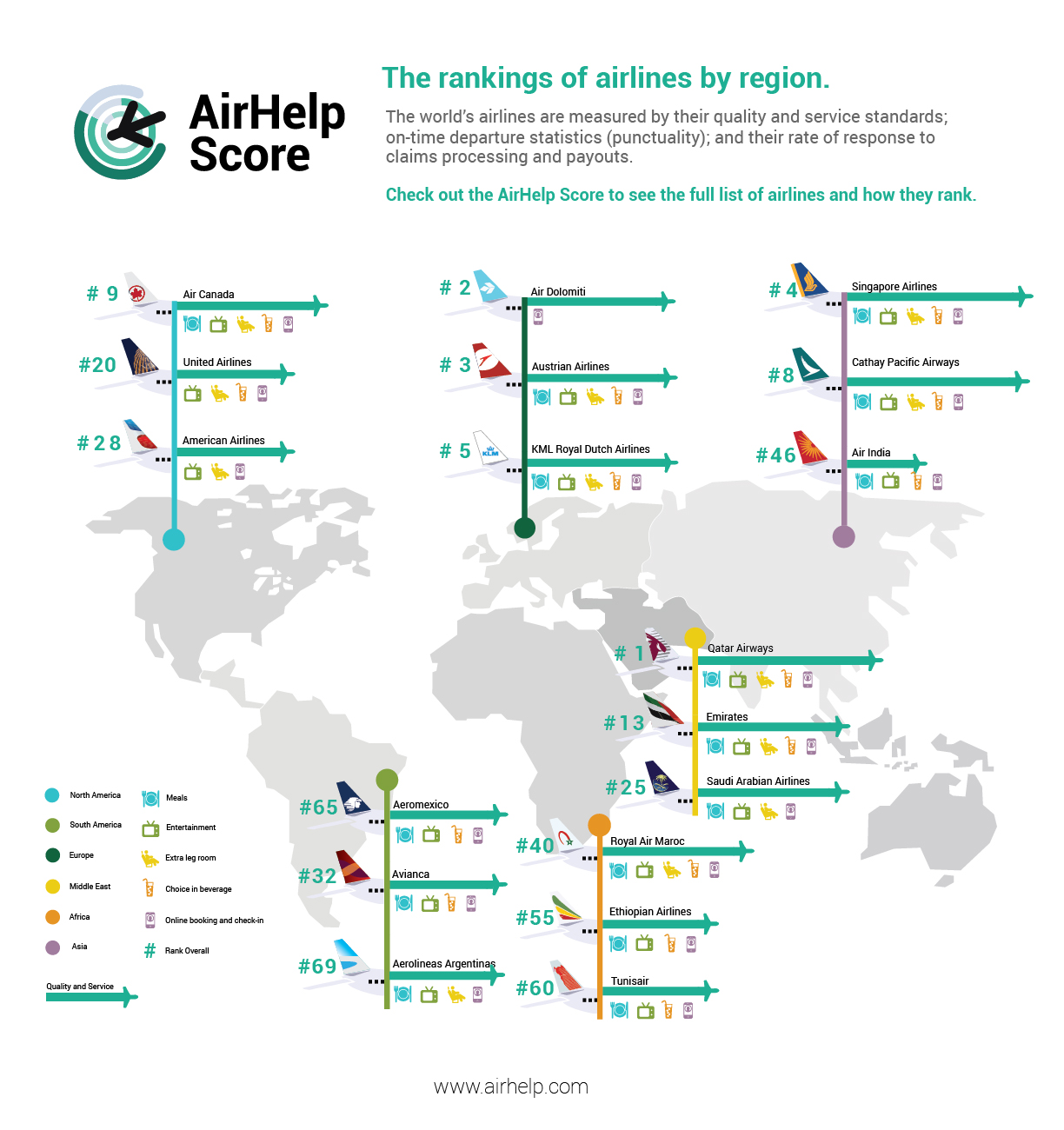 #2 – Air Dolomiti
Air Dolomiti ranks second in the AirHelp Score because it boasts a 9.4 in on-time performance, which proves it prioritizes the schedules of its passengers. Despite its reputation as a low-cost carrier with various restrictions on luggage, the airlines does have numerous customer service options and is pretty accessible in an effort to make the entire flying process easier for you, the passenger. One such passenger flying to Geneva commented on the how the service was "friendly" and offered a "nice snack box with and good alcoholic and soft drinks" on a delayed flight.
#3 – Austrian Airlines
Austrian Airlines rounds out the AirHelp Score's top three airlines mainly because of its high claim responsiveness rate of 9.1. If a passenger files a claim for cash compensation with Austrian, it's likely to be a seamless experience. Overall, the staff was the main thing that was celebrated by passengers. One stated that they were "exceptionally friendly and attentive" on a flight to Vienna. The airline has also recently redesigned its economy class to allow passengers of all pocketbook sizes a way to fully relax on long-haul flights.
#4 – Singapore Airlines
Singapore Airlines has been considered one of the best airlines in the world and there's good reason why – its quality and service ranks 10/10 in the AirHelp Score. If you're wondering why the airline is holding steady in fourth place, however, it's because of its 6.9 rating in claim processing. So, while the airline is famous for its luxury cabins, there's still room for improvement when it comes to customer service post-flight. Nevertheless, one passenger mentioned that if it's Singapore Airlines, then it's "perfect."
#5 KLM-Royal Dutch Airlines
KLM-Royal Dutch Airlines is among the best airlines in Europe because of its consistency across the board. It's rated 8 in quality and services, 8.8 in on-time performance and 8.2 in claim processing. KLM is also known for its breadth of offerings, from meals offered to entertainment options. Comfort is key to one customer who mentioned, "It was the best economy flight I have had and the seat was very comfortable."
The top airlines are based on economy class options and ranked on their quality and service, on-time performance and responsiveness. The AirHelp Score page allows you to sort the airlines using different categories that are most important to you.
Μπείτε στην κοινότητα της AirHelp
Πάρτε συμβουλές και θετική ενέργεια από άλλους ταξιδιώτες